DNA Test – Stockton, CA
Health Street offers DNA testing, legal paternity tests, and sibling DNA tests in Stockton, California at 12 conveniently located testing centers. Register now, or call us at (209) 242-8531 or schedule online. with any questions. Our paternity testing (including grandparent DNA tests, avuncular (aunt or uncle) testing, and postmortem DNA testing) determines if two or more people are related.
Schedule your Stockton DNA test appointment online. Our legal DNA test results can be used in court for matters such as: child support, birth certificates, and custody cases. Appointments can be scheduled together or separately. Legal DNA tests are done by cheek swab at our testing centers. We also offer home DNA test kits for peace of mind. DNA can be tested from hair, fingernails, and other specimens.
Workforce Screening, Digitally Delivered
I highly recommend them , easy reliable and affordable thank you
AM
11/3/2020
I'd leave 5 but it took three weeks to get my results when I was told one week , I was informed my test would be ran and called two weeks later found out it wasn't but other than that the customer service was good
Amani Mathis
8/8/2017
Customer service was a 10 out of 10. First time using your services and I am taking a paternity test.
Steve N
7/20/2017
Very helpful great customer service
Amani Mathis
7/12/2017
Thank you. Now i can move forward.
Ronnie k
1/24/2017
1 of 12
2291 W March Ln
Stockton
,
CA
95207
2 of 12
10200 Trinity Parkway
Stockton
,
CA
95219
3 of 12
1801 E March Ln
Stockton
,
CA
95210
4 of 12
510 E Magnolia Street
Stockton
,
CA
95202
5 of 12
2800 N California Street
Stockton
,
CA
95204
6 of 12
1708 W Hammer Ln
Stockton
,
CA
95209
7 of 12
1617 N California Street
Stockton
,
CA
95204
8 of 12
8829 Davis Road
Stockton
,
CA
95209
9 of 12
1782 W Hammer Ln
Stockton
,
CA
95209
10 of 12
1429 W Fremont Street
Stockton
,
CA
95203
11 of 12
3663 E Arch Road
Stockton
,
CA
95215
12 of 12
523 E Main Street
Stockton
,
CA
95202
DNA Test – Stockton, California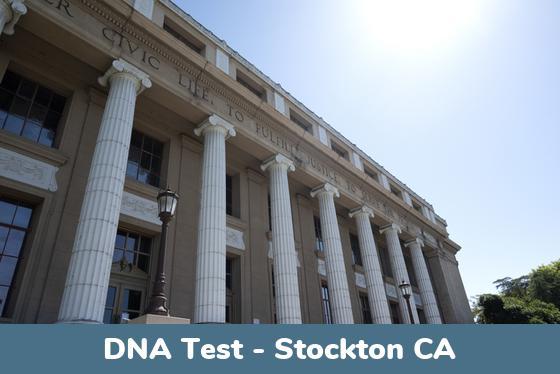 Types of DNA Tests at our Stockton, California locations:
The most commonly ordered DNA test is a Paternity Test to conclusively establish whether or not a man is the biological father of a child.
Paternity Testing can be performed at our testing centers. DNA Testing can be done for other close family relationships, such as:
Specimens we can test for DNA
The easiest and most reliable way to obtain a DNA sample for paternity testing is to swab the inner cheeks of the people being tested. These skin cells are known as buccal cells, and they rub off easily onto cotton swabs and remain in place for analysis by our laboratory. Other specimen samples, such as hair follicles, fingernails, and garments that might contain someone's DNA, can also be tested. An Alternative Specimen DNA Test is done by registering online and shipping the specimens to us.
Legally Admissible DNA Tests vs. "Peace of Mind" At-Home Tests
A Legal Paternity Test is a court admissible DNA testing service. Accurate results for DNA paternity testing with 99.99% confidence or greater take about a week.
When deciding which type of DNA test is right for you, consider first what you might do with the results. In order for the results of a DNA test to hold up in court, for child support, or to change the name on a birth certificate, the test must be done at a clinic using strict chain of custody procedures. Our Stockton DNA testing technicians are trained to follow guidelines that ensure that the results can be used for legal purposes.
How to schedule a DNA Test in Stockton CA
Scheduling a DNA test at one of our Stockton clinics is simple and fast, and we often have appointments available in the same week. It's always helpful to schedule in advance to make sure you get the time you want. Register online, or please call our customer service team, which can help you book your appointment over the phone.
We have state of the art testing labs and friendly clinics that perform the DNA sample collection in Stockton, plus many more locations throughout California and all across the United States. Not every one of our clinics performs paternity testing in Stockton. We'll show you the nearest locations to get a DNA test in Stockton , CA so you can choose the testing center that is most convenient. When you register, you can also pick the appointment time and date that you prefer.
Why Health Street
Over a Decade of Experience
Health Street has been performing DNA testing nationally since 2010. The first DNA test in Stockton, CA performed by Health Street was in 2017.In fact, we have successfully completed 46 DNA tests at Stockton testing centers since then.
Dedication to Excellence
Our dedication to excellence includes our commitment to provide compassionate services and to helping people obtain the accurate DNA testing in Stockton that they need.
Stockton, California – DNA Testing
Why Should I Establish Paternity in Stockton, CA?
When a Stockton child is born to two married parents, California state law automatically provides the husband with paternal rights, as it's assumed the husband is the child's biological father. However, when two parents are not married at the time of their child's birth, the father will possess no legal rights over his child until paternity is properly established in the state of California.
Completion of the paternity process will allow a father to receive his rights, including the request for custody, visitation, and child support. To protect the well-being of the child, it's important for the parents to have full confidence in the child's paternity. If there is any sort of doubt over who the biological father is, DNA paternity testing must be used to accurately determine the true father.
How to Establish Paternity in Stockton, CA
There are two methods for unmarried Stockton parents who need to legally establish paternity in the state of California. The simplest method would be to complete a Voluntary Declaration of Parentage form following the birth of the child. This legally-binding document is typically presented by hospital staff at the child's birth and is used to declare the identity of the child's biological father.
The second method to establish paternity in Stockton would be by court order. This method is often used when a parent does not agree to voluntarily establish paternity. Filing a paternity petition with a San Joaquin Family Court allows a judge to request that the opposing parent appears in court to complete the establishment process. A judge will likely request DNA paternity testing of the presumed father to accurately determine paternity. From here, paternity can then be established.
Experts in Stockton, CA Say…
After successfully establishing paternity, two Stockton parents may further need the help of the courts to establish a child custody agreement. According to Stockton family law attorney John McKinley, California law gives judges significant discretion with which to decide on the ideal custody arrangement of a child.
To ensure the best interest of a child, the judge will conduct an analysis of various factors, including but not limited to the child's relationship with both parents, the financial stability of the parents, and whether or not the parents have a history of substance abuse.
Last updated 8/8/2022
Locations
Clinic Hours for DNA Testing in Stockton, California
1617 N California Street
Stockton, CA 95204
Pre-registration required,
Walk-in with barcode:
---
Monday: 7:30 AM – 4:00 PM
(M Lunch: 12:30-1:30 PM)
Tuesday: 7:30 AM – 4:00 PM
(T Lunch: 12:30-1:30 PM)
Wednesday: 7:30 AM – 4:00 PM
(W Lunch: 12:30-1:30 PM)
Thursday: 7:30 AM – 4:00 PM
(Th Lunch: 12:30-1:30 PM)
Friday: 7:30 AM – 4:00 PM
(F Lunch: 12:30-1:30 PM)
About this Location:
It is simple to locate our lab. We are a short walk from Commodore Stockton Junior High School. You can't miss us.
Some Stockton Neighborhoods That We Serve
location_city
Colonial Heights
location_city
Highland Park
location_city
Lincoln Village West
location_city
Mariposa Lakes
location_city
Sherwood Manor
location_city
Taft Mosswood
location_city
Walnut Acres
Additional Services
We also offer other services, such as:
Local Reviews
By Saron K on 1/9/2017
Tavon was very helpful in everything. Very nice and patient with me. Thank You.
Citations
menu_book
"Establishing Legal Parentage." California Child Support Services, https://childsupport.ca.gov/establishing-legal-parentage/
menu_book
"Voluntary Declaration of Parentage." (VDOP) California Department of Child Support Services, https://childsupport.ca.gov/wp-content/uploads/sites/252/POP/DCSS-0909_ENG.pdf
menu_book
"Family Law & Support." Superior Court of California County of San Joaquin, https://www.sjcourts.org/divisions/family-law-support/
menu_book
"Our Stockton Child Custody Law Firm Explains the Custody Determination Factors." MCJG LLP, https://www.mcjglaw.com/family-law/child-custody/
menu_book
"Stockton, CA Neighborhoods." Areavibes, https://www.areavibes.com/stockton-ca/neighborhoods/
menu_book
"Stockton, CA." Nextdoor, https://nextdoor.com/city/stockton–ca/