DNA Test – Modesto, CA
Health Street provides DNA tests and legal paternity testing in Modesto, California at 6 testing laboratory. Call (209) 554-6858 or schedule online. We offer legal paternity tests, sibling studies, grandparent DNA tests, avuncular (aunt or uncle) testing, and postmortem DNA testing to determine if people are biologically related.
Set up DNA testing appointments online. Test results can be used in court for child support or to change a birth certificate; it can also be used for simple peace of mind. Appointments can be scheduled together or separately. Legal DNA tests are done by cheek swab at our testing centers. We can also extract DNA samples from hair follicles, fingernails, and other specimens.
Workforce Screening, Digitally Delivered
Asombroso
Briaan Gallegos
3/25/2021
A: device was friendly and got what I needed fast. B: Service was used online.C: services used was DNA testing for my child with presumed father.
Lthi
2/9/2021
Thank you
Brianna coslow
9/17/2020
I would like to thanks Louis he helped me a lot to get that appointment .
Gagan
9/19/2018
It was easy, fast and nice service
Eliana
9/6/2016
1 of 6
1541 Florida Avenue
Modesto
,
CA
95350
2 of 6
1524 Mchenry Avenue
Modesto
,
CA
95350
3 of 6
2112 Mchenry Avenue
Modesto
,
CA
95350
4 of 6
1524 McHenry Avenue
Modesto
,
CA
95350
5 of 6
1340 Mitchell Road
Modesto
,
CA
95351
6 of 6
1101 Mchenry Avenue
Modesto
,
CA
95350
DNA Testing Modesto, California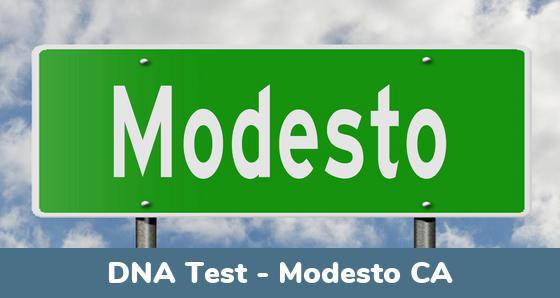 Types of DNA Tests at our Modesto CA clinics:
Paternity Testing can conclusively establish whether or not a man is the biological father of a child.
Relationship Testing for other close family relationships can be performed at our testing centers. Our DNA testing services can confirm or deny biological relationships between grandparents, grandchildren, siblings, half-siblings, aunts, uncles, nieces and nephews:
Specimens we can test for DNA
The easiest and most reliable way to obtain a DNA sample for paternity testing is to swab the inner cheeks of the alleged father and child or children. These skin cells are known as buccal cells, and they rub off easily onto cotton swabs and remain in place for analysis by our laboratory.
Other specimen samples, such as hair follicles, fingernails, and garments that might contain someone's DNA, can also be tested. An Alternative Specimen DNA Test is done by ordering one of our testing kits online and shipping the specimens back to us.
Legal DNA Tests vs. "Peace of Mind" At-Home Tests
A Legal Paternity Test is a court admissible lab testing service performed at an AABB accredited laboratory. Accurate results for DNA paternity testing with 99.99% confidence or greater take about a week.
When deciding which type of DNA test is right for you, consider first what you might do with the results. A legal paternity DNA test will hold up in court for such matters as child support or to change the name on a birth certificate. This test must be performed using strict chain of custody procedures. Our Modesto DNA testing technicians are trained to follow these guidelines so that the results will be legally admissible.
How to schedule a DNA Test in Modesto CA
Scheduling a DNA test at one of our Modesto clinics is simple and fast, and we often have appointments available in the same week. It's always helpful to schedule in advance to make sure you get the time you want. Please call our customer service team to help you book your appointment over the phone, or set up your appointment easily online.
We have state of the art testing labs and friendly clinics that perform the DNA sample collection in Modesto, plus many more locations throughout California and across the United States. During registration, we'll show you the nearest locations for DNA testing so you can choose the site that's most convenient. You'll also pick the times and days that you prefer.
Why Health Street
A Decade Plus of Experience
Health Street has provided DNA tests since 2010. The first DNA test we performed in Modesto, CA was in 2018.Since then, we have done 47 DNA tests at our Modesto facilities.
Commitment to Community
Health Street and its staff are dedicated to the people of Modesto, California, and to serving their DNA testing needs. We are sensitive to issues surrounding these important, family defining laboratory tests.
Facts about DNA Testing in Modesto CA
Proving Paternity for Child Custody Purposes in Modesto, CA
If you live in Modesto and want to prove paternity for child custody or child support services, the Stanislaus County Department of Child Support Services is the government agency that can help with establishing parentage. The Department of Child Support Services is located on E. Hackett Road in Modesto.
In California, including Modesto and Stanislaus County, if a child is born to unmarried parents, legal paternity (and parentage, including both parents) is established through a voluntary declaration of parentage that is signed by both parents. If both parents do not sign the declaration of parentage, a court order must determine parentage for child custody and child support purposes.
If one parent will not admit they are the child's parent, the Family Court will order the child and alleged parent to provide saliva samples for genetic (DNA) testing. The Family Law Clerk's Office in Stanislaus County is located on I Street in Modesto. Parents can also voluntarily agree to genetic testing through the Department of Child Support Services.
Local DNA Stories
53-year-old adopted twin sisters from Escalon learned about their biological father in November 2019 for the first time. The Modesto Bee reported that Jo Ann Beukelman, who now lives in Tulare, and Lee Ann Bergwerff, who were raised by dairy farmers John and Connie Van Vliet, used DNA tests and research to uncover their father.
They appeared on TLC's show "Long Lost Family," which helped them to identify their biological father, Tony Cardoza. It turned out that Tony had lived and worked at the Spreckels sugar plant in nearby Manteca for 40 years. Tony had no idea that his girlfriend of fifty years earlier had been pregnant with twins when she left him while he was on a hunting trip. Jo Ann and Lee Ann had also been informed through adoption records that their biological father was dead.
Notable historical events related to DNA testing in Modesto, CA
Modesto won't soon forget the 2002 disappearance of Laci Peterson, which resulted in the high-profile murder trial and conviction of her husband Scott Peterson in her death and the death of her unborn child, Connor. Scott Peterson was convicted of first degree murder of Laci and Connor and is currently on California's Death Row.
A side note to the Laci Peterson tragedy is a mistaken paternity and child support order for the daughter of Scott Peterson's girlfriend, who testified for the prosecution at his trial, Fresno resident Amber Frey.
ABC News reported in September 2005 that Anthony Flores had been paying child support to Frey for four years, believing he was the biological father of Frey's daughter. A DNA test showed with 99.9% certainty that Flores could not be the girl's biological father. Instead, DNA testing indicated that Modesto, CA restaurant owner Christopher Funch was the child's biological father.
Locations
Clinic Hours for DNA Testing in Modesto, California
1541 Florida Avenue
Suite 102
Modesto, CA 95350
Pre-registration required,
Walk-in with barcode:
---
Monday: 7:30 AM – 4:00 PM
Tuesday: 7:30 AM – 4:00 PM
Wednesday: 7:30 AM – 4:00 PM
Thursday: 7:30 AM – 4:00 PM
Friday: 7:30 AM – 4:00 PM
About this Location:
For Modesto paternity testing, you can come to our lab, located around the corner from Roosevelt Park.
Neighborhoods Served in Modesto
location_city
Maze Blvd. / Paradise Rd.
location_city
E. Rumble Rd. / McHenry Ave.
location_city
Bangs Ave. / Carver Rd.
location_city
Sylvan Ave. / Roselle Ave.
location_city
W. Grayson Rd. / S. Carpenter Rd.
location_city
Tully Rd. / Kiernan Ave.
location_city
Stoddard Ave. / McHenry Ave.
location_city
Standiford Ave. / Dale Rd.
location_city
McHenry Ave. / Sylvan Ave.
Additional Services
We also offer other services, such as:
Local Reviews
By Yeya on 7/1/2016
It was easy & fast on the results I was 100 satisfy I defiantly recommend this place if you want a DNA done or anything else
By Danny on 5/19/2016
I was kind of nervous going in but as I entered and was welcomed by the ladies at the desk my nervousness went away and I felt very comfortable. Your staff was very professional and friendly. And me and my son appreciated that very much. Wish you all a wonderful day
By Maria Zavala on 5/10/2016
Excellent service
By M on 4/11/2016
Excellent Service
By Marcus rupe on 3/17/2016
Shelly was very helpful and sweet.
By Clifford Trammell on 3/10/2016
Been waiting a lot of years for this…thank you
Citations
menu_book
"Child Support Process – Establish Parentage." Stanislaus County Child Support Services, http://www.stancodcss.org/process/step3.shtm
menu_book
"Family Law Clerk's Office." Superior Court of California – County of Stanislaus, https://www.stanct.org/family-law
menu_book
"Wrong Man Paid Scott Peterson's Girlfriend Child Support." ABC News, 7 January 2006, https://abcnews.go.com/US/LegalCenter/story?id=1149018&page=1
menu_book
Farrow, Deke. "They thought he was dead. He didn't know they existed. How Escalon twins found father." Modesto Bee, 28 November 2019, https://www.modbee.com/living/family/article237734629.html
menu_book
"Modesto, CA Real Estate & Demographic Data." Neighborhood Scout, https://www.neighborhoodscout.com/ca/modesto