DNA Test – Miami Beach, FL
Health Street provides DNA testing in Miami Beach, Florida at 3 conveniently located testing laboratories. Register now, or call us at (786) 507-5489 or schedule online. with any questions. Our paternity testing (including grandparent DNA tests, avuncular (aunt or uncle) testing, and postmortem DNA testing) determines if two or more people are related.
Shedule an appointment for a DNA test quickly and easily. The parties can come together or you can set up separate appointments. Grandparent DNA tests, avuncular (aunt or uncle) testing, and postmortem DNA testing are also available. Legal DNA tests are done at our testing centers. Peace of mind DNA tests can be done at home by cheek swab, hair, or fingernails.
Workforce Screening, Digitally Delivered
The young lady was very knowledgeable about the service. 5653 Park St North I scheduled appointment for DNA testing
Kenyatta Anderson
2/28/2017
1 of 3
333 41st Street
Miami Beach
,
FL
33140
2 of 3
400 Arthur Godfrey Road
Miami Beach
,
FL
33140
3 of 3
400 Arthur Godfrey Road
Miami Beach
,
FL
33140
DNA Test – Miami Beach, Florida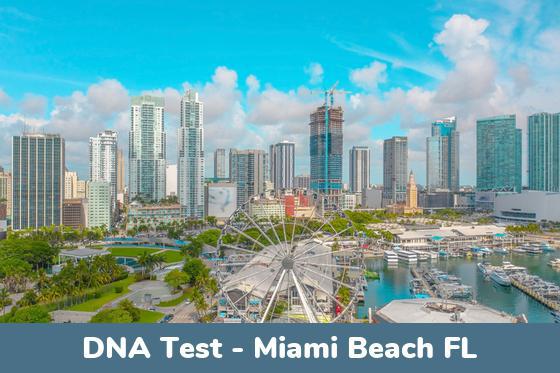 Types of DNA Tests at our Miami Beach, Florida clinics:
Paternity Testing can conclusively establish whether or not a man is the biological father of a child.
Relationship Testing for other close family relationships can be performed at our testing centers. Our DNA testing services can confirm or deny biological relationships between grandparents, grandchildren, siblings, half-siblings, aunts, uncles, nieces and nephews:
Specimens we can test for DNA
The easiest and most reliable way to obtain a DNA sample for paternity testing is to swab the inner cheeks of the alleged father and child or children. These skin cells are known as buccal cells, and they rub off easily onto cotton swabs and remain in place for analysis by our laboratory.
Other specimen samples, such as hair follicles, fingernails, and garments that might contain someone's DNA, can also be tested. An Alternative Specimen DNA Test is done by ordering one of our testing kits online and shipping the specimens back to us.
Legal DNA Tests vs. "Peace of Mind" At-Home Tests
A Legal Paternity Test is a court admissible lab testing service performed at an AABB accredited laboratory. Accurate results for DNA paternity testing with 99.99% confidence or greater take about a week.
When deciding which type of DNA test is right for you, consider first what you might do with the results. A legal paternity DNA test will hold up in court for such matters as child support or to change the name on a birth certificate. This test must be performed using strict chain of custody procedures. Our Miami Beach DNA testing technicians are trained to follow these guidelines so that the results will be legally admissible.
How to schedule a DNA Test in Miami Beach FL
Scheduling a DNA test at one of our Miami Beach clinics is simple and fast, and we often have appointments available in the same week. It's always helpful to schedule in advance to make sure you get the time you want. Please call our customer service team to help you book your appointment over the phone, or set up your appointment easily online.
We have state of the art testing labs and friendly clinics that perform the DNA sample collection in Miami Beach, plus many more locations throughout Florida and across the United States. During registration, we'll show you the nearest locations for DNA testing so you can choose the site that's most convenient. You'll also pick the times and days that you prefer.
Why Health Street
Over a Decade of Experience
Health Street has been performing DNA testing nationally since 2010. The first DNA test in Miami Beach, FL performed by Health Street was in 2020.
Dedication to Excellence
Our dedication to excellence includes our commitment to provide compassionate services and to helping people obtain the accurate DNA testing in Miami Beach that they need.
Miami Beach, Florida – DNA test
Florida's Presumption of Paternity
In the state of Florida, when a married couple has a baby, it's automatically assumed that the mother's husband is the child's legal father. According to attorneys at Vilar Law, a marital and family law firm serving Miami Beach, this is true even if it is known that the wife was having an affair during the marriage.
Florida's presumption of paternity was established to protect the child's interests and ensure support from both parents. If one party provides clear and convincing evidence that the presumption is incorrect, it may be reversed. However, it's possible that the courts will not allow a paternity challenge if it deems that doing so is not in the best interests of the child.
How to Establish Paternity in Miami Beach
When a child's parents are not married, the child does not have a legal father until paternity has been established. Miami Beach law firm Hoffman, Larin & Agnetti, P.A. states that signing a birth certificate does not establish legal paternity or give a man parental rights.
The simplest way to establish legal paternity is for both parents to sign a Voluntary Acknowledgment of Paternity form and file it with the Florida Bureau of Vital Statistics. This also adds the father's name to the child's birth certificate. The other option is to petition the courts to establish legal paternity. This is often done when there is a dispute over whether the man is the child's biological father. In this case, the courts will typically order a DNA test to determine biological paternity and weigh other factors prior to issuing a ruling.
Is Establishing Legal Paternity Worth the Effort?
Often, parents may wonder whether it's really necessary to go through the effort of establishing a child's legal paternity. According to John Buchmiller & Associates, a North Miami Beach father's rights attorney, an unmarried father has no parental rights until paternity has been established. Even if the parents have established a visitation agreement, without legal paternity, a child's mother can sever the relationship between the father and child at will.
The Florida Department of Health also explains additional benefits, including:
arrow_forward_ios
The child's ability to receive financial support from both parents.
arrow_forward_ios
The child's ability to learn about family medical history on both sides of the family.
arrow_forward_ios
The ability for the child to access the father's health insurance, Social Security, Veterans' benefits, and/or military allowances.
The courts cannot rule on important matters such as child support, custody, or visitation until legal paternity has been established.
Last updated 1/6/2023
Locations
Clinic Hours for DNA Testing in Miami Beach, Florida
400 Arthur Godfrey Road
Suite 510
Miami Beach, FL 33140
Pre-registration required,
Walk-in with barcode:
---
Monday: 7:30 AM – 3:30 PM
(M Lunch: 12:30-1 PM)
Tuesday: 7:30 AM – 3:30 PM
(T Lunch: 12:30-1 PM)
Wednesday: 7:30 AM – 3:30 PM
(W Lunch: 12:30-1 PM)
Thursday: 7:30 AM – 3:30 PM
(Th Lunch: 12:30-1 PM)
Friday: 7:30 AM – 3:30 PM
(F Lunch: 12:30-1 PM)
About this Location:
We are located down the block from Muss Park.
Neighborhoods in Miami Beach Served by our Clinics
location_city
59th And Collins
location_city
Avanti Normandy Isles
location_city
Biscayne Point
location_city
Central Bayshore
location_city
Fisher Island
location_city
Normandy Shores
location_city
Palm & Hibiscus Islands
location_city
Venetian Islands
Additional Services
We also offer other services, such as:
Citations
menu_book
"Paternity." Vilar Law, https://www.vilarlaw.com/paternity.html
menu_book
Hoffman, Martin. "Establishing Paternity Under Florida Law, Hoffman, Larin & Agnetti, P.A., 21 February 2022, https://www.hlalaw.com/blog/establishing-paternity-under-florida-law/
menu_book
"North Miami Beach Father's Rights." John Buchmiller & Associates, LLC, https://www.miamifamilylaw.org/fathers-rights-north-miami-beach-fl/
menu_book
"Paternity." Florida Department of Revenue, https://floridarevenue.com/childsupport/pages/paternity.aspx#fourth
menu_book
"Acknowledgment of Paternity." State of Florida Department of Health, https://www.floridahealth.gov/certificates/certificates/_documents/DH432-Acknowledgment-Paternity-Aff-1-2022.pdf
menu_book
"Miami Beach FL." Nextdoor, https://nextdoor.com/city/miami-beach–fl/