DNA Test – Boca Raton, FL
Health Street provides DNA tests and legal paternity testing in Boca Raton, Florida at 5 conveniently located testing laboratories. Call (561) 264-1820 or schedule online. We offer legal paternity tests, sibling studies, grandparent DNA tests, avuncular (aunt or uncle) testing, and postmortem DNA testing to determine if people are biologically related.
Set up DNA testing appointments online. Test results can be used in court for child support or to change a birth a certificate; it can also be used for simple peace of mind. Appointments can be scheduled together or separately. Legal DNA tests are done by cheek swab at our testing centers. We can also extract DNA samples from hair follicles, fingernails, and other specimens.
Workforce Screening, Digitally Delivered
1 of 5
900 Glades Road
Boca Raton
,
FL
33431
2 of 5
19090 State Road 7
Boca Raton
,
FL
33498
3 of 5
9250 Glades Road
Boca Raton
,
FL
33434
4 of 5
3003 Yamato Road
Boca Raton
,
FL
33434
5 of 5
141 NW 20th Street
Boca Raton
,
FL
33431
DNA Testing Boca Raton FL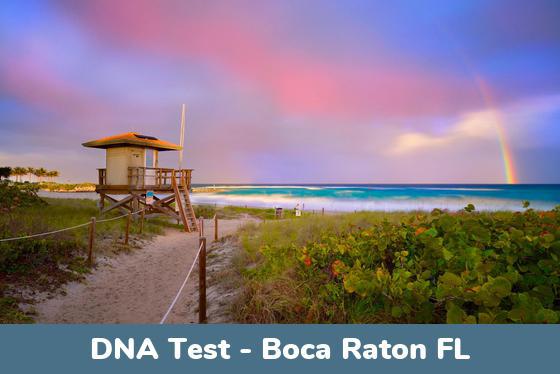 Types of DNA Tests at our Boca Raton FL clinics:
Paternity Testing can conclusively establish whether or not a man is the biological father of a child.
Relationship Testing for other close family relationships can be performed at our testing centers. Our DNA testing services can confirm or deny biological relationships between grandparents, grandchildren, siblings, half-siblings, aunts, uncles, nieces and nephews:
Specimens we can test for DNA
The easiest and most reliable way to obtain a DNA sample for paternity testing is to swab the inner cheeks of the alleged father and child or children. These skin cells are known as buccal cells, and they rub off easily onto cotton swabs and remain in place for analysis by our laboratory.
Other specimen samples, such as hair follicles, fingernails, and garments that might contain someone's DNA, can also be tested. An Alternative Specimen DNA Test is done by ordering one of our testing kits online and shipping the specimens back to us.
Legal DNA Tests vs. "Peace of Mind" At-Home Tests
A Legal Paternity Test is a court admissible lab testing service performed at an AABB accredited laboratory. Accurate results for DNA paternity testing with 99.99% confidence or greater take about a week.
When deciding which type of DNA test is right for you, consider first what you might do with the results. A legal paternity DNA test will hold up in court for such matters as child support or to change the name on a birth certificate. This test must be performed using strict chain of custody procedures. Our Boca Raton DNA testing technicians are trained to follow these guidelines so that the results will be legally admissible.
How to schedule a DNA Test in Boca Raton FL
Scheduling a DNA test at one of our Boca Raton clinics is simple and fast, and we often have appointments available in the same week. It's always helpful to schedule in advance to make sure you get the time you want. Please call our customer service team to help you book your appointment over the phone, or set up your appointment easily online.
We have state of the art testing labs and friendly clinics that perform the DNA sample collection in Boca Raton, plus many more locations throughout Florida and across the United States. During registration, we'll show you the nearest locations for DNA testing so you can choose the site that's most convenient. You'll also pick the times and days that you prefer.
Why Health Street
A Decade Plus of Experience
Health Street has provided DNA tests since 2010. The first DNA test we performed in Boca Raton, FL was in 2018.
Commitment to Community
Health Street takes pride in our dedication to the paternity testing needs of residents of Boca Raton, Florida.
Facts about DNA Testing in Boca Raton FL
Boca Raton One of Florida's Fastest Growing Cities
Boca Raton is a city of about 100,000 people on the southeastern coast of Florida, just north of Fort Lauderdale and Miami. Like many parts of South Florida, Boca Raton was incorporated in the early 20th century and began seeing real population and economic growth in the 1980s. In the next five years alone, more than 200,000 people are expected to move into the Boca Raton-West Palm Beach-Del Ray metropolitan area.
Boca is home to Florida Atlantic University and the headquarters of several large national companies, including Office Depot, Cancer Treatment Centers of America, and more. In fact, the largest sector by job group in Boca Raton is the Sales & Related Occupations industry, although the Professional, Scientific, and Technical Services industry ranks highest in recent employment numbers for the area.
Long Lost Floridian Family Members Find Each Other through DNA Testing
Boca Raton native Joanne Loewenstern learned that she was adopted when she was 16 years old. Up until that point, she had no idea that her mother was actually a woman named Lillian Feinsilver who had apparently died a few days after giving birth to her in New York City. Hoping she might learn something about her birth family after wondering about them for so many years, Loewenstern decided to take an ancestry DNA test in 2017 at 79 years old.
Loewenstern didn't immediately connect with anyone, but she did receive a message about a year after taking the test from a man named Sam Ciminieri. Loewenstern and Ciminieri connected and soon discovered that they were half siblings, sharing the same mother. A mother that, incidentally, lived just 80 miles away from Loewenstern in Port St. Lucie, Florida. Loewenstern has since visited her mother along with several other new family members.
Boca Raton Resident Learns of Mix-race Background through DNA Testing
Boca Raton resident Nicole Persley is one of the many people who have taken an ancestry DNA test and learned something that upended their life. Persley began looking into her background and genealogy while in college. While at school, she began noticing that she had much more in common with her black friends than she realized growing up as a "Southern white girl."
In fact, Persley's DNA test revealed that she is at least 9% African. Her research has revealed that her grandfather on her father's side was black, but light-skinned enough to pass as a white man— which he did. Persley suspects that her father, who is now deceased, didn't know either. Since learning about her heritage, Persley has been happy to embrace her new understanding of her family.
Locations
Clinic Hours for DNA Testing in Boca Raton, Florida
900 Glades Road
Suite 1b
Boca Raton, FL 33431
Pre-registration required,
Walk-in with barcode:
---
Monday: 8:00 AM – 4:00 PM
Tuesday: 8:00 AM – 4:00 PM
Wednesday: 8:00 AM – 4:00 PM
Thursday: 8:00 AM – 4:00 PM
Friday: 8:00 AM – 4:00 PM
About this Location:
For Boca Raton DNA testing, you can come to our lab, located around the corner from Sugar Sand Park.
Additional Services
We also offer other services, such as:
Citations
menu_book
"Boca Raton, FL." Data USA, https://datausa.io/profile/geo/boca-raton-fl/
menu_book
Steele, Jeffrey. "Boca Raton Building Renown As City For All Reasons." Forbes, 8 May 2019, https://www.forbes.com/sites/jeffsteele/2019/05/08/boca-raton-building-renown-as-city-for-all-reasons/#53de80116a73
menu_book
"5 of the Fastest Growing Florida Communities." Lend Smart Mortgage, 11 November 2019, https://www.golendsmart.com/blog/5-of-the-fastest-growing-florida-communities
menu_book
Nowak, Claire. "Heartwarming Stories of Relatives Who Found Each Other Through DNA Tests." Reader's Digest, https://www.rd.com/advice/relationships/reunited-by-science/
menu_book
Bahrampour, Tara. "They considered themselves white, but DNA tests told a more complex story." Washington Post, 6 February 2018, https://www.washingtonpost.com/local/social-issues/they-considered-themselves-white-but-dna-tests-told-a-more-complex-story/2018/02/06/16215d1a-e181-11e7-8679-a9728984779c_story.html