DNA Test – Bronx, NY
Health Street provides DNA tests and legal paternity testing in Bronx, New York at 17 testing laboratories. Call (718) 619-4321 or schedule online. We offer legal paternity tests, sibling studies, grandparent DNA tests, avuncular (aunt or uncle) testing, and postmortem DNA testing to determine if people are biologically related.
Set up DNA testing appointments online. Test results can be used in court for child support or to change a birth a certificate; it can also be used for simple peace of mind. Appointments can be scheduled together or separately. Legal DNA tests are done by cheek swab at our testing centers. We can also extract DNA samples from hair follicles, fingernails, and other specimens.
Workforce Screening, Digitally Delivered
Thank you for your response. Also thank you for the time date and place where this testing is being performed. Just a little confused on the part of patients name. Is the testing on father son and I The person that is being tested is the son to determine DNA paternity . So am assuming that the father would be the primary person needed for paternity with son and I is that why you have the father down as patient
Ramona Cargo
7/27/2020
Nice staff very helpful. DNA testing results came in within a week.
Patrice
6/18/2019
Excellent service..
DALY ARIAS
9/12/2018
The staff was very professional.
Paul Bartley
6/11/2018
Everything was very professional done.
Paul Bartley
6/9/2018
1 of 17
3665 E Tremont Avenue
Bronx
,
NY
10465
2 of 17
3765 Riverdale Avenue
Bronx
,
NY
10463
3 of 17
2015 Williamsbridge Road
Bronx
,
NY
10461
4 of 17
2415a Arthur Avenue
Bronx
,
NY
10458
5 of 17
1200 Waters Pl
Bronx
,
NY
10461
6 of 17
2901 White Plains Road
Bronx
,
NY
10467
7 of 17
1470 Metropolitan Avenue
Bronx
,
NY
10462
8 of 17
2178 White Plains Road
Bronx
,
NY
10462
9 of 17
2902 Third Avenue
Bronx
,
NY
10455
10 of 17
68 E 161st Street
Bronx
,
NY
10451
11 of 17
1047 Southern Blvd
Bronx
,
NY
10459
12 of 17
388 E Fordham Road
Bronx
,
NY
10458
13 of 17
2 W Fordham Road
Bronx
,
NY
10468
14 of 17
32 Westchester Square
Bronx
,
NY
10461
15 of 17
2146 E Bartow Avenue
Bronx
,
NY
10475
16 of 17
193 W 237th Street
Bronx
,
NY
10463
17 of 17
3494 Jerome Avenue
Bronx
,
NY
10467
DNA Test – Bronx, New York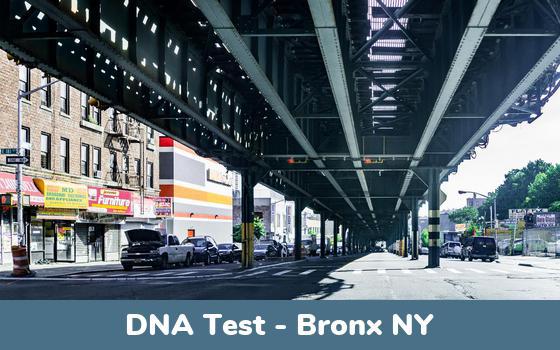 Types of DNA Tests at our Bronx, New York clinics:
Paternity Testing can conclusively establish whether or not a man is the biological father of a child.
Relationship Testing for other close family relationships can be performed at our testing centers. Our DNA testing services can confirm or deny biological relationships between grandparents, grandchildren, siblings, half-siblings, aunts, uncles, nieces and nephews:
Specimens we can test for DNA
The easiest and most reliable way to obtain a DNA sample for paternity testing is to swab the inner cheeks of the alleged father and child or children. These skin cells are known as buccal cells, and they rub off easily onto cotton swabs and remain in place for analysis by our laboratory.
Other specimen samples, such as hair follicles, fingernails, and garments that might contain someone's DNA, can also be tested. An Alternative Specimen DNA Test is done by ordering one of our testing kits online and shipping the specimens back to us.
Legal DNA Tests vs. "Peace of Mind" At-Home Tests
A Legal Paternity Test is a court admissible lab testing service performed at an AABB accredited laboratory. Accurate results for DNA paternity testing with 99.99% confidence or greater take about a week.
When deciding which type of DNA test is right for you, consider first what you might do with the results. A legal paternity DNA test will hold up in court for such matters as child support or to change the name on a birth certificate. This test must be performed using strict chain of custody procedures. Our Bronx DNA testing technicians are trained to follow these guidelines so that the results will be legally admissible.
How to schedule a DNA Test in Bronx NY
Scheduling a DNA test at one of our Bronx clinics is simple and fast, and we often have appointments available in the same week. It's always helpful to schedule in advance to make sure you get the time you want. Please call our customer service team to help you book your appointment over the phone, or set up your appointment easily online.
We have state of the art testing labs and friendly clinics that perform the DNA sample collection in Bronx, plus many more locations throughout New York and across the United States. During registration, we'll show you the nearest locations for DNA testing so you can choose the site that's most convenient. You'll also pick the times and days that you prefer.
Why Health Street
Over a Decade of Experience
Health Street has been performing DNA testing nationally since 2010. The first DNA test in Bronx, NY performed by Health Street was in 2011.In fact, we have successfully completed 4196 DNA tests at The Bronx testing centers since then.
Dedication to Excellence
Our dedication to excellence includes our commitment to provide compassionate services and to helping people obtain the accurate DNA testing in Bronx that they need.
Proving Paternity in Court Through DNA Testing
In the Bronx, either parent has the right to file a petition to establish paternity in court. Establishing paternity in court may be necessary if either parent declines DNA testing, if an Acknowledgement of Paternity form cannot be agreed upon, if the mother is legally married to someone else or in the event paternity hasn't been established while in a child support hearing.
Fathers who want a DNA test but are already paying child support must make that request in court. It's important to note that negative results do not automatically terminate court-ordered child support payments. That decision will be made in court and in the best interest of the child, according to NYC HRA.
While at-home kits are available, New York courts do not consider at-home test results to be admissible evidence of biological paternity in Bronx borough, nor any other borough in the city. Instead, according to the New York City Human Resources Administration (HRA), court-ordered DNA testing services must be done through a state-certified lab. DNA samples will be taken via cheek swab from both parents and the child and returned to participants approximately 2 weeks after all necessary samples have been received.
Clear and Convincing Evidence and Open Acknowledgement
A Bronx County Surrogate's Court ruling in 2005 allows paternity to be established if the father of a child has "openly acknowledged the child as his own and there exists other clear and convincing evidence of the paternal relationship" via direct (oral acknowledgement) or collateral sources (photographs, bank records, written correspondence).
In the 2005 case that produced this ruling, a Bronx mother refused to participate in DNA testing. Since Bronx courts require the DNA of the father, mother and child, paternity needed to be established by other means. The court accepted photos and home video of the father with the child in question as evidence of an existing relationship and shared residence after the child's birth.
Health Street's Bronx DNA Services "In the News"
Health Street's Bronx Headquarters is the most recognized and reputable clinic in New York for paternity testing. Our mobile DNA testing was covered in the New York Times, the New York Post, and the Daily News.
Life in the Bronx
The Bronx is home to 1.43 million people. Approximately 600,000 people are locally employed within the borough. Healthcare and social assistance is by far the largest industry fueling the Bronx economy, boasting over 146,000 employees. Retail is the second-largest industry (over 67,100 employees) followed by Accommodation & Food Services (over 58,500 employees). Transportation & Warehousing and Educational Services are significant industries as well.
On an occupational level, the types of jobs held by Bronx residents are varied. Office and administrative occupations are the most common type of job, held by approximately 73,000 people. That's followed by healthcare support occupations (over 65,000 people) and sales occupations (nearly 57,400 people). Compared to other counties across the country, workers in the Bronx are more likely to be specialized in healthcare support, firefighting and building maintenance.
According to the state, immigrants make up 37% of the Bronx's total population, accounting for half of the borough's workforce and 60% of its self-employed entrepreneurs.
Locations
Clinic Hours for DNA Testing in Bronx, New York
3665 E Tremont Avenue
Bronx, NY 10465
Pre-registration required,
Walk-in with barcode:
---
Monday: 8:00 AM – 3:30 PM
Tuesday: 8:00 AM – 3:30 PM
Wednesday: 8:00 AM – 3:30 PM
Thursday: 8:00 AM – 3:30 PM
Friday: 8:00 AM – 3:30 PM
Saturday: 8:00 AM – 10:30 AM
About this Location:
You can locate our clinic down the block from Brewski's Bar & Grill.
1200 Waters Pl
Suite M109
Bronx, NY 10461
Pre-registration required,
Walk-in with barcode:
---
Monday: 9:00 AM – 4:00 PM
(M Lunch: 12-12:45 PM)
Tuesday: 9:00 AM – 4:00 PM
(T Lunch: 12-12:45 PM)
Wednesday: 9:00 AM – 4:00 PM
(W Lunch: 12-12:45 PM)
Thursday: 9:00 AM – 4:00 PM
(Th Lunch: 12-12:45 PM)
Friday: 9:00 AM – 4:00 PM
(F Lunch: 12-12:45 PM)
Saturday: 8:00 AM – 11:30 PM
About this Location:
Our lab is located nearby to Calvary Hospital. There is plenty of parking available.
Neighborhoods Served in Bronx
location_city
Morris Heights
Additional Services
We also offer other services, such as:
Local Reviews
By Ramon Rodriguez on 4/13/2018
I really appreciate the promptness in delivering results.
By Chimere on 3/26/2018
Everyone was professional, and friendly. Just the lab charged me twice but everything else was good, at the 3rd ave in the Bronx. Paternity test
By Sasha Evans on 9/28/2017
Responded immediately with the information requested… very professional
By Vincent Cardillo on 9/24/2017
You were a sweetheart and very professional.
By Oneris A Barett on 8/30/2017
Great rapid service! The staff was very polite and professional and the results were received in a timely manner, both via e-mail and mail service. Thank you Ms. James for providing outstanding customer service when needed.
By Efrain Cubano on 7/19/2017
Very nice polite 2417 3rd avenue DNA
By Edwin Ellis on 7/12/2017
Queava James assisted and provided very professional services to my family in a comfortable, relaxed and clean environment.
By Jorge alvarez on 6/17/2017
the customer service are nice.Bronx locationPaternity DNA
By Linette Duzant on 5/18/2017
Thank You so much for all your help and answering all of our questions.
By Chris on 5/15/2017
I just wanted to send you a quick e-mail to thank you for your help and professionalism this past Friday. As I am sure you are aware this has been quite the ordeal for me. Nevertheless, you seamlessly detailed the process which lead to a smooth appointment. Once again, thank you.Sincerely
Citations
menu_book
"Bronx County, NY." Data USA, https://datausa.io/profile/geo/bronx-county-ny.
menu_book
"An Economic Snapshot of the Bronx." Office of the New York State Comptroller, https://www.osc.state.ny.us/osdc/rpt4-2019.pdf.
menu_book
"Child Support Handbook for Noncustodial Parents." NYC Human Resources Administration, Department of Social Services, https://www1.nyc.gov/assets/hra/downloads/pdf/services/child_support/noncustodial_parents.pdf.
menu_book
"DNA Testing." HRA Office of Child Support Services (OCSS), https://www1.nyc.gov/assets/hra/downloads/pdf/services/child_support/dna_testing.pdf.
menu_book
"Estate of Francis v." FindLaw, 24 August 2005, https://caselaw.findlaw.com/ny-surrogates-court/1133197.html.