DNA Test – Tyler, TX
Health Street provides DNA tests and legal paternity testing in Tyler, Texas at 8 testing laboratories. Call (903) 705-6345 or schedule online. We offer legal paternity tests, sibling studies, grandparent DNA tests, avuncular (aunt or uncle) testing, and postmortem DNA testing to determine if people are biologically related.
Set up DNA testing appointments online. Test results can be used in court for child support or to change a birth certificate; it can also be used for simple peace of mind. Appointments can be scheduled together or separately. Legal DNA tests are done by cheek swab at our testing centers. We can also extract DNA samples from hair follicles, fingernails, and other specimens.
Workforce Screening, Digitally Delivered
Did a dna test between my daughter and alleges grandfather. The results were fast.
Eva
7/7/2021
Service was quick and professional
Unknown
12/12/2020
Excellent Customer Service, scheduling was fast and easy. Thank you
Jody Wall
10/30/2018
This was such a painful experience but on the Health Street side it was GREAT I called them multiple times for multiple questions and spoke with someone new each time. But each new person was so happy and eager to help. Their attitude was wonderful and I will be honest I did not expect that from a company on NY. I want to thank you all for making this process a little easier for me and you have left a lasting impression with me. If I ever need to recommend anyone for a DNA test this is exactly where I am sending them. You guys are awesome
Justin
11/11/2017
Louis was wonderful. He was very nice and professional. Paternity Test, Tyler Tx.
Mary Jones
9/22/2017
1 of 8
649 S Broadway Avenue
Tyler
,
TX
75701
2 of 8
822 S Fleishel Avenue
Tyler
,
TX
75701
3 of 8
1413 S Beckham Avenue
Tyler
,
TX
75701
4 of 8
3820 State Highway 64 W
Tyler
,
TX
75704
5 of 8
3110 Park Center Drive
Tyler
,
TX
75701
6 of 8
1111 E Idel Street
Tyler
,
TX
75701
7 of 8
5040 Kinsey Drive
Tyler
,
TX
75703
8 of 8
1814 Roseland Blvd
Tyler
,
TX
75701
DNA Test – Tyler, Texas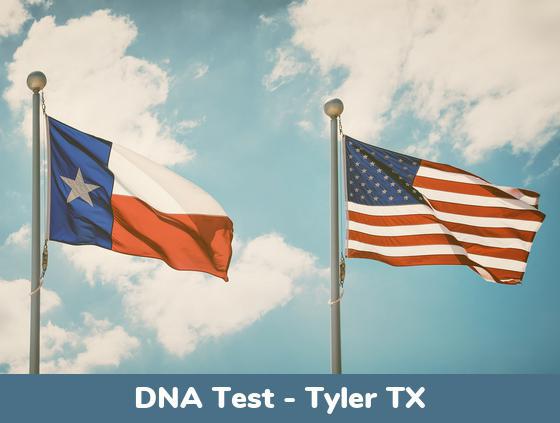 Types of DNA Tests at our Tyler, Texas locations:
The most commonly ordered DNA test is a Paternity Test to conclusively establish whether or not a man is the biological father of a child.
Paternity Testing can be performed at our testing centers. DNA Testing can be done for other close family relationships, such as:
Specimens we can test for DNA
The easiest and most reliable way to obtain a DNA sample for paternity testing is to swab the inner cheeks of the people being tested. These skin cells are known as buccal cells, and they rub off easily onto cotton swabs and remain in place for analysis by our laboratory. Other specimen samples, such as hair follicles, fingernails, and garments that might contain someone's DNA, can also be tested. An Alternative Specimen DNA Test is done by registering online and shipping the specimens to us.
Legally Admissible DNA Tests vs. "Peace of Mind" At-Home Tests
A Legal Paternity Test is a court admissible DNA testing service. Accurate results for DNA paternity testing with 99.99% confidence or greater take about a week.
When deciding which type of DNA test is right for you, consider first what you might do with the results. In order for the results of a DNA test to hold up in court, for child support, or to change the name on a birth certificate, the test must be done at a clinic using strict chain of custody procedures. Our Tyler DNA testing technicians are trained to follow guidelines that ensure that the results can be used for legal purposes.
How to schedule a DNA Test in Tyler TX
Scheduling a DNA test at one of our Tyler clinics is simple and fast, and we often have appointments available in the same week. It's always helpful to schedule in advance to make sure you get the time you want. Register online, or please call our customer service team, which can help you book your appointment over the phone.
We have state of the art testing labs and friendly clinics that perform the DNA sample collection in Tyler, plus many more locations throughout Texas and all across the United States. Not every one of our clinics performs paternity testing in Tyler. We'll show you the nearest locations to get a DNA test in Tyler , TX so you can choose the testing center that is most convenient. When you register, you can also pick the appointment time and date that you prefer.
Why Health Street
A Decade Plus of Experience
Health Street has provided DNA tests since 2010. The first DNA test we performed in Tyler, TX was in 2017.Since then, we have done 43 DNA tests at our Tyler facilities.
Dedicated to Excellence
We are proud to help families and individuals get DNA testing in Tyler.
Local DNA Info for Tyler TX
Establishing Paternity in Tyler, TX
Under Texas law, when a child is born to a married couple, paternity is automatically established since it is presumed the husband is the biological father. For unmarried Tyler, TX couples, the state requires both parties to legally establish paternity to provide the biological father with his paternal rights.
The easiest way to establish paternity in Tyler is to file an Acknowledgment of Paternity (AOP). This document will be presented at the hospital following the child's birth but can also be completed through a AOP-certified entity at a later date. Once the acknowledgment has been properly filed with the state, the father will then have legal parental rights over his child and can request custodial or institutional agreements in Smith County court if necessary.
Navigating Difficult Paternity Situations in Tyler, TX
In the moments following childbirth, two parents may be quick to assume the child's rightful father and swiftly file an Acknowledgment of Paternity. Unfortunately, in some cases, a presumed father may later learn that he is not the biological father and now holds legal paternal rights and responsibilities over a child who is not his.
For Tyler men who find themselves in a similar situation, the state of Texas allows you to file a Rescission of Acknowledgement Paternity form within 60 days after the original filing of the Acknowledgement of Paternity to remove this legal bind. If the 60-day mark passes, the father will need to challenge the Acknowledgment in Smith County Court to have it rescinded. In most cases, a judge will request DNA testing of the previously presumed father to confirm his claim is accurate and, if so, will release him of any child support obligations.
Seeking Child Support Services in Tyler, TX
A Tyler, TX parent may need to request child support services for their child. To receive monthly payments from the other parent, paternity must be established over the child. If you are experiencing issues having the other parent agree to or allow the establishment of paternity, it's essential you file a paternity petition through Smith County Family Court.
This will allow a judge to issue a summons for the parent, issue DNA testing if necessary, and mandate that paternity is established. Once paternity is established, the State of Texas provides an online platform to request child support services.
Locations
Clinic Hours for DNA Testing in Tyler, Texas
649 S Broadway Avenue
Suite 1
Tyler, TX 75701
Pre-registration required,
Walk-in with barcode:
---
Monday: 8:00 AM – 4:30 PM
(M Lunch: 11:30-1 PM)
Tuesday: 8:00 AM – 4:30 PM
(T Lunch: 11:30-1 PM)
Wednesday: 8:00 AM – 4:30 PM
(W Lunch: 11:30-1 PM)
Thursday: 8:00 AM – 4:30 PM
(Th Lunch: 11:30-1 PM)
Friday: 8:00 AM – 4:30 PM
(F Lunch: 11:30-1 PM)
About this Location:
You can find us very close by to UT Health Tyler. We hope to see you here soon.
Some Tyler Neighborhoods That We Serve
location_city
Jacksonville
location_city
Running Meadows
Additional Services
We also offer other services, such as:
Local Reviews
By Mario Gonzalez on 3/14/2016
Good, Tyler, paternity test
By Mario Mario on 3/10/2016
found them on the internet for dna test tyler tx
By Kimberly Sieber on 2/16/2016
Delenia Gamble was wonderful. Very friendly and professional. She helped me with all of my questions and helped me set up my appointment.
Citations
menu_book
"Acknowledgement of Paternity (AOP)." Ken Paxton Attorney General of Texas, https://www.texasattorneygeneral.gov/child-support/paternity/acknowledgement-paternity-aop
menu_book
"Find an AOP Certified Entity." Ken Paxton Attorney General of Texas, https://csapps.oag.texas.gov/find-AOP-certified-entity
menu_book
"Rescission of Acknowledgement Paternity." Texas Attorney General, https://www2.texasattorneygeneral.gov/files/cs/Sample_Rescission_Form.pdf
menu_book
"How to Apply for Child Support." Ken Paxton Attorney General of Texas, https://www.texasattorneygeneral.gov/child-support/get-started/how-apply-child-support
menu_book
"Tyler Area Communities and Neighborhoods." ClaudiaCarroll Tyler Homes Group, https://www.tylerhomes.com/communities.php
menu_book
"The 10 Safest neighborhoods in Tyler." KNUE 101.5, https://knue.com/these-are-the-most-dangerous-neighborhoods-in-tyler/