DNA Test – Longview, TX
Health Street provides DNA testing in Longview, Texas at 7 conveniently located testing laboratories. Register now, or call us at (430) 558-5708 or schedule online. with any questions. Our paternity testing (including grandparent DNA tests, avuncular (aunt or uncle) testing, and postmortem DNA testing) determines if two or more people are related.
Schedule an appointment for a DNA test quickly and easily. The parties can come together or you can set up separate appointments. Grandparent DNA tests, avuncular (aunt or uncle) testing, and postmortem DNA testing are also available. Legal DNA tests are done at our testing centers. Peace of mind DNA tests can be done at home by cheek swab, hair, or fingernails.
Workforce Screening, Digitally Delivered
Great service.
Gary Chipman
6/23/2020
Thank you for the best service I've received in awhile. Will us you again in the near future. All the best.
Gary Chipman
6/11/2020
I'm utilizing the DNA services and so far the experience has been great. The office I used was in Longview, TX. I recommend this lab.
Clarence W. Smith
3/6/2020
Awesome customer service!
Shaniecia Burgins
2/14/2017
The customer service was excellent. We used the services in Longview Texas. My brother, Mark Lance Nyvall and I were having a paternal DNA test to determine if we are of the same father.
Vernon Chris Nyvall
10/7/2016
1 of 7
815 N 4th Street
Longview
,
TX
75601
2 of 7
603 N 2nd Street
Longview
,
TX
75601
3 of 7
3202 N 4th Street
Longview
,
TX
75605
4 of 7
3417 W Marshall Avenue
Longview
,
TX
75604
5 of 7
1509 W Loop 281
Longview
,
TX
75604
6 of 7
3202 N 4th Street
Longview
,
TX
75605
7 of 7
1111 N 6th Street
Longview
,
TX
75601
DNA Test – Longview, Texas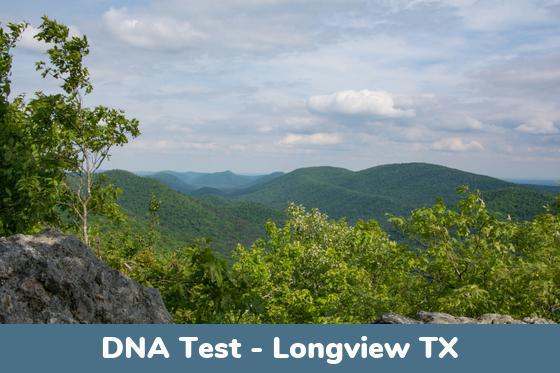 Types of DNA Tests at our Longview, Texas clinics:
Paternity Testing can conclusively establish whether or not a man is the biological father of a child.
Relationship Testing for other close family relationships can be performed at our testing centers. Our DNA testing services can confirm or deny biological relationships between grandparents, grandchildren, siblings, half-siblings, aunts, uncles, nieces and nephews:
Specimens we can test for DNA
The easiest and most reliable way to obtain a DNA sample for paternity testing is to swab the inner cheeks of the alleged father and child or children. These skin cells are known as buccal cells, and they rub off easily onto cotton swabs and remain in place for analysis by our laboratory.
Other specimen samples, such as hair follicles, fingernails, and garments that might contain someone's DNA, can also be tested. An Alternative Specimen DNA Test is done by ordering one of our testing kits online and shipping the specimens back to us.
Legal DNA Tests vs. "Peace of Mind" At-Home Tests
A Legal Paternity Test is a court admissible lab testing service performed at an AABB accredited laboratory. Accurate results for DNA paternity testing with 99.99% confidence or greater take about a week.
When deciding which type of DNA test is right for you, consider first what you might do with the results. A legal paternity DNA test will hold up in court for such matters as child support or to change the name on a birth certificate. This test must be performed using strict chain of custody procedures. Our Longview DNA testing technicians are trained to follow these guidelines so that the results will be legally admissible.
How to schedule a DNA Test in Longview TX
Scheduling a DNA test at one of our Longview clinics is simple and fast, and we often have appointments available in the same week. It's always helpful to schedule in advance to make sure you get the time you want. Please call our customer service team to help you book your appointment over the phone, or set up your appointment easily online.
We have state of the art testing labs and friendly clinics that perform the DNA sample collection in Longview, plus many more locations throughout Texas and across the United States. During registration, we'll show you the nearest locations for DNA testing so you can choose the site that's most convenient. You'll also pick the times and days that you prefer.
Why Health Street
More than a Decade of Experience
Since 2010, Health Street has offered DNA tests in Longview, the state of Longview, Texas, and throughout the nation. The first DNA test that Health Street provided in Longview, TX was in 2018.
Commitment to Excellence
Our mission is to understand the DNA testing needs of our clients. We strive to provide the most accurate, fast, and conclusive paternity tests in Longview.
Local DNA Testing in Longview
Experts Say…
Hollwarth Family Law Firm, located in Longview, TX, explains the importance of establishing paternity by stating, "Paternity is another term for fatherhood. In a legal context, establishing paternity means determining who the law considers to be the father of a child. This determination creates certain rights and responsibilities for that person with relation to the child. Every child has a biological father but not every child has an established legal father. Establishing paternity in East Texas allows the child to be eligible for benefits like child support, health insurance, veteran survivor benefits, and Social Security. It also provides the father with legal rights concerning the child."
Proving Paternity for Child Custody Purposes in Longview, TX
In Longview, TX, if a mother and father are not married when their child is born, a father does not have legal rights to his child until paternity is legally established. In some cases, the court may order DNA testing to establish paternity. DNA testing is used when the mother and father disagree on who the father is or if they just want to make sure a man is the child's biological father.
DNA testing requires DNA samples from the alleged father, mother, and child. The results of DNA testing can confirm a child's father with over 99 percent accuracy. Once the results are back and the alleged father is the biological father, the paternity order can be finalized, and the father can pursue legal rights to his child.
The Local Economy, Jobs, and Major Industries in Longview, TX
poll
The unemployment rate in Longview, TX is 4.1 percent.
poll
The job market in Longview has increased by 1 percent over the last year.
poll
The average annual income is $23,792.
poll
The average annual household income in Longview is $43, 767.
poll
Retail Trade and manufacturing are the top occupations by population in Longview, TX.
Locations
Clinic Hours for DNA Testing in Longview, Texas
815 N 4th Street
Suite D
Longview, TX 75601
Pre-registration required,
Walk-in with barcode:
---
Monday: 8:00 AM – 3:30 PM
(M Lunch: 11:30-1 PM)
Tuesday: 8:00 AM – 3:30 PM
(T Lunch: 11:30-1 PM)
Wednesday: 8:00 AM – 3:30 PM
(W Lunch: 11:30-1 PM)
Thursday: 8:00 AM – 3:30 PM
(Th Lunch: 11:30-1 PM)
Friday: 7:30 AM – 12:00 PM
About this Location:
You can obtain paternity testing in Longview, Texas by visiting us at this location. It is nearby to Trinity School of Texas.
Neighborhoods In and Around Longview That We Serve
location_city
Country Club/Lansing Switch
location_city
Rollins Park
Additional Services
We also offer other services, such as:
Local Reviews
By Vernon Chris Nyvall on 9/19/2016
Customer service was excellent. I spoke with Queava James and she was most helpful. We will be using your services in Longview, TX. The test is to determine if we have the same father.
Citations
menu_book
"Paternity." Hollwarth Family Law Firm, https://www.hollwarthlaw.com/family-law/paternity/
menu_book
"Court-Ordered Paternity." Attorney General of Texas, https://www.texasattorneygeneral.gov/child-support/paternity/court-ordered-paternity
menu_book
"Economy in Longview, Texas." BestPlaces, https://www.bestplaces.net/economy/city/texas/longview
menu_book
"Discover your Longview neighborhood." Nextdoor, https://nextdoor.com/city/longview–tx/