DNA Test – Terrytown, LA
Health Street provides DNA testing in Terrytown, Louisiana at our centrally located testing center. Register now, or call us at (504) 500-4347 or schedule online. with any questions. Our paternity testing (including grandparent DNA tests, avuncular (aunt or uncle) testing, and postmortem DNA testing) determines if two or more people are related.
Shedule an appointment for a DNA test quickly and easily. The parties can come together or you can set up separate appointments. Grandparent DNA tests, avuncular (aunt or uncle) testing, and postmortem DNA testing are also available. Legal DNA tests are done at our testing centers. Peace of mind DNA tests can be done at home by cheek swab, hair, or fingernails.
Workforce Screening, Digitally Delivered
1 of 1
2600 Belle Chasse Highway
Terrytown
,
LA
70056
DNA Test – Terrytown, Louisiana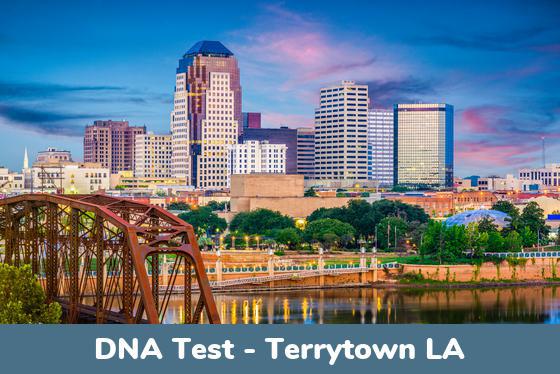 Types of DNA Tests at our Terrytown, Louisiana clinics:
Paternity Testing can conclusively establish whether or not a man is the biological father of a child.
Relationship Testing for other close family relationships can be performed at our testing centers. Our DNA testing services can confirm or deny biological relationships between grandparents, grandchildren, siblings, half-siblings, aunts, uncles, nieces and nephews:
Specimens we can test for DNA
The easiest and most reliable way to obtain a DNA sample for paternity testing is to swab the inner cheeks of the alleged father and child or children. These skin cells are known as buccal cells, and they rub off easily onto cotton swabs and remain in place for analysis by our laboratory.
Other specimen samples, such as hair follicles, fingernails, and garments that might contain someone's DNA, can also be tested. An Alternative Specimen DNA Test is done by ordering one of our testing kits online and shipping the specimens back to us.
Legal DNA Tests vs. "Peace of Mind" At-Home Tests
A Legal Paternity Test is a court admissible lab testing service performed at an AABB accredited laboratory. Accurate results for DNA paternity testing with 99.99% confidence or greater take about a week.
When deciding which type of DNA test is right for you, consider first what you might do with the results. A legal paternity DNA test will hold up in court for such matters as child support or to change the name on a birth certificate. This test must be performed using strict chain of custody procedures. Our Terrytown DNA testing technicians are trained to follow these guidelines so that the results will be legally admissible.
How to schedule a DNA Test in Terrytown LA
Scheduling a DNA test at one of our Terrytown clinics is simple and fast, and we often have appointments available in the same week. It's always helpful to schedule in advance to make sure you get the time you want. Please call our customer service team to help you book your appointment over the phone, or set up your appointment easily online.
We have state of the art testing labs and friendly clinics that perform the DNA sample collection in Terrytown, plus many more locations throughout Louisiana and across the United States. During registration, we'll show you the nearest locations for DNA testing so you can choose the site that's most convenient. You'll also pick the times and days that you prefer.
Why Health Street
More than a Decade of Experience
Since 2010, Health Street has offered DNA tests in Terrytown, the state of Terrytown, Louisiana, and throughout the nation. Since our founding, we have focused on helping people obtain the DNA and paternity tests that they need, from Terrytown to neighborhoods everywhere.
Commitment to Excellence
Our mission is to understand the DNA testing needs of our clients. We strive to provide the most accurate, fast, and conclusive paternity tests in Terrytown.
Local DNA Testing for Terrytown, LA
Establishing Paternity in Terrytown, LA
For an unmarried Terrytown, LA father to gain legal rights over his recently born child, both he and the child's mother will need to legally establish paternity in the state of Louisiana. As a quick and easy solution for both parties, the state offers the Louisiana Paternity Establishment Program. This program promotes the voluntary paternity establishment process to ensure Louisiana children have legally recognized fathers and the necessary support they require.
The simplest way to establish paternity in Louisiana is by completing an Acknowledgement of Paternity Affidavit (AOP). An AOP is a legal form both parents complete to legally declare the child's biological father. Terrytown parents can complete the affidavit at the hospital or birthing facility where the child is delivered, or through Jefferson Parish Child Support Services or Vital Records Registry.
Disestablishing Paternity in Terrytown, LA
A Terrytown couple may be quick to act upon a paternity presumption and move to establish legal paternity. In some unfortunate situations, a parent may learn at a later date that the previously presumed father is not the biological father. For Terrytown parents faced with this burden, the state of Louisiana offers an opportunity to disestablish paternity. If incorrect paternity is discovered within 60 days of filing the affidavit, the state of Louisiana requests that the father submits a Revocation of Acknowledgement of Paternity form.
Once this form is completed, the previously established paternity affidavit will be revoked and the man will no longer hold legal rights over the child. If the 60-day mark has passed, the man will need to file a petition through Jefferson Parish Family Court to have the affidavit thrown out. This will typically require proof of paternity fraud or material mistake in addition to DNA testing to prove the man's claim.
Paternity Programs in Terrytown, LA
To protect the rights of a potential father, the state of Louisiana established the Putative Father Registry. In instances where a Terrytown man believes he has fathered a child but does not have legal control over him or her, the man can file with the registry to be notified of any legal movements involving the child. Such instances can include a movement for adoption or a legal process to revoke parental rights from the mother.
If any of these instances occur, the presumed father will be notified of the legal action involving the child. From here, he can then request to assume the role as legal guardian. As with many legal paternity actions, the courts will most likely request DNA testing to confirm the man is indeed the biological father.
Locations
Clinic Hours for DNA Testing in Terrytown, Louisiana
2600 Belle Chasse Highway
Suite 207
Terrytown, LA 70056
Pre-registration required,
Walk-in with barcode:
---
Monday: 9:00 AM – 4:30 PM
Tuesday: 9:00 AM – 4:30 PM
Wednesday: 9:00 AM – 4:30 PM
Thursday: 9:00 AM – 4:30 PM
Friday: 9:00 AM – 4:30 PM
About this Location:
DNA tests in Terrytown is available at this location, very close by to Paul J. Solis Elementary School.
Neighborhoods In and Around Terrytown That We Serve
location_city
Acadian Village Apartments
location_city
Aladdin Castle Apartments
location_city
Britton Place Apartments
location_city
Alexas Gardens Apartments
location_city
Cedarwood Apartments
location_city
Fairlawn Drive
location_city
Louisburg Square Apartments
location_city
The Pines Apartments
Additional Services
We also offer other services, such as:
Citations
menu_book
"Louisiana Paternity Establishment Program." Louisiana Department of Children and Family Services, https://www.la-paternity.com/
menu_book
"Acknowledgement of Paternity Affidavit." State of Louisiana, https://static1.squarespace.com/static/5a2af88f8dd0415adf60942d/t/5df2758c46861d4715a6edae/1576170893673/AOP_2Party_PublicACC.pdf
menu_book
"Revocation Of Authentic Act of Acknowledgement of Paternity." Louisiana Department of Health and Hospitals https://ldh.la.gov/assets/oph/Center-RS/vitalrec/RevocationAOP.pdf
menu_book
"Putative Father Registry Information." Louisiana Department of Health, https://ldh.la.gov/index.cfm/page/646
menu_book
"Discover your Terrytown neighborhood." Nextdoor, https://nextdoor.com/city/terrytown–la/