DNA Test – Pueblo, CO
Health Street provides DNA tests and legal paternity testing in Pueblo, Colorado at 6 testing laboratories. Call (719) 249-1895 or schedule online. We offer legal paternity tests, sibling studies, grandparent DNA tests, avuncular (aunt or uncle) testing, and postmortem DNA testing to determine if people are biologically related.
Set up DNA testing appointments online. Test results can be used in court for child support or to change a birth certificate; it can also be used for simple peace of mind. Appointments can be scheduled together or separately. Legal DNA tests are done by cheek swab at our testing centers. We can also extract DNA samples from hair follicles, fingernails, and other specimens.
Workforce Screening, Digitally Delivered
1 of 6
3676 Parker Blvd
Pueblo
,
CO
81008
2 of 6
1619 Greenwood Street
Pueblo
,
CO
81003
3 of 6
4117 N Elizabeth
Pueblo
,
CO
81008
4 of 6
1231 S Prairie Avenue
Pueblo
,
CO
81005
5 of 6
4112 Outlook Blvd
Pueblo
,
CO
81001
6 of 6
4112 Outlook Blvd
Pueblo
,
CO
81008
DNA Test – Pueblo, Colorado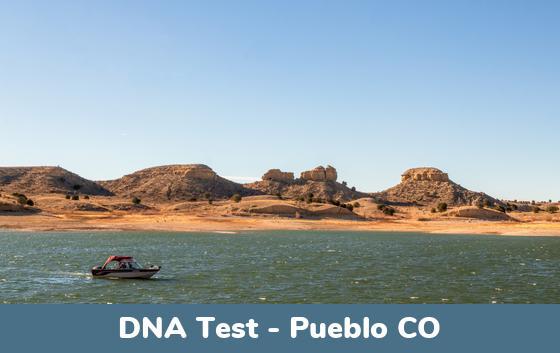 Types of DNA Tests at our Pueblo, Colorado locations:
The most commonly ordered DNA test is a Paternity Test to conclusively establish whether or not a man is the biological father of a child.
Paternity Testing can be performed at our testing centers. DNA Testing can be done for other close family relationships, such as:
Specimens we can test for DNA
The easiest and most reliable way to obtain a DNA sample for paternity testing is to swab the inner cheeks of the people being tested. These skin cells are known as buccal cells, and they rub off easily onto cotton swabs and remain in place for analysis by our laboratory. Other specimen samples, such as hair follicles, fingernails, and garments that might contain someone's DNA, can also be tested. An Alternative Specimen DNA Test is done by registering online and shipping the specimens to us.
Legally Admissible DNA Tests vs. "Peace of Mind" At-Home Tests
A Legal Paternity Test is a court admissible DNA testing service. Accurate results for DNA paternity testing with 99.99% confidence or greater take about a week.
When deciding which type of DNA test is right for you, consider first what you might do with the results. In order for the results of a DNA test to hold up in court, for child support, or to change the name on a birth certificate, the test must be done at a clinic using strict chain of custody procedures. Our Pueblo DNA testing technicians are trained to follow guidelines that ensure that the results can be used for legal purposes.
How to schedule a DNA Test in Pueblo CO
Scheduling a DNA test at one of our Pueblo clinics is simple and fast, and we often have appointments available in the same week. It's always helpful to schedule in advance to make sure you get the time you want. Register online, or please call our customer service team, which can help you book your appointment over the phone.
We have state of the art testing labs and friendly clinics that perform the DNA sample collection in Pueblo, plus many more locations throughout Colorado and all across the United States. Not every one of our clinics performs paternity testing in Pueblo. We'll show you the nearest locations to get a DNA test in Pueblo , CO so you can choose the testing center that is most convenient. When you register, you can also pick the appointment time and date that you prefer.
Why Health Street
More than a Decade of Experience
Since 2010, Health Street has offered DNA tests in Pueblo, the state of Pueblo, Colorado, and throughout the nation. The first DNA test that Health Street provided in Pueblo, CO was in 2019.
Commitment to Excellence
Our mission is to understand the DNA testing needs of our clients. We strive to provide the most accurate, fast, and conclusive paternity tests in Pueblo.
Pueblo, Colorado – DNA Testing
Establishing paternity in Pueblo, Colorado
In Pueblo, Colorado, unwed parents have several options for establishing paternity. They can sign the Acknowledgement of Paternity (AOP) form at the hospital when the child is born. Another option for Pueblo parents to establish paternity is to go to court. Parents usually go to court when either of them is not cooperative or disagrees about paternity.
If parents choose to go to court, the judge will likely ask the alleged father and the child to take a DNA test. Genetic testing is an easy and quick way of establishing paternity. Usually, the DNA test is performed with a simple cheek swab from both the father and the child. Experts compare the DNA specimens to determine whether the man is the birth father. When the judge receives the DNA results, they can use them to establish paternity.
Pueblo, Colorado: Benefits of establishing paternity
In Pueblo, Colorado, once you establish paternity, the father often gains the same rights and responsibilities as the mother. The additional support from the father can also benefit the mother and child. For example, if applicable, a child can get veteran benefits, disability benefits, or inheritance from the father.
Besides the financial benefits, establishing paternity also brings a sense of identity to the child, and if the father is present, also emotional support. When parents establish paternity, the child can gain access to the father's medical history, potentially helping in the treatment and diagnosis of genetic diseases.
With paternity established, parents can ask the court to determine custody and visitation hours. As a legal father, the man can also have an equal say in important decisions such as education, religious upbringing, or healthcare.
Pueblo Woman Reunites with Sister After 60 Years
When adoption separated young Pueblo residents Ida Taylor and Marta Rael, they lived apart for six decades. However, this all changed when Ida decided to take a DNA test. After locating her sister, they exchanged photos and spoke on the phone. The first time they spoke, according to Ida, they both "bawled like babies." Since then, they continued having phone conversations every weekend.
When they finally met in person, they were both surprised by how much they looked alike. Ida was quoted as saying: "It's like looking in the mirror. This is cool!" They've planned future visits with family members and also hope to reunite with their 93-year-old mother, who lives in Denver.
Last updated 11/4/2022
Locations
Clinic Hours for DNA Testing in Pueblo, Colorado
1619 Greenwood Street
Suite 102
Pueblo, CO 81003
Pre-registration required,
Walk-in with barcode:
---
Monday: 8:00 AM – 5:00 PM
(M Lunch: 1-2 PM)
Tuesday: 8:00 AM – 5:00 PM
(T Lunch: 1-2 PM)
Wednesday: 8:00 AM – 5:00 PM
(W Lunch: 1-2 PM)
Thursday: 8:00 AM – 5:00 PM
(Th Lunch: 1-2 PM)
Friday: 8:00 AM – 5:00 PM
(F Lunch: 1-2 PM)
Saturday: 9:00 AM – 4:00 PM
Sunday: 8:00 AM – 12:00 PM
About this Location:
We are located nearby to Parkview Medical Center. There is plenty of parking available.
Neighborhoods In and Around Pueblo That We Serve
location_city
El Camino – Las Vistas
location_city
Beulah Heights
Additional Services
We also offer other services, such as:
Citations
menu_book
Services, D. of H. (n.d.). Establishing paternity. Colorado Child Support Services Program, Setting Up Child Support and Medical Orders, Collecting and Distributing Child Support Payments, Locating Parents, Establishing Parentage, Changing Child Support Orders Colorado Child Support Services. Retrieved November 4, 2022, from https://childsupport.state.co.us/siteuser/do/vfs/Frag?file=%2Fcm%3AfaqEstPaternity.jsp
menu_book
Scherer, Ray. "Sisters reunite after 60 years." News-Press Now, 29 July 2017, https://www.newspressnow.com/news/local_news/sisters-reunite-after-60-years/article_442561fc-f04e-5291-84d6-c7e4bf87da0b.html