DNA Test – Newark, NJ
Health Street provides DNA tests and legal paternity testing in Newark, New Jersey at 5 conveniently located testing laboratories. Call (973) 536-1930 or schedule online. We offer legal paternity tests, sibling studies, grandparent DNA tests, avuncular (aunt or uncle) testing, and postmortem DNA testing to determine if people are biologically related.
Set up DNA testing appointments online. Test results can be used in court for child support or to change a birth certificate; it can also be used for simple peace of mind. Appointments can be scheduled together or separately. Legal DNA tests are done by cheek swab at our testing centers. We can also extract DNA samples from hair follicles, fingernails, and other specimens.
Workforce Screening, Digitally Delivered
1 of 5
340 Airis Drive
Newark
,
NJ
07114
2 of 5
393 Central Avenue
Newark
,
NJ
07103
3 of 5
92 Ferry Street
Newark
,
NJ
07105
4 of 5
375 Mccarter Highway
Newark
,
NJ
07114
5 of 5
617 Broad Street
Newark
,
NJ
07102
DNA Test – Newark, New Jersey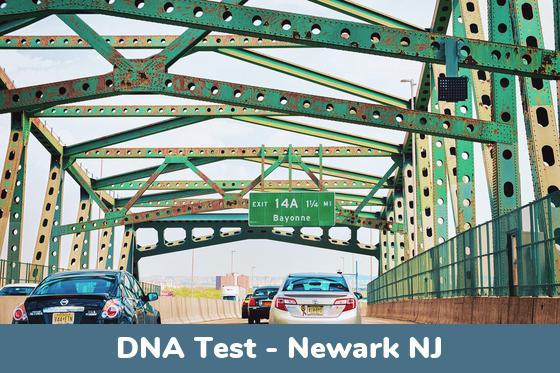 Types of DNA Tests at our Newark, New Jersey clinics:
Paternity Testing can conclusively establish whether or not a man is the biological father of a child.
Relationship Testing for other close family relationships can be performed at our testing centers. Our DNA testing services can confirm or deny biological relationships between grandparents, grandchildren, siblings, half-siblings, aunts, uncles, nieces and nephews:
Specimens we can test for DNA
The easiest and most reliable way to obtain a DNA sample for paternity testing is to swab the inner cheeks of the alleged father and child or children. These skin cells are known as buccal cells, and they rub off easily onto cotton swabs and remain in place for analysis by our laboratory.
Other specimen samples, such as hair follicles, fingernails, and garments that might contain someone's DNA, can also be tested. An Alternative Specimen DNA Test is done by ordering one of our testing kits online and shipping the specimens back to us.
Legal DNA Tests vs. "Peace of Mind" At-Home Tests
A Legal Paternity Test is a court admissible lab testing service performed at an AABB accredited laboratory. Accurate results for DNA paternity testing with 99.99% confidence or greater take about a week.
When deciding which type of DNA test is right for you, consider first what you might do with the results. A legal paternity DNA test will hold up in court for such matters as child support or to change the name on a birth certificate. This test must be performed using strict chain of custody procedures. Our Newark DNA testing technicians are trained to follow these guidelines so that the results will be legally admissible.
How to schedule a DNA Test in Newark NJ
Scheduling a DNA test at one of our Newark clinics is simple and fast, and we often have appointments available in the same week. It's always helpful to schedule in advance to make sure you get the time you want. Please call our customer service team to help you book your appointment over the phone, or set up your appointment easily online.
We have state of the art testing labs and friendly clinics that perform the DNA sample collection in Newark, plus many more locations throughout New Jersey and across the United States. During registration, we'll show you the nearest locations for DNA testing so you can choose the site that's most convenient. You'll also pick the times and days that you prefer.
Why Health Street
A Decade Plus of Experience
Health Street has provided DNA tests since 2010. The first DNA test we performed in Newark, NJ was in 2018.
Commitment to Community
Health Street is proud of our long standing commitment to the people of the community, especially those in need of DNA testing in Newark.
Facts about DNA Testing in Newark NJ
Proving Paternity for Child Custody Purposes in Newark, NJ
If a child in New Jersey is born to unmarried parents, the father must sign a Certificate of Parentage (COP) to be legally regarded as the child's father. If the father does not voluntarily sign the COP, genetic testing must be conducted to determine if he is biologically the child's father for legal purposes.
Parents in Newark may request genetic testing at the Essex County Welfare Agency Division of Family Assistance and Benefits (DFAB), which is located on Rector Street in Newark. After genetic testing results are obtained, the County Welfare Agency will attempt to have both parents sign a COP or will file in court for establishment of paternity.
Newborns and older children can qualify for genetic paternity testing in Newark for child welfare purposes. The County Welfare Office can also assist in requesting genetic testing for out-of-state or out of area fathers.
Newark DNA Testing Stories
NJ.com TV news reporter Tennyson Donnie Coleman used DNA testing to reconnect with his Black heritage. After living in many states, including California, Maine, and Pennsylvania, Coleman moved to New Jersey and experienced vibrant Black culture in Newark and other cities nearby.
Coleman also reconnected with family members through DNA testing. He was able to attend the funeral of a cousin from Baltimore he had never met personally, Bennett Carter, and was able to learn about another cousin, Brian Carter, who had hosted radio and television programs in Philadelphia and New York. Coleman learned for the first time that he had been named after his cousins' uncle Tennyson Carter. He is keeping in touch with his surviving cousin Lloyd Carter, a former Baltimore fire chief and Division I Lacrosse coach at Hampton University.
Notable historical events related to DNA testing in Newark, NJ
Times have changed since an abandoned toddler was found in June 1966 in Newark, N.J. and given the name Scott McKinley by child authorities. The abandoned child was adopted by a Chicago couple named Chester and Dora Fronczak, who had suffered a horrible, cruel crime in 1964.
In 1964 in Chicago, Dora Fronczak gave birth to a baby boy she and her husband named Paul Joseph. Shortly after the baby was born, a woman dressed as a nurse came to take the baby from Dora, saying he needed a medical exam. However, the woman never returned and baby Paul Joseph Fronczak disappeared, kidnapped from his mother's arms in the hospital.
When they saw the abandoned boy from Newark two years later, the Fronczaks believed he looked exactly like their kidnapped baby. They raised the boy, but in 2013, a DNA paternity test revealed that he was not the Fronczak's biological child. In another twist to the story, in 2019, DNA testing appeared to reveal that an adult man living in Michigan was in reality, the Fronczak's long-lost son. The FBI never closed the kidnapping case and the kidnapper was still being sought as of December 2019.
Locations
Clinic Hours for DNA Testing in Newark, New Jersey
393 Central Avenue
Newark, NJ 07103
Pre-registration required,
Walk-in with barcode:
---
Monday: 11:00 AM – 2:00 PM
Tuesday: 11:00 AM – 2:00 PM
Wednesday: 11:00 AM – 2:00 PM
Thursday: 11:00 AM – 2:00 PM
Friday: 11:00 AM – 2:00 PM
About this Location:
To obtain DNA testing in Newark, New Jersey, visit us at this location, which is very close by to University Hospital.
Neighborhoods in Newark Served by our Clinics
location_city
Dayton Weequahic Park
location_city
Lower Clinton Hill
location_city
North Broadway
location_city
Seventh Avenue
location_city
South Ironbound
location_city
University Heights
location_city
Upper Roseville
Additional Services
We also offer other services, such as:
Citations
menu_book
"New Jersey Paternity Opportunity Program." State of New Jersey, https://www.nj-paternity.com/
menu_book
"Department of Citizen Services – Division of Family Assistance and Benefits (DFAB)." County of Essex, New Jersey, https://essexcountynj.org/welfare/
menu_book
Coleman, Tennyson Donnie. "I'd lost my culture. Here's how a DNA kit helped me rediscover my Blackness." NJ.com, 28 February 2020, https://www.nj.com/opinion/2020/02/id-lost-my-culture-heres-how-a-dna-kit-helped-me-rediscover-my-blackness.html
menu_book
Associated Press. "Reports Indicate Michigan Man May Be Baby Abducted in 1964." WTTW News, 19 December 2019. https://news.wttw.com/2019/12/19/reports-indicate-michigan-man-may-be-baby-abducted-1964
menu_book
"2020 Best Neighborhoods to Live in Newark." Niche, https://www.niche.com/places-to-live/search/best-neighborhoods/t/newark-essex-nj/