DNA Test – Marietta, GA
Health Street provides DNA tests and legal paternity testing in Marietta, Georgia at 7 testing laboratories. Call (423) 342-4652 or schedule online. We offer legal paternity tests, sibling studies, grandparent DNA tests, avuncular (aunt or uncle) testing, and postmortem DNA testing to determine if people are biologically related.
Set up DNA testing appointments online. Test results can be used in court for child support or to change a birth certificate; it can also be used for simple peace of mind. Appointments can be scheduled together or separately. Legal DNA tests are done by cheek swab at our testing centers. We can also extract DNA samples from hair follicles, fingernails, and other specimens.
Workforce Screening, Digitally Delivered
1 of 7
220 Cobb Parkway N
Marietta
,
GA
30062
2 of 7
1395 S Marietta Parkway Se
Marietta
,
GA
30067
3 of 7
1401 Johnson Ferry Road
Marietta
,
GA
30062
4 of 7
790 Church Street
Marietta
,
GA
30060
5 of 7
3120 Johnson Ferry Road
Marietta
,
GA
30062
6 of 7
210 Cobb Parkway S
Marietta
,
GA
30060
7 of 7
2464 Roswell Road
Marietta
,
GA
30062
DNA Testing Marietta, Georgia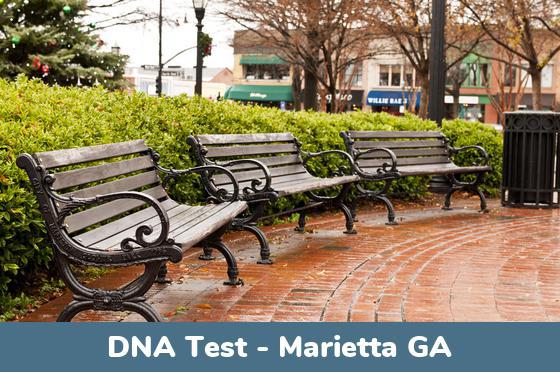 Types of DNA Tests at our Marietta GA clinics:
Paternity Testing can conclusively establish whether or not a man is the biological father of a child.
Relationship Testing for other close family relationships can be performed at our testing centers. Our DNA testing services can confirm or deny biological relationships between grandparents, grandchildren, siblings, half-siblings, aunts, uncles, nieces and nephews:
Specimens we can test for DNA
The easiest and most reliable way to obtain a DNA sample for paternity testing is to swab the inner cheeks of the alleged father and child or children. These skin cells are known as buccal cells, and they rub off easily onto cotton swabs and remain in place for analysis by our laboratory.
Other specimen samples, such as hair follicles, fingernails, and garments that might contain someone's DNA, can also be tested. An Alternative Specimen DNA Test is done by ordering one of our testing kits online and shipping the specimens back to us.
Legal DNA Tests vs. "Peace of Mind" At-Home Tests
A Legal Paternity Test is a court admissible lab testing service performed at an AABB accredited laboratory. Accurate results for DNA paternity testing with 99.99% confidence or greater take about a week.
When deciding which type of DNA test is right for you, consider first what you might do with the results. A legal paternity DNA test will hold up in court for such matters as child support or to change the name on a birth certificate. This test must be performed using strict chain of custody procedures. Our Marietta DNA testing technicians are trained to follow these guidelines so that the results will be legally admissible.
How to schedule a DNA Test in Marietta GA
Scheduling a DNA test at one of our Marietta clinics is simple and fast, and we often have appointments available in the same week. It's always helpful to schedule in advance to make sure you get the time you want. Please call our customer service team to help you book your appointment over the phone, or set up your appointment easily online.
We have state of the art testing labs and friendly clinics that perform the DNA sample collection in Marietta, plus many more locations throughout Georgia and across the United States. During registration, we'll show you the nearest locations for DNA testing so you can choose the site that's most convenient. You'll also pick the times and days that you prefer.
Why Health Street
A Decade Plus of Experience
Health Street has provided DNA tests since 2010. The first DNA test we performed in Marietta, GA was in 2020.
Commitment to the Marietta Community
Health Street takes great pride in its sensitivity to the needs of the families of Marietta. We take our reputation seriously, and we are dedicated to providing the highest quality DNA tests and customer service.
Facts about DNA Testing in Marietta GA
Georgia Requires Mandatory Paternity Testing in Disputed Child Support Cases
For child support cases in Marietta, Georgia (part of Cobb County), genetic testing may be required. In 2015, Georgia required mandatory paternity testing for all new child support cases in which paternity is not already legally established. Instead of taking a DNA test, parents can establish paternity by:
arrow_forward
Being legally married at the time of the child's birth
arrow_forward
Signing a Voluntary Paternity Acknowledgment Form
arrow_forward
Receiving a court order like a divorce decree or separation agreement
According to the law, fathers involved in cases in which the paternity of a child has not been confirmed in one of these three methods will be required to take a paternity test. The cost of the test is the responsibility of the father if paternity is determined or the mother if paternity is not found.
Georgia Man Abandoned as Baby Discovers Biological Family with Help of Marietta Genealogist
A Georgia resident who was abandoned as a baby finally learned about his hidden past with the help of Marietta local Gerri Berger. Berger is a Genetic Genealogist, specializing in helping adoptees and others with unknown parentage discover their biological family's history. Berger helped Richard Cole, the infamous baby left by an unknown woman in an Atlanta hotel in 1944, find answers about the long-lost parents he'd wondered about for 75 years.
Berger used a combination of DNA test results and genealogical sleuthing to track down a half-sibling of Cole's, Pamela Williams. When Cole and Williams finally talked and eventually met, they said the similarities between Cole and the Williams family were striking. Williams and her other siblings have since embraced Cole as a part of their family.
DNA Test Proves Two KSU Students in Marietta Have More in Common than Just Their Major
Two Kennesaw State University (KSU) students in Marietta, GA recently got a surprising answer to a riddle that had plagued them both for decades. Kieron Christian Graham was put up for adoption when he was three months old. His older brother Vincent Ghant, then nine years old, was told Graham had gone to stay with grandparents and that he'd come back soon. In reality, Graham and Ghant's mother was a single mother and full-time nurse who put Graham up for adoption after becoming overwhelmed with her many responsibilities.
In 2017, Graham took an at-home DNA test that immediately linked him with Ghant. Incredibly, both men were studying political science at KSU with a specialization in legal studies. They are both avid Atlanta Falcons fans and even held the same positions on their high school football teams. Now, they are happy to be a part of each other's lives.
Where We Are Located
Clinic Hours for DNA Testing in Marietta, Georgia
790 Church Street
Suite 500
Marietta, GA 30060
Pre-registration required,
Walk-in with barcode:
---
Monday: 9:00 AM – 4:00 PM
(M Lunch: 12-1 PM)
Tuesday: 9:00 AM – 4:00 PM
(T Lunch: 12-1 PM)
Wednesday: 9:00 AM – 4:00 PM
(W Lunch: 12-1 PM)
Thursday: 9:00 AM – 4:00 PM
(Th Lunch: 12-1 PM)
Friday: 9:00 AM – 4:00 PM
(F Lunch: 12-1 PM)
About this Location:
If you are looking for DNA testing in Marietta, Georgia, you can find us around the corner from Marietta Medical Center.
Additional Services
We also offer other services, such as:
Citations
menu_book
"Paternity Establishment." Department of Human Services, Division of Child Support Services, Georgia.gov, https://childsupport.georgia.gov/programs-services/paternity-establishment
menu_book
Emerson, Bo. "Baby abandoned in Atlanta finds his family 74 years later." Atlanta Journal-Constitution, 2 October 2019, https://www.ajc.com/lifestyles/baby-abandoned-atlanta-finds-his-family-years-later/LPX7qtHdr1XFJVVNHKNYLL/
menu_book
The Genetic Geneaology Coach, https://www.geneticgenealogycoach.com/
menu_book
Brasch, Ben. "DNA ancestry test connects brothers, both KSU students, 20 years later." Atlanta Journal-Constitution, 21 December 2017, https://www.ajc.com/news/local/dna-ancestry-test-connects-brothers-both-ksu-students-years-later/H2nQuqNdjNawYtKunJzTFL/