DNA Test – Jamaica, NY
Health Street provides DNA tests and legal paternity testing in Jamaica, New York at 3 conveniently located testing laboratories. Call (347) 960-3285 or schedule online. We offer legal paternity tests, sibling studies, grandparent DNA tests, avuncular (aunt or uncle) testing, and postmortem DNA testing to determine if people are biologically related.
Set up DNA testing appointments online. Test results can be used in court for child support or to change a birth certificate; it can also be used for simple peace of mind. Appointments can be scheduled together or separately. Legal DNA tests are done by cheek swab at our testing centers. We can also extract DNA samples from hair follicles, fingernails, and other specimens.
Workforce Screening, Digitally Delivered
1 of 3
16624 Jamaica Avenue
Jamaica
,
NY
11432
2 of 3
JFK Airport
Jamaica
,
NY
11430
3 of 3
JFK Airport Building 78a
Jamaica
,
NY
11430
DNA Test – Jamaica, New York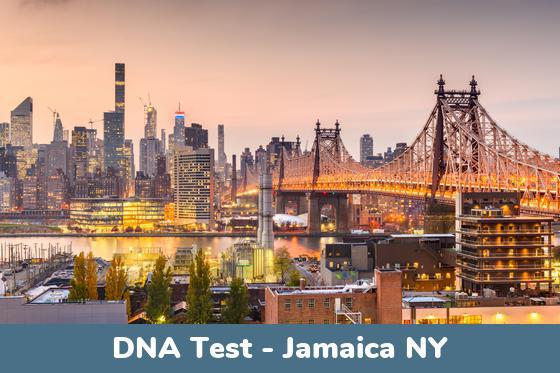 Types of DNA Tests at our Jamaica, New York clinics:
Paternity Testing can conclusively establish whether or not a man is the biological father of a child.
Relationship Testing for other close family relationships can be performed at our testing centers. Our DNA testing services can confirm or deny biological relationships between grandparents, grandchildren, siblings, half-siblings, aunts, uncles, nieces and nephews:
Specimens we can test for DNA
The easiest and most reliable way to obtain a DNA sample for paternity testing is to swab the inner cheeks of the alleged father and child or children. These skin cells are known as buccal cells, and they rub off easily onto cotton swabs and remain in place for analysis by our laboratory.
Other specimen samples, such as hair follicles, fingernails, and garments that might contain someone's DNA, can also be tested. An Alternative Specimen DNA Test is done by ordering one of our testing kits online and shipping the specimens back to us.
Legal DNA Tests vs. "Peace of Mind" At-Home Tests
A Legal Paternity Test is a court admissible lab testing service performed at an AABB accredited laboratory. Accurate results for DNA paternity testing with 99.99% confidence or greater take about a week.
When deciding which type of DNA test is right for you, consider first what you might do with the results. A legal paternity DNA test will hold up in court for such matters as child support or to change the name on a birth certificate. This test must be performed using strict chain of custody procedures. Our Jamaica DNA testing technicians are trained to follow these guidelines so that the results will be legally admissible.
How to schedule a DNA Test in Jamaica NY
Scheduling a DNA test at one of our Jamaica clinics is simple and fast, and we often have appointments available in the same week. It's always helpful to schedule in advance to make sure you get the time you want. Please call our customer service team to help you book your appointment over the phone, or set up your appointment easily online.
We have state of the art testing labs and friendly clinics that perform the DNA sample collection in Jamaica, plus many more locations throughout New York and across the United States. During registration, we'll show you the nearest locations for DNA testing so you can choose the site that's most convenient. You'll also pick the times and days that you prefer.
Why Health Street
A Decade Plus of Experience
Health Street has provided DNA tests since 2010. We have provided DNA tests and paternity tests to thousands of people in Jamaica as well as communities all across the nation.
Commitment to Community
Our commitment to the needs of the Queens community – in particular, to families with DNA testing needs – is unparalleled. We are here to answer questions and help fellow New Yorkers understand and proceed with complex and difficult paternity tests.
Facts about DNA Testing in Jamaica NY
Proving Paternity for Child Custody Purposes in Jamaica, New York
In New York State, a child's mother, a man who believes he is a child's father, a child's guardian, a child, or the NY Department of Social Services can start a paternity case to determine who a child's legal father is. The child's mother or a man who believes he is a child's father can file a Paternity Petition DIY Form. The form requests the Family Court issue an Order of Filiation naming him as the child's father under the law.
The court may order DNA testing of a child, mother, and father to determine if a man is the biological father. Paternity cases for children living in Jamaica, Queens, are heard at the Queens County Family Court. The Queens County Family Court is located on Jamaica Ave. in Jamaica, across from Rufus King Park.
Local DNA Stories in Jamaica, Queens
An Asian couple from Queens sued a Los Angeles-based fertility clinic after spending $100,000 to try to have a baby through in-vitro fertilization. The couple experienced a failed IVF implantation in July 2018, according to the lawsuit, which was filed in Brooklyn Federal Court.
After a second attempt, the wife learned she was pregnant, and the clinic told her that she had been implanted with two female embryos. However, after she went for sonograms, technicians kept telling the couple she was pregnant with two boys. On March 20, 2019, the wife went into labor and delivered two boys. Neither boy was of Asian descent and neither were related to each other.
Ultimately, DNA testing revealed that the two baby boys were the children of two other couples who were also clients of the Los Angeles based clinic, CHA Fertility Center in Los Angeles. The Queens couple were forced to give the babies to their biological parents.
According to Dr. Amber Samuel, a specialist with the Society for Maternal-Fetal Medicine, "There are all sorts of checks and balances for this not happening, so there's a real breakdown there."
Notable Events Related to DNA in Jamaica, Queens
Six Irish orphans flew from Dublin, Ireland to New York City on St. Patrick's Day in 1950. Accompanied by a nurse, the six children were adopted by U.S. parents who met them at the plane shortly after it landed.
Jamaica, Queens resident John J. Halloran and his wife adopted two of the children, John Francis (age 5) and Bernadette Theresa (age 3). The nurse who traveled with the children, Noreen Sullivan, decided at age 93 to track down the six children she'd traveled with 70 years before. Five-year old John Patrick, adopted by the Gooth family on Long Island, ended up being the first orphan who learned about Noreen's search through the New York Irish Center. In his 70s, Bill Gooth contacted Noreen in Ireland and was able to attend her funeral in Dublin when she died three years later at age 96.
Locations
Clinic Hours for DNA Testing in Jamaica, New York
16624 Jamaica Avenue
Jamaica, NY 11432
Pre-registration required,
Walk-in with barcode:
---
Monday: 9:00 AM – 2:30 PM
(M Lunch: 12-1 PM)
Tuesday: 9:00 AM – 2:30 PM
(T Lunch: 12-1 PM)
Wednesday: 9:00 AM – 2:30 PM
(W Lunch: 12-1 PM)
Thursday: 9:00 AM – 2:30 PM
(Th Lunch: 12-1 PM)
Friday: 9:00 AM – 2:30 PM
(F Lunch: 12-1 PM)
Saturday: 9:00 AM – 11:30 AM
About this Location:
Paternity Tests in Jamaica are available at this location, just a few blocks from Queens Educational Opportunity Center.
JFK Airport
Building 75 Suite 247249
Jamaica, NY 11430
M-Sunday: 24 Hours a Day
Pre-registration required,
Walk-in with barcode:
About this Location:
To get paternity tests in Jamaica, come to this location, which is nearby to TWA Hotel.
JFK Airport Building 78a
Suite 247249
Jamaica, NY 11430
Pre-registration required,
Walk-in with barcode:
---
Monday: 8:00 AM – 4:00 PM
Tuesday: 8:00 AM – 4:00 PM
Wednesday: 8:00 AM – 4:00 PM
Thursday: 8:00 AM – 4:00 PM
Friday: 8:00 AM – 4:00 PM
Saturday: 8:00 AM – 2:00 PM
Sunday: 8:00 AM – 2:00 PM
About this Location:
Dna Testing in Jamaica, New York is available at this clinic across from Idlewild Park Cricket Ground.
Some Jamaica Neighborhoods That We Serve
location_city
South Jamaica
location_city
Sutphin Blvd.
location_city
South Ozone Park
location_city
Rochdale Village
location_city
Springfield Gardens
location_city
Queens Village
location_city
Jamaica Estates
location_city
Hollis Hills
Additional Services
We also offer other services, such as:
Citations
menu_book
NY Courts.gov. "Paternity Case." New York State Unified Court System. https://www.nycourts.gov/courthelp/Family/paternityCase.shtml
menu_book
Queens County Family Court Contact Information. New York Courts. http://ww2.nycourts.gov/COURTS/nyc/family/infobycounty.shtml#s4
menu_book
Boniello, Kathianne. "Queens Mom Gave Birth to Someone Else's Baby After IVF mix-up: suit." New York Post. 6 July 2019. https://nypost.com/2019/07/06/queens-mom-gives-birth-to-someone-elses-babies-after-shocking-mix-up-lawsuit/
menu_book
O'Doherty, Cahir. "1950s Irish orphan's happy ever after in New York." Irish Central. 20 October 2016. https://www.irishcentral.com/news/irishvoice/the-irish-nurse-who-brought-six-orphans-to-nyc-in-the-1950s
menu_book
"Jamaica, NY" Niche.com. https://www.niche.com/places-to-live/n/jamaica-new-york-city-ny/