DNA Test – Huntsville, AL
Health Street provides DNA tests and legal paternity testing in Huntsville, Alabama at 8 testing laboratories. Call (256) 371-6385 or schedule online. We offer legal paternity tests, sibling studies, grandparent DNA tests, avuncular (aunt or uncle) testing, and postmortem DNA testing to determine if people are biologically related.
Set up DNA testing appointments online. Test results can be used in court for child support or to change a birth a certificate; it can also be used for simple peace of mind. Appointments can be scheduled together or separately. Legal DNA tests are done by cheek swab at our testing centers. We can also extract DNA samples from hair follicles, fingernails, and other specimens.
Workforce Screening, Digitally Delivered
Customer service was great and the process was very fast and easy.
Ladarrian Murphy
5/27/2020
Thank you for all of your help. highest rating
marlin k ladner jr
3/27/2018
thank you for you assistance. very helpful
marlin ladner
3/27/2018
Excellent service and commitment to customer satisfaction
Antonio Dillihay
1/11/2017
great service and follow up dna testing
tony allen
11/22/2016
1 of 8
1878 Jeff Road NW
Huntsville
,
AL
35806
2 of 8
333 Whitesport Dr Sw
Huntsville
,
AL
35801
3 of 8
250 Chateau Drive
Huntsville
,
AL
35801
4 of 8
1104 Monroe Street
Huntsville
,
AL
35801
5 of 8
7736 Madison Blvd
Huntsville
,
AL
35806
6 of 8
3315 Bob Wallace Ave Sw
Huntsville
,
AL
35805
7 of 8
7105 Bailey Creek Cir Se
Huntsville
,
AL
35802
8 of 8
6140a University Dr Nw
Huntsville
,
AL
35806
DNA Test – Huntsville, Alabama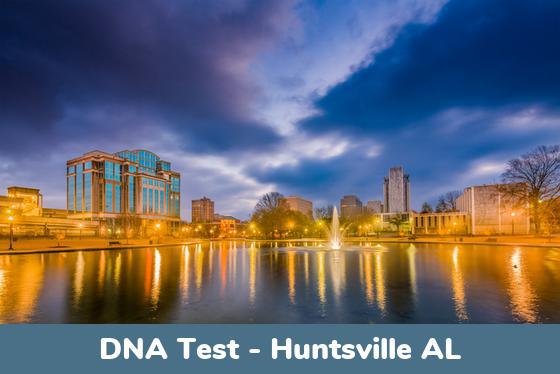 Types of DNA Tests at our Huntsville, Alabama locations:
The most commonly ordered DNA test is a Paternity Test to conclusively establish whether or not a man is the biological father of a child.
Paternity Testing can be performed at our testing centers. DNA Testing can be done for other close family relationships, such as:
Specimens we can test for DNA
The easiest and most reliable way to obtain a DNA sample for paternity testing is to swab the inner cheeks of the people being tested. These skin cells are known as buccal cells, and they rub off easily onto cotton swabs and remain in place for analysis by our laboratory. Other specimen samples, such as hair follicles, fingernails, and garments that might contain someone's DNA, can also be tested. An Alternative Specimen DNA Test is done by registering online and shipping the specimens to us.
Legally Admissible DNA Tests vs. "Peace of Mind" At-Home Tests
A Legal Paternity Test is a court admissible DNA testing service. Accurate results for DNA paternity testing with 99.99% confidence or greater take about a week.
When deciding which type of DNA test is right for you, consider first what you might do with the results. In order for the results of a DNA test to hold up in court, for child support, or to change the name on a birth certificate, the test must be done at a clinic using strict chain of custody procedures. Our Huntsville DNA testing technicians are trained to follow guidelines that ensure that the results can be used for legal purposes.
How to schedule a DNA Test in Huntsville AL
Scheduling a DNA test at one of our Huntsville clinics is simple and fast, and we often have appointments available in the same week. It's always helpful to schedule in advance to make sure you get the time you want. Register online, or please call our customer service team, which can help you book your appointment over the phone.
We have state of the art testing labs and friendly clinics that perform the DNA sample collection in Huntsville, plus many more locations throughout Alabama and all across the United States. Not every one of our clinics performs paternity testing in Huntsville. We'll show you the nearest locations to get a DNA test in Huntsville , AL so you can choose the testing center that is most convenient. When you register, you can also pick the appointment time and date that you prefer.
Why Health Street
Over a Decade of Experience
Health Street has been performing DNA testing nationally since 2010. The first DNA test in Huntsville, AL performed by Health Street was in 2017.In fact, we have successfully completed 36 DNA tests at Huntsville testing centers since then.
Dedication to Excellence
Our dedication to excellence includes our commitment to provide compassionate services and to helping people obtain the accurate DNA testing in Huntsville that they need.
Huntsville, Alabama – DNA Testing
Establishing Paternity in Huntsville, AL
In Huntsville, AL, if a child is born to married parents or within 300 days of a divorce, the husband is presumed the child's legal father, and the parents don't need to establish paternity. However, unmarried parents in Huntsville must establish paternity for the child to have a legal father. Parents can do this voluntarily if they both agree to sign an Acknowledgement of Paternity form, a legal form acknowledging the child's father, or they can establish paternity through the court.
Proving Paternity for Child Custody Purposes in Huntsville, AL
If either parent questions paternity, DNA testing can be used to determine the child's biological father. DNA samples are obtained from the alleged father, mother, and child. In Huntsville, once DNA testing proves paternity, the parents can file a Petition to Establish Paternity through the court. Once paternity is legally established, the father obtains rights to the child, and the child will gain financial support and available benefits from the father.
If a man denies paternity and won't submit to DNA testing, or he claims he is the father but the mother is refusing a DNA test, they will establish paternity in court, and the judge will order DNA testing.
Experts Say…
The Harris Family Law Firm in Huntsville said, "Paternity is the legal link between a father and a child. Beyond the joys of being a parent, being legally designated a child's father is very important when it comes to matters like custody, child support, and inheritance."
Kimberly C. Brown Law Firm in Huntsville said that parentage must be established before the court can issue child support or custody orders. "Parentage is determined in paternity actions," the law firm states. "In paternity cases, evidence is obtained to identify the biological father of a minor child when the parties were not married at the time of the child's birth."
Last updated 8/31/2022
Locations
Clinic Hours for DNA Testing in Huntsville, Alabama
333 Whitesport Dr Sw
Suite 202
Huntsville, AL 35801
Pre-registration required,
Walk-in with barcode:
---
Monday: 7:30 AM – 4:00 PM
(M Lunch: 12:30-1:30 PM)
Tuesday: 7:30 AM – 4:00 PM
(T Lunch: 12:30-1:30 PM)
Wednesday: 7:30 AM – 4:00 PM
(W Lunch: 12:30-1:30 PM)
Thursday: 7:30 AM – 4:00 PM
(Th Lunch: 12:30-1:30 PM)
Friday: 7:30 AM – 4:00 PM
(F Lunch: 12:30-1:30 PM)
About this Location:
You can obtain DNA tests in Huntsville, Alabama by visiting us at this location. It is a short walk from Randolph School High School.
Neighborhoods Served in Huntsville
location_city
1the Bridges On The River
location_city
2stone Hill Estates
location_city
3max Luther Dr Nw
location_city
4triana Blvd And Drake Ave
location_city
5villas At Jones Valley
location_city
6farmstead/Matt Phillips
location_city
7greenwyche South Of Drake
location_city
8woodridge South
location_city
9frank Clark Acres
location_city
10northeast Chase Estates
Additional Services
We also offer other services, such as:
Local Reviews
By Terrie Riggs on 11/14/2016
Health Street was efficient and professional in every way. We used Huntsville services for a DNA test.
By tony allen on 11/4/2016
Quick answers good service
By Tamika on 1/28/2016
Very nice and explained the procedure very well; Thanks for everything.:)
Citations
menu_book
"Establishing and Rebutting Paternity in Alabama." Alabama Divorce & Family Lawyers, 23 September 2016, https://www.alabamadivorceandfamilylaw.com/establishing-and-rebutting-paternity-in-alabama/
menu_book
"Alabama Request for Certified Copy of Acknowledgment of Paternity." Alabama Public Health, https://www.alabamapublichealth.gov/vitalrecords/assets/hs21.pdf
menu_book
"Establishing Paternity in Alabama." The Harris Firm, https://www.theharrisfirmllc.com/paternity-petitions-in-alabama/
menu_book
"Paternity." Kimberly C. Brown Law Firm, LLC, http://kcbrownlawfirm.com/family-law/paternity/
menu_book
"Huntsville, AL.' Nextdoor, https://nextdoor.com/city/huntsville–al/