DNA Test – Evansville, IN
Health Street provides DNA tests and legal paternity testing in Evansville, Indiana at 11 conveniently located testing laboratories. Call (812) 226-9430 or schedule online. We offer legal paternity tests, sibling studies, grandparent DNA tests, avuncular (aunt or uncle) testing, and postmortem DNA testing to determine if people are biologically related.
Set up DNA testing appointments online. Test results can be used in court for child support or to change a birth a certificate; it can also be used for simple peace of mind. Appointments can be scheduled together or separately. Legal DNA tests are done by cheek swab at our testing centers. We can also extract DNA samples from hair follicles, fingernails, and other specimens.
Workforce Screening, Digitally Delivered
Quick Results, Friendly and Knowledgable Staff. Highly Recomended
Ronald Carder
1/9/2017
1 of 11
925 S Green River Rd
Evansville
,
IN
47714
2 of 11
14020 Old State Road
Evansville
,
IN
47711
3 of 11
100 S Rosenberger Avenue
Evansville
,
IN
47712
4 of 11
14020 Old State Road
Evansville
,
IN
47725
5 of 11
206 N First Avenue
Evansville
,
IN
47710
6 of 11
906 S Hebron Avenue
Evansville
,
IN
47714
7 of 11
4925 Hitch Peters Road
Evansville
,
IN
47711
8 of 11
2646 N Burkhardt Road
Evansville
,
IN
47715
9 of 11
2568 Waterbridge Way
Evansville
,
IN
47710
10 of 11
1718 N Fares Avenue
Evansville
,
IN
47711
11 of 11
925 S Green River Road
Evansville
,
IN
47715
DNA Testing Evansville IN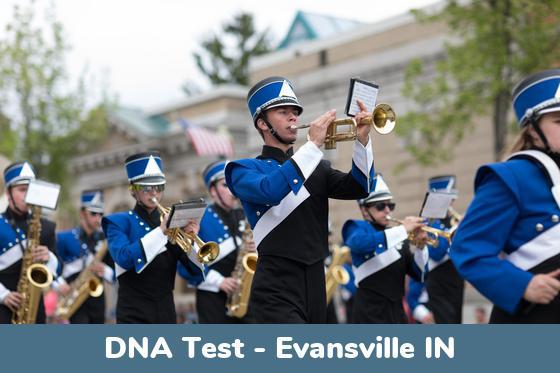 Types of DNA Tests at our Evansville IN clinics:
Paternity Testing can conclusively establish whether or not a man is the biological father of a child.
Relationship Testing for other close family relationships can be performed at our testing centers. Our DNA testing services can confirm or deny biological relationships between grandparents, grandchildren, siblings, half-siblings, aunts, uncles, nieces and nephews:
Specimens we can test for DNA
The easiest and most reliable way to obtain a DNA sample for paternity testing is to swab the inner cheeks of the alleged father and child or children. These skin cells are known as buccal cells, and they rub off easily onto cotton swabs and remain in place for analysis by our laboratory.
Other specimen samples, such as hair follicles, fingernails, and garments that might contain someone's DNA, can also be tested. An Alternative Specimen DNA Test is done by ordering one of our testing kits online and shipping the specimens back to us.
Legal DNA Tests vs. "Peace of Mind" At-Home Tests
A Legal Paternity Test is a court admissible lab testing service performed at an AABB accredited laboratory. Accurate results for DNA paternity testing with 99.99% confidence or greater take about a week.
When deciding which type of DNA test is right for you, consider first what you might do with the results. A legal paternity DNA test will hold up in court for such matters as child support or to change the name on a birth certificate. This test must be performed using strict chain of custody procedures. Our Evansville DNA testing technicians are trained to follow these guidelines so that the results will be legally admissible.
How to schedule a DNA Test in Evansville IN
Scheduling a DNA test at one of our Evansville clinics is simple and fast, and we often have appointments available in the same week. It's always helpful to schedule in advance to make sure you get the time you want. Please call our customer service team to help you book your appointment over the phone, or set up your appointment easily online.
We have state of the art testing labs and friendly clinics that perform the DNA sample collection in Evansville, plus many more locations throughout Indiana and across the United States. During registration, we'll show you the nearest locations for DNA testing so you can choose the site that's most convenient. You'll also pick the times and days that you prefer.
Why Health Street
A Decade Plus of Experience
Health Street has provided DNA tests since 2010. The first DNA test we performed in Evansville, IN was in 2018.
Commitment to Community
Health Street has a long standing commitment to provide DNA testing in Evansville, Indiana to anyone who has the need for the test.
Facts about DNA Testing in Evansville IN
Proving Paternity for Child Custody Purposes In Evansville
Locally in Vanderburgh County, paternity and child custody matters are heard by the Superior Court's Family Court Division in Evansville. The town's website provides the ability to download court forms and find your case number for pending cases.
The State of Indiana says that a man is a child's legal father if he and the child's mother are married when the child is born, or the child is born no later than 300 days after the marriage ends. When parents are unmarried, Indiana determines paternity through a Paternity Affidavit. A father and mother can declare that the man is the baby's father under penalty of perjury by signing a Paternity Affidavit. The affidavit can be signed within 72 hours of birth, but a father and mother may complete one at a local health department at any time before a child is emancipated or reaches age 19.
Paternity can also be established through a court determination. If a father who has signed a Paternity Affidavit and later decides he wants genetic testing, he must request the testing within 60 days of signing the affidavit. County prosecuting attorneys in Indiana can act to get court orders for child support and can seek biological fathers and order genetic (DNA) testing to confirm paternity in absent parents.
Evansville DNA Stories
Evansville resident Martin Perry's search for his biological parents was featured in the Courier & Press in 2018. Perry learned at age 42 that he was adopted. His birth parents came from Mississippi. Mr. Perry was raised by an African-American family in Evansville. After months of searching, he received information from an adoption agency in Mississippi. The agency informed him of the ethnic background of his biological mother and father. He even learned that he already had three siblings before his mother became pregnant and gave him up for adoption. Mr. Perry planned to take a DNA test in the hope of finding his biological mother, who he believed could still be alive. "I don't care what kind of people they are," he said. "I just want to connect."
Life And People In Evansville
The bodies of more than half a dozen early Indiana pioneers were exhumed in May 2019 from property near Nisbet Road and Highway 65 in Vanderburgh County. The land had been rented for farming for almost 60 years, but the current property owner decided to move the bodies. Among the bodies were Patrick Calvert and Sarah Martin, 5th great grandparents of county resident Ken Colbert. The couple settled on the property and lived there between 1835 to 1861. Mr. Calvert told 14 News that their DNA would be extracted and analyzed to locate DNA relatives.
Locations
Clinic Hours for DNA Testing in Evansville, Indiana
925 S Green River Rd
Evansville, IN 47714
Pre-registration required,
Walk-in with barcode:
---
Monday: 8:30 AM – 3:30 PM
(M Lunch: 11:30-1 PM)
Tuesday: 8:30 AM – 3:30 PM
(T Lunch: 11:30-1 PM)
Wednesday: 8:30 AM – 3:30 PM
(W Lunch: 11:30-1 PM)
Thursday: 8:30 AM – 3:30 PM
(Th Lunch: 11:30-1 PM)
Friday: 8:30 AM – 3:30 PM
(F Lunch: 11:30-1 PM)
About this Location:
Paternity Testing in Evansville is available at this location, close to Holy Rosary Catholic School.
Neighborhoods Served in Evansville
location_city
Haynies Corner
location_city
Rosedale South
location_city
Diamond – Stringtown
location_city
Rolling Greens
Additional Services
We also offer other services, such as:
Citations
menu_book
"Paternity." State of Indiana, https://www.in.gov/dcs/2482.htm
menu_book
"Establishing Paternity." State of Indiana, https://www.in.gov/dcs/files/Establishing_Paternity_.pdf
menu_book
Higgins, Jessie. "51-year-old Evansville man searches for his birth mother after learning he was adopted," Courier & Press, July 6, 2018, https://www.courierpress.com/story/news/local/2018/07/06/51-year-old-evansville-man-searches-birth-mother/757735002/
menu_book
Goffinet, Jared and Evan Gorman. "Bodies Exhumed From Burial Site." 14 News, May 8, 2019, https://www.14news.com/2019/05/08/around-dozen-exhumed-bodies-be-moved-new-resting-place/
menu_book
"All Neighborhoods Map." United Neighborhoods of Evansville, http://www.unoevansville.org/all-neighborhoods-map/