DNA Test – Eugene, OR
Health Street provides DNA tests and legal paternity testing in Eugene, Oregon at 3 conveniently located testing laboratories. Call (541) 209-4947 or schedule online. We offer legal paternity tests, sibling studies, grandparent DNA tests, avuncular (aunt or uncle) testing, and postmortem DNA testing to determine if people are biologically related.
Set up DNA testing appointments online. Test results can be used in court for child support or to change a birth a certificate; it can also be used for simple peace of mind. Appointments can be scheduled together or separately. Legal DNA tests are done by cheek swab at our testing centers. We can also extract DNA samples from hair follicles, fingernails, and other specimens.
Workforce Screening, Digitally Delivered
1 of 3
2025 W 12th Avenue
Eugene
,
OR
97402
2 of 3
1706 West 6th Avenue
Eugene
,
OR
97402
3 of 3
977 Garfield St 6
Eugene
,
OR
97402
DNA Testing Eugene OR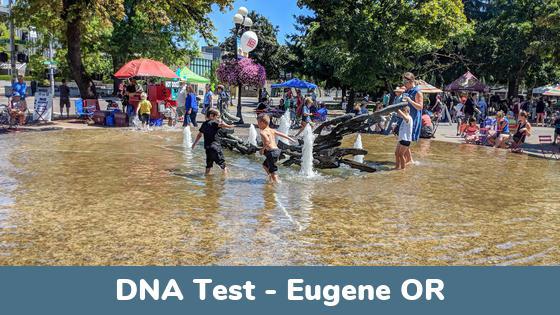 Types of DNA Tests at our Eugene OR clinics:
Paternity Testing can conclusively establish whether or not a man is the biological father of a child.
Relationship Testing for other close family relationships can be performed at our testing centers. Our DNA testing services can confirm or deny biological relationships between grandparents, grandchildren, siblings, half-siblings, aunts, uncles, nieces and nephews:
Specimens we can test for DNA
The easiest and most reliable way to obtain a DNA sample for paternity testing is to swab the inner cheeks of the alleged father and child or children. These skin cells are known as buccal cells, and they rub off easily onto cotton swabs and remain in place for analysis by our laboratory.
Other specimen samples, such as hair follicles, fingernails, and garments that might contain someone's DNA, can also be tested. An Alternative Specimen DNA Test is done by ordering one of our testing kits online and shipping the specimens back to us.
Legal DNA Tests vs. "Peace of Mind" At-Home Tests
A Legal Paternity Test is a court admissible lab testing service performed at an AABB accredited laboratory. Accurate results for DNA paternity testing with 99.99% confidence or greater take about a week.
When deciding which type of DNA test is right for you, consider first what you might do with the results. A legal paternity DNA test will hold up in court for such matters as child support or to change the name on a birth certificate. This test must be performed using strict chain of custody procedures. Our Eugene DNA testing technicians are trained to follow these guidelines so that the results will be legally admissible.
How to schedule a DNA Test in Eugene OR
Scheduling a DNA test at one of our Eugene clinics is simple and fast, and we often have appointments available in the same week. It's always helpful to schedule in advance to make sure you get the time you want. Please call our customer service team to help you book your appointment over the phone, or set up your appointment easily online.
We have state of the art testing labs and friendly clinics that perform the DNA sample collection in Eugene, plus many more locations throughout Oregon and across the United States. During registration, we'll show you the nearest locations so you can choose the one that's most convenient. You'll pick the times and days that you prefer.
Why Health Street
More than a Decade of Experience
Since 2010, Health Street has offered DNA tests in Eugene, the state of Eugene, Oregon, and throughout the nation. Since our founding, we have focused on helping people obtain the DNA and paternity tests that they need, from Eugene to neighborhoods everywhere.
Commitment to Community
We are very proud of the quality of our Eugene OR DNA testing services. We are happy to serve Eugene families and residents with great attention to detail.
Facts about DNA Testing in Eugene OR
Proving Paternity for Child Custody in Eugene
In Oregon, marriage automatically establishes paternity. For unmarried parents, a mother can fill out an Affidavit in Support of Establishing Paternity which states who she believes to be the father of her child. This document may be filled out with or without the consent of the alleged father.
The Oregon Child Support Program will assist with genetic (DNA) testing to confirm the affidavit and paternity of the father who has been identified. The Program can also assist a man who wants to be declared a biological father, but who needs help to legally establish paternity. In both cases, DNA testing can be ordered by the Oregon Child Support Program. Parents can also complete a Voluntary Acknowledgement of Paternity Affidavit to affirm their paternity.
DNA Testing Finds Biological Siblings in Eugene, Oregon
In 2019, a man who had been adopted as a child and raised in Alaska eventually found his biological siblings through DNA testing. Douglas Nelson found his sister Sandie Weaver, a Eugene, Oregon resident, and another biological sister, Rachel, a Texas resident, through DNA testing. The three siblings were able to celebrate the 2019 holidays together.
Eli Baden-Lasar grew up knowing that he was the child of an anonymous sperm donor. As a young adult, he became aware he might have more than one sibling because of the sperm bank. Using the sperm bank's donor registry, Eli discovered he had 32 other half-siblings, including Nick Leonard, a Eugene, OR college student. The siblings now need to be aware they should take a DNA test before marrying or having children because there is a possibility they might be getting together with a half-sibling.
Eugene, OR Experts on DNA
The University of Oregon offers an honors course, HC 441H: "Who Am I? A Genetic Inquiry." The course introduces students to genetics and genetic testing. Professor Amy Connolly says that the course's goal is for students to leave class with a "basic literacy in genetics and with an ability to evaluate the limitations and reliability of different genetic tests."
Locations
Clinic Hours for DNA Testing in Eugene, Oregon
2025 W 12th Avenue
Eugene, OR 97402
Pre-registration required,
Walk-in with barcode:
---
Monday: 8:00 AM – 5:00 PM
Tuesday: 8:00 AM – 5:00 PM
Wednesday: 8:00 AM – 5:00 PM
Thursday: 8:00 AM – 5:00 PM
Friday: 8:00 AM – 5:00 PM
Saturday: 9:00 AM – 12:00 PM
About this Location:
We are very close by to Berkeley City Park.
1706 West 6th Avenue
Eugene, OR 97402
Pre-registration required,
Walk-in with barcode:
---
Monday: 9:00 AM – 5:00 PM
Tuesday: 9:00 AM – 5:00 PM
Wednesday: 9:00 AM – 5:00 PM
Thursday: 9:00 AM – 5:00 PM
Friday: 9:00 AM – 5:00 PM
About this Location:
This location is very close by to West Eugene Wetlands. It is easy to find us.
977 Garfield St 6
Eugene, OR 97402
Pre-registration required,
Walk-in with barcode:
---
Monday: 9:00 AM – 6:00 PM
Tuesday: 9:00 AM – 6:00 PM
Wednesday: 9:00 AM – 6:00 PM
Thursday: 9:00 AM – 6:00 PM
Friday: 9:00 AM – 6:00 PM
Saturday: 9:00 AM – 2:00 PM
About this Location:
This office is conveniently located in walking distance from Westmoreland City Park.
Neighborhoods In and Around Eugene That We Serve
location_city
Bethel-Danebo
location_city
Market District
location_city
Southeast Eugene
location_city
Laurel Hill Valley
Additional Services
We also offer other services, such as:
Citations
menu_book
Oregon Department of Justice, "Child Support: Establish Paternity," https://www.doj.state.or.us/child-support/apply-for-support/establish-paternity/
menu_book
Kabba, Rasheeda, "Clarkston man reunites with biological family, first time ever," KLEW, April 1, 2019, https://klewtv.com/news/local/clarkston-man-reunites-with-biological-family-first-time-ever
menu_book
Baden-Laser, Eli, "A Family Portrait: Brothers, Sisters, Strangers," The New York Times, June 26, 2019, https://www.nytimes.com/interactive/2019/06/26/magazine/sperm-donor-siblings.html
menu_book
University of Oregon – Clark Honors College – "Who Am I? A Genetic Inquiry," HC 441H, Prof. Amy Connolly, https://honors.uoregon.edu/course-who-am-i-genetic-inquiry
menu_book
Lohr Real Estate, "5 Best Neighborhoods in Eugene," https://www.lohrrealestate.com/5-best-neighborhoods-eugene-list/
menu_book
Area Vibes, Eugene, OR Neighborhoods, https://www.areavibes.com/eugene-or/neighborhoods/