DNA Test – Columbus, GA
Health Street provides DNA tests and legal paternity testing in Columbus, Georgia at 7 testing laboratories. Call (706) 204-3839 or schedule online. We offer legal paternity tests, sibling studies, grandparent DNA tests, avuncular (aunt or uncle) testing, and postmortem DNA testing to determine if people are biologically related.
Set up DNA testing appointments online. Test results can be used in court for child support or to change a birth a certificate; it can also be used for simple peace of mind. Appointments can be scheduled together or separately. Legal DNA tests are done by cheek swab at our testing centers. We can also extract DNA samples from hair follicles, fingernails, and other specimens.
Workforce Screening, Digitally Delivered
Im happy with the company and the person whom booked the appointment, however, the lab core personnel was not friendly, acted like they didnt no what to do and made me feel very un easy at the apt. My grandson cried the entire time we were in the office , my point is that babies yes cry but even his senses picked up the worker was not friendly. Im glad the test was sent to you … I would not recommend this location to anyone. Let me say again the customer service to set this test up was nice informative an answered all questions. The staff at lab core shows they are not happy with there job!
karen Dickson
2/25/2020
Fast responses!
Jovanna Catherine Meeks
4/5/2019
The representative I spoke with was very helpful with setting up my appointment
Samuel Sanchez
10/19/2016
The service and attention given to our needs was excellent. Thank you !
Christine/ Brandon Bruce
6/17/2016
1 of 7
1345 13th Street
Columbus
,
GA
31901
2 of 7
4328 Armour Road
Columbus
,
GA
31904
3 of 7
1051 Talbotton Road
Columbus
,
GA
31904
4 of 7
5448 Whittlesey Blvd
Columbus
,
GA
31909
5 of 7
5448 Whittlesey Blvd
Columbus
,
GA
31909
6 of 7
2000 10th Avenue 170
Columbus
,
GA
31901
7 of 7
5448 Whittlesey Blvd
Columbus
,
GA
31909
DNA Test – Columbus, Georgia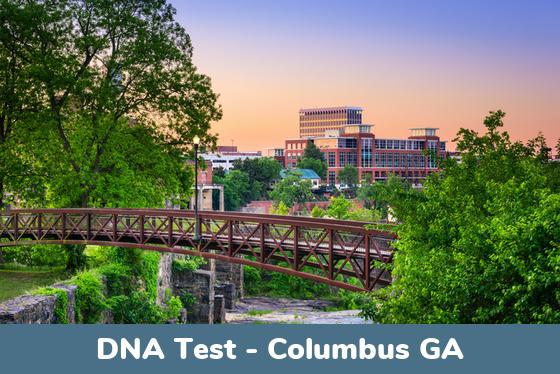 Types of DNA Tests at our Columbus, Georgia clinics:
Paternity Testing can conclusively establish whether or not a man is the biological father of a child.
Relationship Testing for other close family relationships can be performed at our testing centers. Our DNA testing services can confirm or deny biological relationships between grandparents, grandchildren, siblings, half-siblings, aunts, uncles, nieces and nephews:
Specimens we can test for DNA
The easiest and most reliable way to obtain a DNA sample for paternity testing is to swab the inner cheeks of the alleged father and child or children. These skin cells are known as buccal cells, and they rub off easily onto cotton swabs and remain in place for analysis by our laboratory.
Other specimen samples, such as hair follicles, fingernails, and garments that might contain someone's DNA, can also be tested. An Alternative Specimen DNA Test is done by ordering one of our testing kits online and shipping the specimens back to us.
Legal DNA Tests vs. "Peace of Mind" At-Home Tests
A Legal Paternity Test is a court admissible lab testing service performed at an AABB accredited laboratory. Accurate results for DNA paternity testing with 99.99% confidence or greater take about a week.
When deciding which type of DNA test is right for you, consider first what you might do with the results. A legal paternity DNA test will hold up in court for such matters as child support or to change the name on a birth certificate. This test must be performed using strict chain of custody procedures. Our Columbus DNA testing technicians are trained to follow these guidelines so that the results will be legally admissible.
How to schedule a DNA Test in Columbus GA
Scheduling a DNA test at one of our Columbus clinics is simple and fast, and we often have appointments available in the same week. It's always helpful to schedule in advance to make sure you get the time you want. Please call our customer service team to help you book your appointment over the phone, or set up your appointment easily online.
We have state of the art testing labs and friendly clinics that perform the DNA sample collection in Columbus, plus many more locations throughout Georgia and across the United States. During registration, we'll show you the nearest locations for DNA testing so you can choose the site that's most convenient. You'll also pick the times and days that you prefer.
Why Health Street
Over a Decade of Experience
Health Street has been performing DNA testing nationally since 2010. The first DNA test in Columbus, GA performed by Health Street was in 2018.
Dedication to Excellence
Our dedication to excellence includes our commitment to provide compassionate services and to helping people obtain the accurate DNA testing in Columbus that they need.
Columbus, Georga – DNA Testing
Local DNA Stories
Born in New Mexico and adopted at six months old, Todd Pearse always wondered where he came from. Pearse, who now resides in New Jersey, didn't know his background, and his daughter convinced him to take a DNA test. DNA testing led to connections with family members, including Muscogee County Marshal Greg Countryman's wife, who he learned was his first cousin. "They've all told me there's no denying it. I am a Hudson. DNA don't lie, and that's the truth," Pearse said. Pearse visited Columbus, GA to meet with his extended family and get to know his cousin and sister. He also attended a Hudson reunion where he introduced his daughter and granddaughter.
Proving Paternity for Child Custody Purposes in Columbus, GA
Establishing paternity means giving the child a legal father. If a child is born to married parents in Columbus, GA, the man is the child's legal father, and paternity does not need to be established. However, if the parents are not married, paternity must be established for the child to have a legal father.
If the parents agree about who the child's father is, they can establish paternity voluntarily by signing a Paternity Acknowledgement Form. If one parent doesn't agree to sign the form, paternity will be established through a court order. The court may order DNA testing to prove paternity. DNA testing may also be requested by either party. In addition, the Division of Child Support Services requires DNA testing in child support cases where paternity hasn't been established.
Once paternity is established, both parents can receive visitation, custody, and child support orders.
Experts Say…
Abell Family Law of Columbus, GA, explains that a father must become the child's legal father to obtain custody and visitation rights. "O.C.G.A. Section 19-7-21.1(e) specifically states: 'Voluntary acknowledgment of legitimation shall not authorize the father to receive custody or visitation until there is a judicial determination of custody or visitation,'" the law firm explained, "In other words, you, as the biological father, need to file an action for legitimation, to become the legal father of the minor child and seek custody or visitation rights of your child."
Last Updated 8/25/2022
Locations
Clinic Hours for DNA Testing in Columbus, Georgia
1345 13th Street
Suite R
Columbus, GA 31901
Pre-registration required,
Walk-in with barcode:
---
Monday: 7:30 AM – 4:00 PM
Tuesday: 7:30 AM – 4:00 PM
Wednesday: 7:30 AM – 4:00 PM
Thursday: 7:30 AM – 4:00 PM
Friday: 7:30 AM – 4:00 PM
About this Location:
Visit us at this location. We are close to Lakebottom Park/Hill Field.
Neighborhoods In and Around Columbus That We Serve
location_city
Clubview Heights
location_city
Macon-Cherokee-Hilton
location_city
Warm Springs – Rosemont
location_city
Sugar Mill/Summerbrook
location_city
Blackmon Rd Center
location_city
Rivermont & River Brook
location_city
Wynnridge/Waterford Place
location_city
Northstar Crossing
Additional Services
We also offer other services, such as:
Citations
menu_book
Adams, Jessalyn. "Man discovers family connections in Columbus after taking a DNA test." WRBL News 3, 15 July 2018, https://www.wrbl.com/news/local-news/man-discovers-family-connections-in-columbus-after-taking-a-dna-test/1303251421/
menu_book
"Paternity Establishment." Georgia Department of Human Services, Division of Child Support Services, https://childsupport.georgia.gov/programs-services/paternity-establishment
menu_book
"Paternity Establishment – Frequently Asked Questions." Georgia Department of Human Services, https://dhs.georgia.gov/sites/childsupport.georgia.gov/files/imported/DHR-OCSE/DHR-OCSE_Paternity_Establishment/Paternity_Establishment_FAQ_Updated_03262010.pdf
menu_book
"Father's Rights and Legitimation." Abell Law Firm, LLC, http://www.abellfamilylaw.com/fathers-rights-and-legitimation/
menu_book
"Columbus, GA." Nextdoor, https://nextdoor.com/city/columbus–ga/