DNA Test – Brandon, FL
Health Street provides DNA tests and legal paternity testing in Brandon, Florida at 7 testing laboratories. Call (813) 607-5996 or schedule online. We offer legal paternity tests, sibling studies, grandparent DNA tests, avuncular (aunt or uncle) testing, and postmortem DNA testing to determine if people are biologically related.
Set up DNA testing appointments online. Test results can be used in court for child support or to change a birth certificate; it can also be used for simple peace of mind. Appointments can be scheduled together or separately. Legal DNA tests are done by cheek swab at our testing centers. We can also extract DNA samples from hair follicles, fingernails, and other specimens.
Workforce Screening, Digitally Delivered
1 of 7
427 S Parsons Avenue
Brandon
,
FL
33511
2 of 7
408 E Brandon Blvd
Brandon
,
FL
33511
3 of 7
220 W Brandon Blvd
Brandon
,
FL
33511
4 of 7
519 E Bloomingdale Avenue
Brandon
,
FL
33511
5 of 7
613 Medical Care Drive
Brandon
,
FL
33511
6 of 7
205 E Brandon Blvd
Brandon
,
FL
33511
7 of 7
934 Oakfield Drive
Brandon
,
FL
33511
DNA Test – Brandon, Florida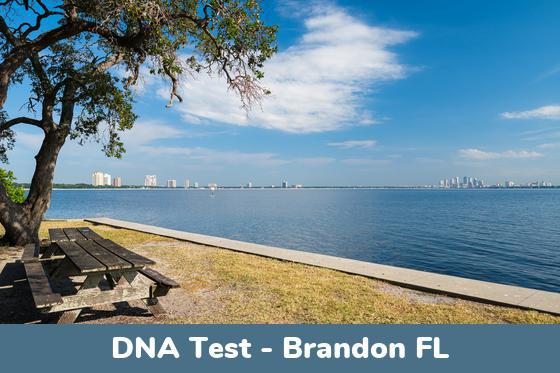 Types of DNA Tests at our Brandon, Florida locations:
The most commonly ordered DNA test is a Paternity Test to conclusively establish whether or not a man is the biological father of a child.
Paternity Testing can be performed at our testing centers. DNA Testing can be done for other close family relationships, such as:
Specimens we can test for DNA
The easiest and most reliable way to obtain a DNA sample for paternity testing is to swab the inner cheeks of the people being tested. These skin cells are known as buccal cells, and they rub off easily onto cotton swabs and remain in place for analysis by our laboratory. Other specimen samples, such as hair follicles, fingernails, and garments that might contain someone's DNA, can also be tested. An Alternative Specimen DNA Test is done by registering online and shipping the specimens to us.
Legally Admissible DNA Tests vs. "Peace of Mind" At-Home Tests
A Legal Paternity Test is a court admissible DNA testing service. Accurate results for DNA paternity testing with 99.99% confidence or greater take about a week.
When deciding which type of DNA test is right for you, consider first what you might do with the results. In order for the results of a DNA test to hold up in court, for child support, or to change the name on a birth certificate, the test must be done at a clinic using strict chain of custody procedures. Our Brandon DNA testing technicians are trained to follow guidelines that ensure that the results can be used for legal purposes.
How to schedule a DNA Test in Brandon FL
Scheduling a DNA test at one of our Brandon clinics is simple and fast, and we often have appointments available in the same week. It's always helpful to schedule in advance to make sure you get the time you want. Register online, or please call our customer service team, which can help you book your appointment over the phone.
We have state of the art testing labs and friendly clinics that perform the DNA sample collection in Brandon, plus many more locations throughout Florida and all across the United States. Not every one of our clinics performs paternity testing in Brandon. We'll show you the nearest locations to get a DNA test in Brandon , FL so you can choose the testing center that is most convenient. When you register, you can also pick the appointment time and date that you prefer.
Why Health Street
More than a Decade of Experience
Since 2010, Health Street has offered DNA tests in Brandon, the state of Brandon, Florida, and throughout the nation. The first DNA test that Health Street provided in Brandon, FL was in 2019.
Commitment to Excellence
Our mission is to understand the DNA testing needs of our clients. We strive to provide the most accurate, fast, and conclusive paternity tests in Brandon.
Brandon, Florida – DNA Testing
5 Ways to Establish Paternity in Brandon, FL
According to attorneys at the Brandon-based Koether Law, there are five separate ways to legally establish a child's paternity in Florida. This includes:
arrow_forward
Marriage—If a couple is married when a child is born, the mother's husband is automatically presumed to be the child's legal father and no action is necessary.
arrow_forward
Voluntary Acknowledgment of Paternity (VOP)—When both parents agree about the identity of the child's biological father, they can sign and file a
VOP form
.
arrow_forward
Court order—The courts can order genetic DNA testing and then issue an order establishing legal paternity. This is often done when there is a dispute about the identity of the child's biological father.
arrow_forward
Genetic testing—A couple can do genetic testing on their own. If the test determines the man is the child's biological father, an administrative order can be issued to establish legal paternity.
arrow_forward
Affirmation—If the child's parents get married after the child is born, the state presumes legal paternity after the marriage. The man's name can be added to the birth certificate by completing and filing an
Affirmation of Common Child Born in Florida
Benefits of Establishing Paternity
There are several reasons to consider taking the steps necessary to establish paternity in the state of Florida. Attorneys at Pilka Adams & Reed, P.A., a law firm serving Brandon and the surrounding area, note some important benefits, including:
arrow_right_alt
Providing the father with the legal right to spend time with the child and have a say in the child's upbringing, including potential relocation
arrow_right_alt
Giving the father legal responsibility to care for the child
arrow_right_alt
Providing the child with benefits from the father, such as veteran's benefits and health insurance
arrow_right_alt
Allowing the child to learn about the biological father's health history
arrow_right_alt
Assisting with the estate planning process
Florida's Putative Father Registry
In the state of Florida, if a man believes he is a child's biological father, he can file a Putative Father Registry with the Bureau of Vital Statistics. This gives him the right to be informed and give consent if the child's mother tries to give the child up for adoption. This can be filed before a child is born but cannot be filed after a petition for termination of parental rights has been filed. Filing for the registry does not establish paternity. If the mother does not agree to the claim of paternity and the father wants to legally establish himself as the child's biological father, he must seek a court order.
According to attorneys at the Brandon Family Law firm McCluskey Law, LLC, filing the putative father registry does not impact custody, child support, or any other paternity rights. If a man wishes to withdraw the filing, he can do so through the Florida Putative Father Registry.
Last updated 11/16/2022
Locations
Clinic Hours for DNA Testing in Brandon, Florida
427 S Parsons Avenue
Suite 120
Brandon, FL 33511
Pre-registration required,
Walk-in with barcode:
---
Monday: 7:00 AM – 2:00 PM
Tuesday: 7:00 AM – 2:00 PM
Wednesday: 7:00 AM – 2:00 PM
Thursday: 7:00 AM – 2:00 PM
Friday: 7:00 AM – 2:00 PM
About this Location:
You can find us very close by to All Person's Rotary Park. We are easily accessed by car or public transportation.
Neighborhoods in Brandon Served by our Clinics
location_city
Brentwood Hills
location_city
Camelot Woods
location_city
Dogwood Hills
location_city
Hidden Forest
location_city
Providence Townhomes
location_city
Regency Plaza
location_city
Wheelers Landing
Additional Services
We also offer other services, such as:
Citations
menu_book
"Five Ways to Establish Paternity in Florida." Koether Law, P.A., https://www.koetherlaw.com/five-ways-to-establish-paternity-in-florida/
menu_book
"Acknowledgment of Paternity." Florida Health, https://www.floridahealth.gov/certificates/certificates/birth/_documents/DH_432_Ack_Paternity.pdf
menu_book
"Affirmation of Common Child(ren) Born in Florida." State of Department, Department of Health – Office of Vital Statistics, https://www.clerk.org/pdf/AffirmationOfCommonChildren.pdf
menu_book
"Paternity establishment in Florida: What it is and why it matters." Pilka Adams & Reed, P.A., https://www.pilka.com/articles/paternity-establishment-in-florida-what-it-is-and-why-it-matters/
menu_book
"Pertinent Questions About Paternity in Florida." Affordable Family Law Firm, https://www.affordablefamilylawfirm.com/paternity/
menu_book
"Putative Father Registry." Florida Health, https://www.floridahealth.gov/certificates/certificates/birth/Putative_Father/index.html
menu_book
"Brandon, FL." Nextdoor, https://nextdoor.com/city/brandon–fl/