DNA Test – Bakersfield, CA
Health Street provides DNA tests and legal paternity testing in Bakersfield, California at 8 testing laboratories. Call (661) 276-9016 or schedule online. We offer legal paternity tests, sibling studies, grandparent DNA tests, avuncular (aunt or uncle) testing, and postmortem DNA testing to determine if people are biologically related.
Set up DNA testing appointments online. Test results can be used in court for child support or to change a birth a certificate; it can also be used for simple peace of mind. Appointments can be scheduled together or separately. Legal DNA tests are done by cheek swab at our testing centers. We can also extract DNA samples from hair follicles, fingernails, and other specimens.
Workforce Screening, Digitally Delivered
Just wanted to thank Drew he did tremendous on helping me out, he went above and beyond and made sure everything was done in the correct order. The second we had a problem he was on the other line making phone calls and getting everything straightened out. Thank you for your hard work, and i definitely think you need a raise!
Delila Benskin
8/12/2021
1 of 8
3550 Q Street
Bakersfield
,
CA
93301
2 of 8
4100 Truxtun Avenue
Bakersfield
,
CA
93309
3 of 8
3215 Fruitvale Avenue
Bakersfield
,
CA
93308
4 of 8
3701 Pegasus Drive
Bakersfield
,
CA
93308
5 of 8
2204 Q Street
Bakersfield
,
CA
93301
6 of 8
4200 Buck Owens Boulevard
Bakersfield
,
CA
93308
7 of 8
1800 Westwind Drive
Bakersfield
,
CA
93301
8 of 8
8303 Brimhall Road
Bakersfield
,
CA
93312
DNA Test – Bakersfield, California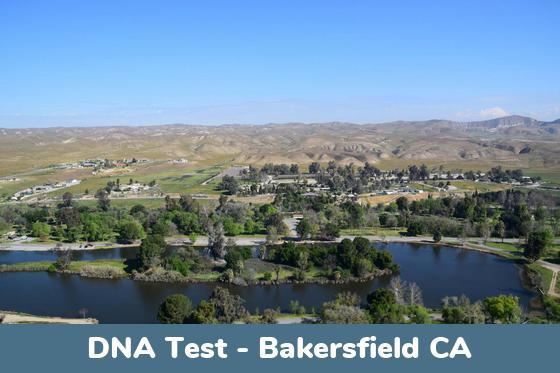 Types of DNA Tests at our Bakersfield, California clinics:
Paternity Testing can conclusively establish whether or not a man is the biological father of a child.
Relationship Testing for other close family relationships can be performed at our testing centers. Our DNA testing services can confirm or deny biological relationships between grandparents, grandchildren, siblings, half-siblings, aunts, uncles, nieces and nephews:
Specimens we can test for DNA
The easiest and most reliable way to obtain a DNA sample for paternity testing is to swab the inner cheeks of the alleged father and child or children. These skin cells are known as buccal cells, and they rub off easily onto cotton swabs and remain in place for analysis by our laboratory.
Other specimen samples, such as hair follicles, fingernails, and garments that might contain someone's DNA, can also be tested. An Alternative Specimen DNA Test is done by ordering one of our testing kits online and shipping the specimens back to us.
Legal DNA Tests vs. "Peace of Mind" At-Home Tests
A Legal Paternity Test is a court admissible lab testing service performed at an AABB accredited laboratory. Accurate results for DNA paternity testing with 99.99% confidence or greater take about a week.
When deciding which type of DNA test is right for you, consider first what you might do with the results. A legal paternity DNA test will hold up in court for such matters as child support or to change the name on a birth certificate. This test must be performed using strict chain of custody procedures. Our Bakersfield DNA testing technicians are trained to follow these guidelines so that the results will be legally admissible.
How to schedule a DNA Test in Bakersfield CA
Scheduling a DNA test at one of our Bakersfield clinics is simple and fast, and we often have appointments available in the same week. It's always helpful to schedule in advance to make sure you get the time you want. Please call our customer service team to help you book your appointment over the phone, or set up your appointment easily online.
We have state of the art testing labs and friendly clinics that perform the DNA sample collection in Bakersfield, plus many more locations throughout California and across the United States. During registration, we'll show you the nearest locations for DNA testing so you can choose the site that's most convenient. You'll also pick the times and days that you prefer.
Why Health Street
Over a Decade of Experience
Health Street has been performing DNA testing nationally since 2010. The first DNA test in Bakersfield, CA performed by Health Street was in 2018.
Dedication to Excellence
Our dedication to excellence includes our commitment to provide compassionate services and to helping people obtain the accurate DNA testing in Bakersfield that they need.
Bakersfield, California – DNA Testing
Local DNA Stories
In 2018, a woman from Korea, Sarah Fawcett, used DNA testing to find her biological father in Bakersfield, CA. Fawcett was born in Korea and spend the first few months of her life at an orphanage until adopted by a family. The family resided in Moorpark, CA for most of Fawcett's life and moved to Kern County a couple of years before her finding her father. She knew she was adopted from a young age but didn't seek information about her biological parents. But her mother gave her a DNA test as a gift. After about one month of waiting for results, Fawcett received 32 pages of about 1,000 people with similar DNA traits, including her aunt and grandfather. She began reaching out to first and second cousins, putting together a family tree, and ultimately finding her biological father. Surprisingly, her biological relatives were not in Korea but resided in Bakersfield. Fawcett met up with her father, Victor Castaneda, and the two of them used DNA testing to confirm that he was her father.
Experts Say…
Bakersfield paternity attorney, Michael L. Seidman, said that DNA testing is the first step to establishing paternity. "The first step is to use DNA testing to establish beyond any doubt the father of the child," he said. Seidman explained that while DNA testing can be skipped in cases where both parents are willing to complete paperwork verifying paternity, a DNA test is still encouraged for any future questions. "This is an extremely simple test that is routinely performed at labs throughout the country. It basically involves a quick swab of the mouth to get a sample. Results are returned surprisingly quickly, and they are very accurate."
Proving Paternity for Child Custody Purposes in Bakersfield, CA
Establishing paternity is necessary for visitation, child support, and custody orders for parents who are unmarried. If both parents agree on who the biological father is, they can establish paternity by signing a Voluntary Declaration of Parentage. If the parents question the biological father or have any doubts, they should use DNA testing to prove paternity, and the voluntary form should not be signed until they are certain. If both parents do not agree to sign the voluntary form, paternity can be established in court.
Last updated 8/5/2022
Locations
Clinic Hours for DNA Testing in Bakersfield, California
3550 Q Street
Suite 102
Bakersfield, CA 93301
Pre-registration required,
Walk-in with barcode:
---
Monday: 7:30 AM – 1:30 PM
Tuesday: 7:30 AM – 1:30 PM
Wednesday: 7:30 AM – 1:30 PM
Thursday: 7:30 AM – 1:30 PM
Friday: 7:30 AM – 1:30 PM
Saturday: 7:30 AM – 1:30 PM
About this Location:
Visit us at this location. We are close to Stramler Park. We are easily accessed by car or public transportation.
Neighborhoods Served in Bakersfield
location_city
Windsor Park
location_city
Fred Thompson Grid
location_city
Emerald Cove Park
location_city
Oleander/Sunset
location_city
Dr Mlk Jr Blvd
location_city
Mustang Ranch
Additional Services
We also offer other services, such as:
Citations
menu_book
"Adopted woman from Korea finds father in Bakersfield with DNA test." 23ABC, 19 June 2018, https://www.turnto23.com/news/local-news/the-now/adopted-woman-from-korea-finds-father-in-bakersfield-with-dna-test
menu_book
"Bakersfield Paternity Attorneys." Law Office of Michael L. Seidman, https://www.seidmanlawoffice.com/your-children/paternity/
menu_book
"Services." Kern County Department of Child Support Services, https://kerncountychildsupportservices.com/services/
menu_book
"Establishing Legal Parentage." California Child Support Services, https://childsupport.ca.gov/establishing-legal-parentage/
menu_book
"Bakersfield, CA." Nextdoor, https://nextdoor.com/city/bakersfield–ca/