DNA Test – Washington, DC
Health Street provides DNA tests and legal paternity testing in Washington, District of Columbia at 6 testing laboratories. Call (202) 389-9685 or schedule online. We offer legal paternity tests, sibling studies, grandparent DNA tests, avuncular (aunt or uncle) testing, and postmortem DNA testing to determine if people are biologically related.
Set up DNA testing appointments online. Test results can be used in court for child support or to change a birth a certificate; it can also be used for simple peace of mind. Appointments can be scheduled together or separately. Legal DNA tests are done by cheek swab at our testing centers. We can also extract DNA samples from hair follicles, fingernails, and other specimens.
Workforce Screening, Digitally Delivered
I didnt get to pick a time and it want very clear how to make the appointment other than by selecting a day. I was pleased that appointments were available on such short notice and the locations were great.
Ariana
8/31/2021
I was happy with outcome of DNA test.
Charles
1/20/2016
1 of 6
1145 19th St NW
Washington
,
DC
20036
2 of 6
2021 K Street NW
Washington
,
DC
20006
3 of 6
2207 4th Street Ne
Washington
,
DC
20002
4 of 6
2141 K St NW
Washington
,
DC
20037
5 of 6
4121 Minnesota Ave Ne
Washington
,
DC
20019
6 of 6
4910 Massachusetts Ave NW
Washington
,
DC
20016
DNA Test – Washington, District of Columbia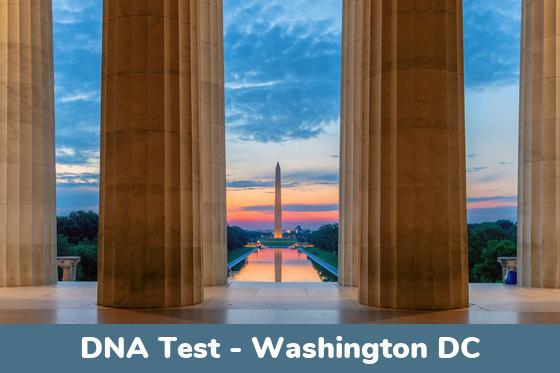 Types of DNA Tests at our Washington, District of Columbia clinics:
Paternity Testing can conclusively establish whether or not a man is the biological father of a child.
Relationship Testing for other close family relationships can be performed at our testing centers. Our DNA testing services can confirm or deny biological relationships between grandparents, grandchildren, siblings, half-siblings, aunts, uncles, nieces and nephews:
Specimens we can test for DNA
The easiest and most reliable way to obtain a DNA sample for paternity testing is to swab the inner cheeks of the alleged father and child or children. These skin cells are known as buccal cells, and they rub off easily onto cotton swabs and remain in place for analysis by our laboratory.
Other specimen samples, such as hair follicles, fingernails, and garments that might contain someone's DNA, can also be tested. An Alternative Specimen DNA Test is done by ordering one of our testing kits online and shipping the specimens back to us.
Legal DNA Tests vs. "Peace of Mind" At-Home Tests
A Legal Paternity Test is a court admissible lab testing service performed at an AABB accredited laboratory. Accurate results for DNA paternity testing with 99.99% confidence or greater take about a week.
When deciding which type of DNA test is right for you, consider first what you might do with the results. A legal paternity DNA test will hold up in court for such matters as child support or to change the name on a birth certificate. This test must be performed using strict chain of custody procedures. Our Washington DNA testing technicians are trained to follow these guidelines so that the results will be legally admissible.
How to schedule a DNA Test in Washington DC
Scheduling a DNA test at one of our Washington clinics is simple and fast, and we often have appointments available in the same week. It's always helpful to schedule in advance to make sure you get the time you want. Please call our customer service team to help you book your appointment over the phone, or set up your appointment easily online.
We have state of the art testing labs and friendly clinics that perform the DNA sample collection in Washington, plus many more locations throughout District of Columbia and across the United States. During registration, we'll show you the nearest locations for DNA testing so you can choose the site that's most convenient. You'll also pick the times and days that you prefer.
Why Health Street
More than a Decade of Experience
Since 2010, Health Street has offered DNA tests in Washington, the state of Washington, District of Columbia, and throughout the nation. The first DNA test that Health Street provided in Washington, DC was in 2018.
Commitment to Excellence
Our mission is to understand the DNA testing needs of our clients. We strive to provide the most accurate, fast, and conclusive paternity tests in Washington DC.
Washington, D.C. – DNA test
Establishing paternity in Washington, D.C.
In Washington D.C., when a child is born to partners who are not married or in a registered domestic partnership, there is no automatic legal relationship between them, and parents should establish the parentage.
There are two legal ways of establishing parentage, either by a court order or by signing a Voluntary Acknowledgment of Paternity (AOP). If the parents agree, they can sign the AOP and do not need to go to court to establish the parentage. Signing the AOP will allow the father's name to be placed on the birth certificate.
If the parents do not agree to sign the AOP, they can file a petition through The Child Support office. Usually, a court hearing will ensue, and the court often orders DNA testing. If the DNA test proves the man is the father, paternity will be established.
Benefits of establishing paternity in Washington, D.C.
There are multiple benefits connected to establishing paternity:
arrow_forward_ios
There will be a legal bond between father and child
arrow_forward_ios
Children who know both of their parents often perform better in school and are also more likely to avoid drugs and criminal behavior
arrow_forward_ios
The establishment of parentage is necessary for child support
arrow_forward_ios
There may be insurance benefits or possible inheritance
arrow_forward_ios
Children will know their medical history from both parents
Washington, D.C.: Challenging paternity
When a child is born to unwed parents in the District of Columbia, the parents can decide to sign an AOP without performing any DNA testing. However, if someone else questions the child's paternity, there will be no medical evidence of the biological father.
In this case, the court will likely order a DNA test to determine who the birth father is. After the court receives the DNA test results, paternity can be established, and the man who proves to be the father will have legal responsibilities toward the child.
Last updated 6/30/2022
Locations
Clinic Hours for DNA Testing in Washington, District of Columbia
1145 19th St NW
Suite 601
Washington, DC 20036
Pre-registration required,
Walk-in with barcode:
---
Monday: 9:00 AM – 3:00 PM
Tuesday: 9:00 AM – 3:00 PM
Wednesday: 9:00 AM – 3:00 PM
Thursday: 9:00 AM – 3:00 PM
Friday: 9:00 AM – 3:00 PM
About this Location:
For DNA testing in Washington DC, you can make an appointment at our clinic near Dupont Circle.
2021 K Street NW
Suite 725
Washington, DC 20006
Pre-registration required,
Walk-in with barcode:
---
Monday: 9:00 AM – 3:00 PM
Tuesday: 9:00 AM – 3:00 PM
Wednesday: 9:00 AM – 3:00 PM
Thursday: 9:00 AM – 3:00 PM
Friday: 9:00 AM – 3:00 PM
About this Location:
You can find us in walking distance from Edward R Murrow Park. We are easily accessed by car or public transportation.
Neighborhoods In and Around Washington That We Serve
location_city
Foggy Bottom
location_city
Adams Morgan
location_city
Logan Circle
location_city
Woodley Park
location_city
Southwest Waterfront
location_city
Friendship Heights
Additional Services
We also offer other services, such as:
Local Reviews
By JW on 4/6/2018
Cecelia R. was very helpful with getting the appointment scheduled and assisting with faxing paperwork. Services were utilized at a lab facility. Sibling DNA test was ordered.
By Daniel boakye on 7/1/2016
Costumer service was great 2 for my personal use 3 D N A
Citations
menu_book
Establishing parentage and paternity. Establishing Parentage and Paternity. (n.d.). Retrieved June 30, 2022, from https://cssd.dc.gov/page/establishing-parentage-and-paternity#:~:text=CSSD%20can%20help%20parents%20establish,with%20the%20DC%20Superior%20Court.
menu_book
***paternity establishment***. ***Paternity Establishment***. (n.d.). Retrieved June 30, 2022, from https://cssd.dc.gov/event/paternity-establishment
menu_book
"16-909. Proof of Child's Relationship to Parents." D.C. Law Library, https://code.dccouncil.us/us/dc/council/code/sections/16-909.