DNA Test – Springfield, IL
Health Street provides DNA tests and legal paternity testing in Springfield, Illinois at 3 testing laboratories. Call (217) 462-9377 or schedule online. We offer legal paternity tests, sibling studies, grandparent DNA tests, avuncular (aunt or uncle) testing, and postmortem DNA testing to determine if people are biologically related.
Set up DNA testing appointments online. Test results can be used in court for child support or to change a birth certificate; it can also be used for simple peace of mind. Appointments can be scheduled together or separately. Legal DNA tests are done by cheek swab at our testing centers. We can also extract DNA samples from hair follicles, fingernails, and other specimens.
Workforce Screening, Digitally Delivered
1 of 3
3119 Robbins Road
Springfield
,
IL
62704
2 of 3
1836 S Macarthur Blvd
Springfield
,
IL
62704
3 of 3
2536 Farragut Drive
Springfield
,
IL
62704
DNA Test – Springfield, Illinois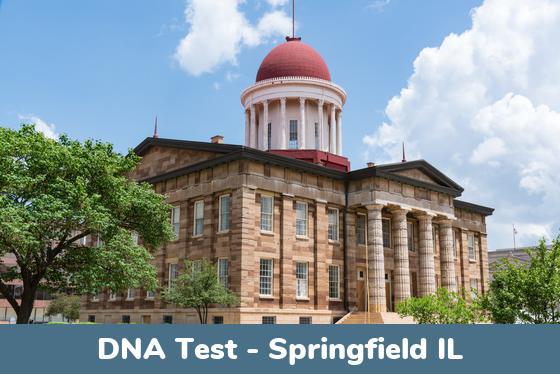 Types of DNA Tests at our Springfield, Illinois locations:
The most commonly ordered DNA test is a Paternity Test to conclusively establish whether or not a man is the biological father of a child.
Paternity Testing can be performed at our testing centers. DNA Testing can be done for other close family relationships, such as:
Specimens we can test for DNA
The easiest and most reliable way to obtain a DNA sample for paternity testing is to swab the inner cheeks of the people being tested. These skin cells are known as buccal cells, and they rub off easily onto cotton swabs and remain in place for analysis by our laboratory. Other specimen samples, such as hair follicles, fingernails, and garments that might contain someone's DNA, can also be tested. An Alternative Specimen DNA Test is done by registering online and shipping the specimens to us.
Legally Admissible DNA Tests vs. "Peace of Mind" At-Home Tests
A Legal Paternity Test is a court admissible DNA testing service. Accurate results for DNA paternity testing with 99.99% confidence or greater take about a week.
When deciding which type of DNA test is right for you, consider first what you might do with the results. In order for the results of a DNA test to hold up in court, for child support, or to change the name on a birth certificate, the test must be done at a clinic using strict chain of custody procedures. Our Springfield DNA testing technicians are trained to follow guidelines that ensure that the results can be used for legal purposes.
How to schedule a DNA Test in Springfield IL
Scheduling a DNA test at one of our Springfield clinics is simple and fast, and we often have appointments available in the same week. It's always helpful to schedule in advance to make sure you get the time you want. Register online, or please call our customer service team, which can help you book your appointment over the phone.
We have state of the art testing labs and friendly clinics that perform the DNA sample collection in Springfield, plus many more locations throughout Illinois and all across the United States. Not every one of our clinics performs paternity testing in Springfield. We'll show you the nearest locations to get a DNA test in Springfield , IL so you can choose the testing center that is most convenient. When you register, you can also pick the appointment time and date that you prefer.
Why Health Street
More than a Decade of Experience
Since 2010, Health Street has offered DNA tests in Springfield, the state of Springfield, Illinois, and throughout the nation. Since our founding, we have focused on helping people obtain the DNA and paternity tests that they need, from Springfield to neighborhoods everywhere.
Commitment to Excellence
Our mission is to understand the DNA testing needs of our clients. We strive to provide the most accurate, fast, and conclusive paternity tests in Springfield.
Springfield, Illinois – DNA Testing
Establishing Paternity in Springfield
In the state of Illinois, there are four primary ways to establish paternity:
search
Presumption of Paternity – When a child's mother is married or in a civil union at the time the child is born or within 300 days prior to the birth, the woman's husband or partner is automatically presumed to be the child's legal father.
search
Voluntary Acknowledgment of Paternity (VAP) form – Voluntarily signed, witnessed, and filed by both parents
search
Administrative Paternity Order – Filed by the state child support agency
search
Order of Paternity – Entered by a judge
A VAP is typically completed in the hospital when the child is born. However, it can also be filed at a later date. This form can be obtained from several different locations, including the County Clerk's office. For Springfield residents, the Sangamon County Complex is located at 200 South Ninth Street Room 101 Springfield, Illinois 62701.
The Roll of DNA Tests in Illinois Paternity Cases
According to Springfield's O'Flaherty Law, either the courts or any party involved in a paternity case in Illinois can request a DNA test. If the test does not definitively exclude a man from being a child's father, the decision is based on the test's "combined paternity index," or probability of paternity. If the probability is less than 1,000 to 1, there is no presumption of paternity. In this case, both the test results and other factors may be considered. If the probability is more than 1,000 to 1, there is a presumption of paternity. This can only be rebutted by clear and convincing evidence. If a party refuses to submit to a DNA test, the courts are likely to rule against them.
Importance of Paternity Testing During Divorce
When a marriage is unstable and headed for divorce, it's common for a man to feel unsure about the paternity of his young children. Springfield's Stange Law Firm asserts that men who have these doubts about their paternity should petition the courts for a DNA paternity test either before or during divorce proceedings. While the courts may have originally presumed paternity due to marriage, taking a DNA test may protect a man from significant financial obligations if it is discovered that he is not the child's biological father. The results may also influence the outcome of a divorce case, particularly if they show that the woman was unfaithful during the marriage.
Last updated 10/17/2022
Locations
Clinic Hours for DNA Testing in Springfield, Illinois
3119 Robbins Road
Springfield, IL 62704
Pre-registration required,
Walk-in with barcode:
---
Monday: 8:00 AM – 4:00 PM
(M Lunch: 12-1 PM)
Tuesday: 8:00 AM – 4:00 PM
(T Lunch: 12-1 PM)
Wednesday: 8:00 AM – 4:00 PM
(W Lunch: 12-1 PM)
Thursday: 8:00 AM – 4:00 PM
(Th Lunch: 12-1 PM)
Friday: 8:00 AM – 11:00 AM
About this Location:
This office is conveniently located just a few blocks from Lindbergh Park.
1836 S Macarthur Blvd
Springfield, IL 62704
Pre-registration required,
Walk-in with barcode:
---
Monday: 7:30 AM – 4:00 PM
Tuesday: 7:30 AM – 4:00 PM
Wednesday: 7:30 AM – 4:00 PM
Thursday: 7:30 AM – 4:00 PM
Friday: 7:30 AM – 4:00 PM
About this Location:
For Springfield paternity tests, you can come to our lab, located just a few blocks from Iles Park.
2536 Farragut Drive
Springfield, IL 62704
Pre-registration required,
Walk-in with barcode:
---
Monday: call for hours
Tuesday: 10:00 AM – 6:00 PM
Wednesday: call for hours
Thursday: 12:00 PM – 6:00 PM
Friday: call for hours
Neighborhoods in Springfield Served by our Clinics
location_city
Cabbage Patch
location_city
Carriage Hills North
location_city
Fallingbrook West
location_city
Grand Central
location_city
Jefferson Park
location_city
Kreston Place
location_city
Olde Bradfordton
location_city
Vinegar Hill
location_city
Woodland Acres
Additional Services
We also offer other services, such as:
Citations
menu_book
"Child Support Services Program." Illinois Department of Healthcare and Family Services, https://www2.illinois.gov/hfs/ChildSupport/FormsBrochures/Pages/hfs1759.aspx
menu_book
Sangamon County Clerk, Sangamon County Illinois, https://countyclerk.sangamonil.gov/
menu_book
"Illinois Paternity Law Explained." O'Flaherty Law, 16 November 2020, https://www.oflaherty-law.com/learn-about-law/paternity-law-explained
menu_book
"The Importance of a Paternity Test in Your Divorce Case." Stange Law Firm, 12 August 2020, https://www.midwestfathersrights.com/2020/08/the-importance-of-a-paternity-test-in-your-divorce-case/