DNA Test – Savannah, GA
Health Street provides DNA testing in Savannah, Georgia at 9 conveniently located testing laboratories. Register now, or call us at (912) 216-4810 or schedule online. with any questions. Our paternity testing (including grandparent DNA tests, avuncular (aunt or uncle) testing, and postmortem DNA testing) determines if two or more people are related.
Schedule an appointment for a DNA test quickly and easily. The parties can come together or you can set up separate appointments. Grandparent DNA tests, avuncular (aunt or uncle) testing, and postmortem DNA testing are also available. Legal DNA tests are done at our testing centers. Peace of mind DNA tests can be done at home by cheek swab, hair, or fingernails.
Workforce Screening, Digitally Delivered
Very nice and helpful!
Chandra Bryant
11/10/2020
Outstanding service. Very professional agent. I was given an appointment for the same day at the time requested. I was also given important instructions of what to expect as far as result time frame, directions to the facility and appointment requirement. Everything turned out great!
Rashad Middleton
12/26/2018
It was great, savannah, ga.
Kristel spell
3/28/2018
I am very pleased with this service. The process was quick and very professional.
Jeneia Montgomery
12/29/2017
Very helpful with information on DNA services.
Jeneia Montgomery
12/21/2017
1 of 9
107 Southern Blvd
Savannah
,
GA
31405
2 of 9
1444 Dean Forest Road
Savannah
,
GA
31405
3 of 9
1128 E DeRenne Avenue
Savannah
,
GA
31406
4 of 9
14089 Abercon Street
Savannah
,
GA
31419
5 of 9
6349 Abercorn Street
Savannah
,
GA
31406
6 of 9
361 Commercial Drive
Savannah
,
GA
31406
7 of 9
1955 E Montgomery Crossroad
Savannah
,
GA
31406
8 of 9
5203 Paulsen Street
Savannah
,
GA
31405
9 of 9
130 Tibet Avenue
Savannah
,
GA
31406
DNA Test – Savannah, Georgia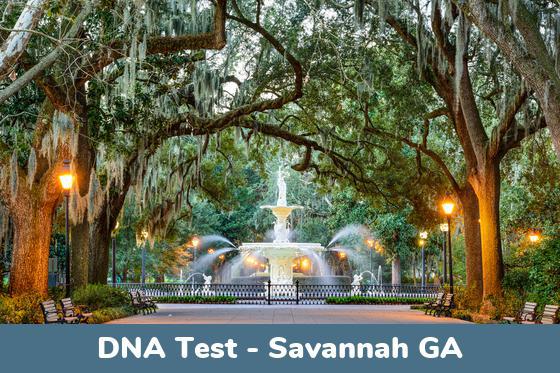 Types of DNA Tests at our Savannah, Georgia clinics:
Paternity Testing can conclusively establish whether or not a man is the biological father of a child.
Relationship Testing for other close family relationships can be performed at our testing centers. Our DNA testing services can confirm or deny biological relationships between grandparents, grandchildren, siblings, half-siblings, aunts, uncles, nieces and nephews:
Specimens we can test for DNA
The easiest and most reliable way to obtain a DNA sample for paternity testing is to swab the inner cheeks of the alleged father and child or children. These skin cells are known as buccal cells, and they rub off easily onto cotton swabs and remain in place for analysis by our laboratory.
Other specimen samples, such as hair follicles, fingernails, and garments that might contain someone's DNA, can also be tested. An Alternative Specimen DNA Test is done by ordering one of our testing kits online and shipping the specimens back to us.
Legal DNA Tests vs. "Peace of Mind" At-Home Tests
A Legal Paternity Test is a court admissible lab testing service performed at an AABB accredited laboratory. Accurate results for DNA paternity testing with 99.99% confidence or greater take about a week.
When deciding which type of DNA test is right for you, consider first what you might do with the results. A legal paternity DNA test will hold up in court for such matters as child support or to change the name on a birth certificate. This test must be performed using strict chain of custody procedures. Our Savannah DNA testing technicians are trained to follow these guidelines so that the results will be legally admissible.
How to schedule a DNA Test in Savannah GA
Scheduling a DNA test at one of our Savannah clinics is simple and fast, and we often have appointments available in the same week. It's always helpful to schedule in advance to make sure you get the time you want. Please call our customer service team to help you book your appointment over the phone, or set up your appointment easily online.
We have state of the art testing labs and friendly clinics that perform the DNA sample collection in Savannah, plus many more locations throughout Georgia and across the United States. During registration, we'll show you the nearest locations for DNA testing so you can choose the site that's most convenient. You'll also pick the times and days that you prefer.
Why Health Street
A Decade Plus of Experience
Health Street has provided DNA tests since 2010. The first DNA test we performed in Savannah, GA was in 2018.
Dedicated to Excellence
We are proud to help families and individuals get DNA testing in Savannah.
Savannah, Georgia – DNA Testing
Local DNA Stories
In June of 2020, two sisters met in Savannah for the first time, thanks to DNA testing.
Estelle Mannion and her son, Steven, took a DNA test. Meanwhile, In March of 2020, Yolanda Collier also took a DNA test and was alerted to a possible match with Estelle and Steven. After doing some digging, Yolanda found Nicole Mannion, Steven's sister, and she messaged her on social media, asking her if she knew anyone named Harry Chisolm, who happened to be Nicole's grandfather, also the father of Estelle. Harry Chisolm was also the father of Deresa Pace, Yolanda's mother. Nicole shared information with Estelle about Deresa and Yolanda, and Estelle was able to contact her sister Deresa. Estelle, in her 70s, and her sister, in her 60s, met in June of the same year and continue to grow their relationship.
Experts Say…
Erin Muldoon Haug, a Savannah attorney, says that even if a man is on a child's birth certificate, if the parents are unmarried, only the mother has legal rights to the child. "If the father wants custody or visitation rights or if the mother is seeking child support, paternity must be established," said Haug, "A simple DNA test can establish biological paternity, but it does not establish legal paternity in Georgia."
Proving Paternity for Child Custody Purposes in Savannah, GA
Paternity is automatically established if the parents are married when a child is born, and the husband becomes the child's legal father. But in Savannah, if two unmarried parents have a child, paternity must be established for the child to have a legal father. Unmarried parents in Savannah can establish paternity by signing a Voluntary Paternity Acknowledgement form. If the parents do not agree to sign the voluntary form, they can establish paternity in court, and the court may order DNA testing to prove paternity. If the DNA test proves a man is not the father, the case is dismissed. If the DNA test cannot exclude a man as the child's father, there will be a court hearing to resolve the case.
Last updated 9/23/2022
Locations
Clinic Hours for DNA Testing in Savannah, Georgia
107 Southern Blvd
Suite 303
Savannah, GA 31405
Pre-registration required,
Walk-in with barcode:
---
Monday: 8:00 AM – 4:30 PM
(M Lunch: 12:30-2 PM)
Tuesday: 8:00 AM – 4:30 PM
(T Lunch: 12:30-2 PM)
Wednesday: 8:00 AM – 4:30 PM
(W Lunch: 12:30-2 PM)
Thursday: 8:00 AM – 4:30 PM
(Th Lunch: 12:30-2 PM)
Friday: 8:00 AM – 4:30 PM
(F Lunch: 12:30-2 PM)
About this Location:
We are located very close by to Strayer University. It is easy to find us.
6349 Abercorn Street
Suite B
Savannah, GA 31406
Pre-registration required,
Walk-in with barcode:
---
Monday: 7:30 AM – 4:30 PM
Tuesday: 7:30 AM – 4:30 PM
Wednesday: 7:30 AM – 4:30 PM
Thursday: 7:30 AM – 4:30 PM
Friday: 7:30 AM – 4:30 PM
About this Location:
We are nearby to Candler Hospital: Emergency Room.
Neighborhoods in Savannah Served by our Clinics
location_city
2nd District
location_city
Abercorn Heights
location_city
Groveland/Kensington Park
location_city
Island Creek
location_city
Windsor Forest
location_city
Windward Island
Additional Services
We also offer other services, such as:
Local Reviews
By Adam Wilkerson on 1/29/2017
Delenia was very helpful in guiding me through the process.
By Kevin on 1/20/2016
Results came in today. Thanks again.
By Kevin on 1/12/2016
thank you for helping me through this process. the dna test was an emotional experience but health street staff was amazing.
By KEVIN on 1/6/2016
Patient and Professional!!!
Citations
menu_book
Bryant, Maxine L. "'I got all my sisters with me': DNA testing brings Savannah women together." Savannah Now, 10 November 2021, https://www.savannahnow.com/story/lifestyle/2021/11/10/ancestry-dna-testing-internet-reunites-savannah-georgia-women-biological-sisters/6352957001/
menu_book
"Paternity." Law Office of Erin Muldoon Haug, https://www.muldoonhauglaw.com/family-law/paternity/
menu_book
"Paternity Establishment." Georgia Department of Human Services, Division of Child Support Services, https://childsupport.georgia.gov/programs-services/paternity-establishment
menu_book
"Savannah, GA." Nextdoor, https://nextdoor.com/city/savannah–ga/