DNA Test – Riverside, CA
Health Street provides DNA tests and legal paternity testing in Riverside, California at 9 testing laboratories. Call (951) 366-4589 or schedule online. We offer legal paternity tests, sibling studies, grandparent DNA tests, avuncular (aunt or uncle) testing, and postmortem DNA testing to determine if people are biologically related.
Set up DNA testing appointments online. Test results can be used in court for child support or to change a birth a certificate; it can also be used for simple peace of mind. Appointments can be scheduled together or separately. Legal DNA tests are done by cheek swab at our testing centers. We can also extract DNA samples from hair follicles, fingernails, and other specimens.
Workforce Screening, Digitally Delivered
1 of 9
4646 Brockton Avenue
Riverside
,
CA
92506
2 of 9
6485 Day Street
Riverside
,
CA
92507
3 of 9
4300 Central Avenue
Riverside
,
CA
92506
4 of 9
4234 Riverwalk Parkway
Riverside
,
CA
92505
5 of 9
9041 Magnolia Avenue
Riverside
,
CA
92503
6 of 9
9041 Magnolia Avenue
Riverside
,
CA
92503
7 of 9
6860 Brockton Avenue
Riverside
,
CA
92506
8 of 9
1760 Chicago Avenue
Riverside
,
CA
92507
9 of 9
21820 Cactus Avenue
Riverside
,
CA
92518
DNA Test – Riverside, California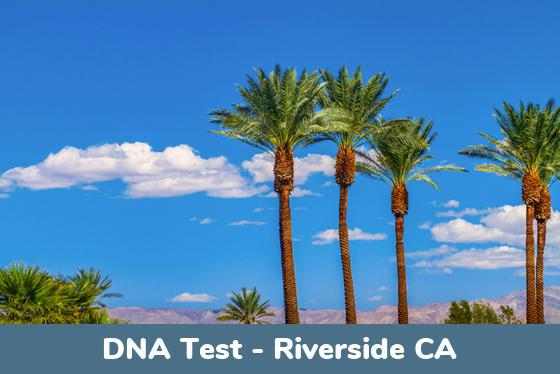 Types of DNA Tests at our Riverside, California locations:
The most commonly ordered DNA test is a Paternity Test to conclusively establish whether or not a man is the biological father of a child.
Paternity Testing can be performed at our testing centers. DNA Testing can be done for other close family relationships, such as:
Specimens we can test for DNA
The easiest and most reliable way to obtain a DNA sample for paternity testing is to swab the inner cheeks of the people being tested. These skin cells are known as buccal cells, and they rub off easily onto cotton swabs and remain in place for analysis by our laboratory. Other specimen samples, such as hair follicles, fingernails, and garments that might contain someone's DNA, can also be tested. An Alternative Specimen DNA Test is done by registering online and shipping the specimens to us.
Legally Admissible DNA Tests vs. "Peace of Mind" At-Home Tests
A Legal Paternity Test is a court admissible DNA testing service. Accurate results for DNA paternity testing with 99.99% confidence or greater take about a week.
When deciding which type of DNA test is right for you, consider first what you might do with the results. In order for the results of a DNA test to hold up in court, for child support, or to change the name on a birth certificate, the test must be done at a clinic using strict chain of custody procedures. Our Riverside DNA testing technicians are trained to follow guidelines that ensure that the results can be used for legal purposes.
How to schedule a DNA Test in Riverside CA
Scheduling a DNA test at one of our Riverside clinics is simple and fast, and we often have appointments available in the same week. It's always helpful to schedule in advance to make sure you get the time you want. Register online, or please call our customer service team, which can help you book your appointment over the phone.
We have state of the art testing labs and friendly clinics that perform the DNA sample collection in Riverside, plus many more locations throughout California and all across the United States. Not every one of our clinics performs paternity testing in Riverside. We'll show you the nearest locations to get a DNA test in Riverside , CA so you can choose the testing center that is most convenient. When you register, you can also pick the appointment time and date that you prefer.
Why Health Street
A Decade Plus of Experience
Health Street has provided DNA tests since 2010. We have provided DNA tests and paternity tests to thousands of people in Riverside as well as communities all across the nation.
Dedicated to Excellence
We are proud to help families and individuals get DNA testing in Riverside.
Riverside, California – DNA Testing
Proving Paternity for Child Custody Purposes in Riverside, CA
Establishing paternity in Riverside, CA can be done voluntarily if both agree to sign the Declaration of Parentage form. But if either parent is unsure of who the biological father is or if a man denies that he is the child's father, DNA testing can be used to prove paternity. DNA testing excludes men who are not the father and indicates the likelihood of the man being the child's biological father. According to the Riverside County Department of Child Support Services, DNA testing is accurate, which is why so few paternity cases go to trial. If DNA testing was done and a man is still denying he is the father, the case will go to court. Once paternity is established, the parents can receive visitation, custody, and child support orders.
Experts Say…
The Law Offices of Linda J. Claypool in Riverside explains paternity and that mothers may seek paternity for a variety of reasons. "Not only to legally confirm who the father of the child is," the firm says, "but also to obtain orders regarding child custody, visitation, or time-sharing arrangements, child support, and reimbursement of medical expenses." The law firm also explains that when a man is alleged to be the child's father, he may be required by law to take a DNA test to confirm paternity. "Disestablishing paternity now could prevent you from paying a lifetime of child support." The law firm said that taking action right away is in the best interest of the child.
Paternal Mystery Solved with DNA Testing
When Riverside resident Joseph Arriaga was a small child, his cousin blurted out that he wasn't really part of the family. Since that incident, Arriaga, now 28, wondered where he came from. After difficult conversations with his mother, he launched a search using DNA testing. This is how he came to be looking at a stranger's profile on Facebook and sending him a message, telling the man that he might be his biological father. As it happened, Robert "Bobby" Parker, aged 52 and living in Florida, was in fact Arriaga's dad. He had dated Arriaga's mother in graduate school and knew about the birth, but lost touch when she moved away. He tracked down her relatives and offered to marry her, but they claimed the baby was not his. When confronted by her son, years later, Arriaga's mother was not truthful about the circumstances surrounding his birth. However, thanks to DNA testing, he now knows the truth–and has his father back in his life. Parker traveled to Riverside to reunite with his son.
Last updated 8/5/2022
Locations
Clinic Hours for DNA Testing in Riverside, California
6860 Brockton Avenue
Suite 7
Riverside, CA 92506
Pre-registration required,
Walk-in with barcode:
---
Monday: 8:00 AM – 1:00 PM
Tuesday: 8:00 AM – 1:00 PM
Wednesday: 8:00 AM – 1:00 PM
Thursday: 8:00 AM – 1:00 PM
Friday: 8:00 AM – 1:00 PM
About this Location:
Our clinic is just a few blocks from Riverside Public Library- Marcy Branch.
Some Riverside Neighborhoods That We Serve
location_city
Wood Streets
location_city
Northwest Ramona
location_city
Four Seasons
location_city
Cowboy Streets
location_city
Brooks-Olivewood
Additional Services
We also offer other services, such as:
Citations
menu_book
"Establishing Parentage (Paternity)." The Judicial Branch of California, https://www.courts.ca.gov/1201.htm?rdeLocaleAttr=en
menu_book
"Voluntary Declaration of Parentage (VDOP) Instructions and Application Form." California Department of Child Support Services, https://childsupport.ca.gov/wp-content/uploads/sites/252/POP/DCSS-0909_ENG.pdf
menu_book
"Establishing Paternity FAQ." Riverside County Division of Child Support Services (RivCoDCSS), https://rivcodcss.com/FAQ/Establishing-Paternity-FAQ
menu_book
"California Paternity Laws: Protect Your Rights." Law Offices of Linda J. Claypool, https://www.claypoollawoffice.com/practice-areas/paternity/
menu_book
"His parents met in Alabama 30 years ago. A DNA test helped him find his long-lost father." AR15.com, 3 August 2021, https://www.ar15.com/forums/general/His-parents-met-in-Alabama-30-years-ago–A-DNA-test-helped-him-find-his-long-lost-father/5-2475354/
menu_book
"Riverside, CA." Nextdoor, https://nextdoor.com/city/riverside–ca/