DNA Test – Portland, OR
Health Street offers DNA testing, legal paternity tests, and sibling DNA tests in Portland, Oregon at 7 conveniently located testing centers. Register now, or call us at (971) 266-4489 or schedule online. with any questions. Our paternity testing (including grandparent DNA tests, avuncular (aunt or uncle) testing, and postmortem DNA testing) determines if two or more people are related.
Schedule your Portland DNA test appointment online. Our legal DNA test results can be used in court for matters such as: child support, birth certificates, and custody cases. Appointments can be scheduled together or separately. Legal DNA tests are done by cheek swab at our testing centers. We also offer home DNA test kits for peace of mind. DNA can be tested from hair, fingernails, and other specimens.
Workforce Screening, Digitally Delivered
Customer service was friendly and efficient, they answered our questions and got us in quickly.
Tara ezell
6/19/2021
Somewhat confusing system but Cecelia took the time to get everything set up for me thanks to everyone else for answering my questions also about DNA testing
Earla R Horstman
6/16/2021
(a) Very Kind. (b) in Portland (c) DNA Test
Jung Mee Kwon
8/4/2020
1 of 7
9555 SW Barnes Road
Portland
,
OR
97225
2 of 7
2351 NW Westover Road
Portland
,
OR
97210
3 of 7
10373 NE Hancock Street
Portland
,
OR
97220
4 of 7
3449 N Anchor Street
Portland
,
OR
97217
5 of 7
12518 NE Airport Way
Portland
,
OR
97230
6 of 7
4111 NE Tillamook Street
Portland
,
OR
97212
7 of 7
5050 NE Hoyt Street
Portland
,
OR
97213
DNA Test – Portland, Oregon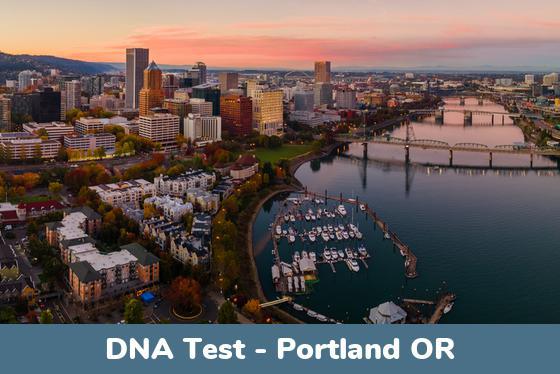 Types of DNA Tests at our Portland, Oregon clinics:
Paternity Testing can conclusively establish whether or not a man is the biological father of a child.
Relationship Testing for other close family relationships can be performed at our testing centers. Our DNA testing services can confirm or deny biological relationships between grandparents, grandchildren, siblings, half-siblings, aunts, uncles, nieces and nephews:
Specimens we can test for DNA
The easiest and most reliable way to obtain a DNA sample for paternity testing is to swab the inner cheeks of the alleged father and child or children. These skin cells are known as buccal cells, and they rub off easily onto cotton swabs and remain in place for analysis by our laboratory.
Other specimen samples, such as hair follicles, fingernails, and garments that might contain someone's DNA, can also be tested. An Alternative Specimen DNA Test is done by ordering one of our testing kits online and shipping the specimens back to us.
Legal DNA Tests vs. "Peace of Mind" At-Home Tests
A Legal Paternity Test is a court admissible lab testing service performed at an AABB accredited laboratory. Accurate results for DNA paternity testing with 99.99% confidence or greater take about a week.
When deciding which type of DNA test is right for you, consider first what you might do with the results. A legal paternity DNA test will hold up in court for such matters as child support or to change the name on a birth certificate. This test must be performed using strict chain of custody procedures. Our Portland DNA testing technicians are trained to follow these guidelines so that the results will be legally admissible.
How to schedule a DNA Test in Portland OR
Scheduling a DNA test at one of our Portland clinics is simple and fast, and we often have appointments available in the same week. It's always helpful to schedule in advance to make sure you get the time you want. Please call our customer service team to help you book your appointment over the phone, or set up your appointment easily online.
We have state of the art testing labs and friendly clinics that perform the DNA sample collection in Portland, plus many more locations throughout Oregon and across the United States. During registration, we'll show you the nearest locations for DNA testing so you can choose the site that's most convenient. You'll also pick the times and days that you prefer.
Why Health Street
More than a Decade of Experience
The first DNA test that Health Street provided in Portland, OR was in 2017. Since then, we have done 25 DNA and paternity tests in Portland.
Commitment to Excellence
Our mission is to understand the DNA testing needs of our clients. We strive to provide the most accurate, fast, and conclusive paternity tests in Portland.
Portland, Oregano – DNA testing
Establishing paternity in Portland, OR
If the parents are not married when a baby is born, the easiest way to establish paternity in Oregon is to sign a Voluntary Acknowledgement of Paternity at the hospital. The hospital staff can provide the forms and witness the parent's signatures. In this case, no fee is charged, and the father's name will be added to the birth certificate. This form cannot be used if the mother is married to somebody else because the husband will be presumed as the legal father.
Either parent can also obtain a court judgment to establish parentage, and if one of the parties objects, the court is likely to require a DNA test before issuing the judgment. The judge may also consider other factors, such as the child's best interest.
The most accurate method of determining the birth father is with a DNA test. The court has the authority to order a DNA test for an alleged father, and if the test does show paternity with 99 percent certainty, it will be presumed.
Brother and sister meet after years thanks to a DNA test
In 1984, a little boy named Justin Kragt was found on the theater steps crying in South Korea. Less than a day later, a girl named Renee Alanko was dropped off at a market in the same area by her father. He told her she should buy some treats and he would pick her up later, but he never did. Justin was about two and a half years old, and Renee was four. Both of them found their adoptive parents in the United States.
Renee grew up in California, and Justin grew up in Oregon, but they had no idea they had a biological sibling so close by. In 2014, Kragt did a DNA test. He was hoping to find a cousin, but he had not even considered the possibility of finding a sister. Years later, when Alanko took a DNA test before having children, the results showed he had a sibling who also lived in the USA.
Kragt has heart problems, and he thought his parents gave him up because of that. He had no idea they gave up his sister, too, nor did he even remember he had a sister. Once they found out about each other, they started talking and finally met in Portland!
Last updated 7/5/2022
Locations
Clinic Hours for DNA Testing in Portland, Oregon
9555 SW Barnes Road
Suite 220
Portland, OR 97225
Pre-registration required,
Walk-in with barcode:
---
Monday: 8:00 AM – 4:00 PM
(M Lunch: 12-1 PM)
Tuesday: 8:00 AM – 4:00 PM
(T Lunch: 12-1 PM)
Wednesday: 8:00 AM – 4:00 PM
(W Lunch: 12-1 PM)
Thursday: 8:00 AM – 4:00 PM
(Th Lunch: 12-1 PM)
Friday: 8:00 AM – 4:00 PM
(F Lunch: 12-1 PM)
About this Location:
You can find us nearby to Providence St. Vincent Medical Center Family Maternity Center. We are easily accessed by car or public transportation.
10373 NE Hancock Street
Suite 122
Portland, OR 97220
Pre-registration required,
Walk-in with barcode:
---
Monday: 8:00 AM – 4:00 PM
Tuesday: 8:00 AM – 4:00 PM
Wednesday: 8:00 AM – 4:00 PM
Thursday: 8:00 AM – 4:00 PM
Friday: 8:00 AM – 4:00 PM
About this Location:
Visit us at this location. We are very close by to Knott City Park.
Neighborhoods In and Around Portland That We Serve
location_city
Cathedral Park
location_city
Ladds Addition
location_city
Eastmoreland
location_city
Lloyd District
location_city
Brentwood Darlington
Additional Services
We also offer other services, such as:
Citations
menu_book
FAQs: Establishing paternity. Oregon Health Authority : FAQs: Establishing Paternity : Change Vital Records : State of Oregon. (n.d.). Retrieved July 5, 2022, from https://www.oregon.gov/oha/PH/BIRTHDEATHCERTIFICATES/CHANGEVITALRECORDS/Pages/paternityfaqs.aspx
menu_book
Paternity. (n.d.). Retrieved July 5, 2022, from https://www.osbar.org/public/legalinfo/1142_paternity.htm
menu_book
Press, A. (2018, September 30). Oregon adoptee's DNA test leads to discovery of sister. The Columbian. Retrieved July 5, 2022, from https://www.columbian.com/news/2018/sep/30/oregon-adoptees-dna-test-leads-to-discovery-of-sister/