DNA Testing in Okeechobee, FL
Health Street offers DNA testing, legal paternity tests, and sibling DNA tests in Okeechobee, Florida at 2 conveniently located testing centers. Register now, or call us at (863) 223-4317 with any questions. Our paternity testing (including grandparent DNA tests, avuncular (aunt or uncle) testing, and postmortem DNA testing) determines if two or more people are related.
Schedule your DNA test appointment online. Our legal DNA test results can be used in court for matters such as: child support, birth certificates, and custody cases. Appointments can be scheduled together or separately. Legal DNA tests are done by cheek swab at our testing centers. We also offer home DNA test kits for peace of mind. DNA can be tested from hair, fingernails, and other specimens.
Workforce Screening, Digitally Delivered
Was very helpful and was able to take care of my needs with no issue's. Very informal and usefull.
Robert League
1/5/2016
1 of 2
1101 N Parrott Avenue
Okeechobee
,
FL
34972
2 of 2
212 NE 19th Drive
Okeechobee
,
FL
34972
DNA Test – Okeechobee, Florida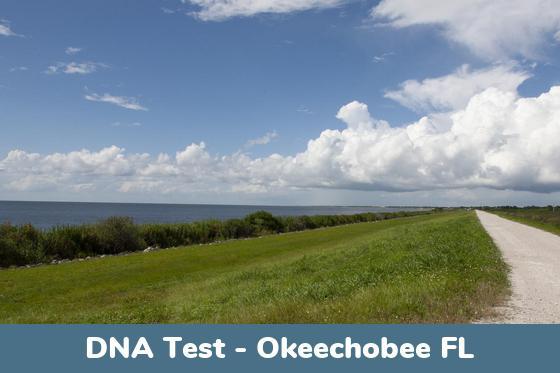 Types of DNA Tests at our Okeechobee, Florida clinics:
Paternity Testing can conclusively establish whether or not a man is the biological father of a child.
Relationship Testing for other close family relationships can be performed at our testing centers. Our DNA testing services can confirm or deny biological relationships between grandparents, grandchildren, siblings, half-siblings, aunts, uncles, nieces and nephews:
Specimens we can test for DNA
The easiest and most reliable way to obtain a DNA sample for paternity testing is to swab the inner cheeks of the alleged father and child or children. These skin cells are known as buccal cells, and they rub off easily onto cotton swabs and remain in place for analysis by our laboratory.
Other specimen samples, such as hair follicles, fingernails, and garments that might contain someone's DNA, can also be tested. An Alternative Specimen DNA Test is done by ordering one of our testing kits online and shipping the specimens back to us.
Legal DNA Tests vs. "Peace of Mind" At-Home Tests
A Legal Paternity Test is a court admissible lab testing service performed at an AABB accredited laboratory. Accurate results for DNA paternity testing with 99.99% confidence or greater take about a week.
When deciding which type of DNA test is right for you, consider first what you might do with the results. A legal paternity DNA test will hold up in court for such matters as child support or to change the name on a birth certificate. This test must be performed using strict chain of custody procedures. Our Okeechobee DNA testing technicians are trained to follow these guidelines so that the results will be legally admissible.
How to schedule a DNA Test in Okeechobee FL
Scheduling a DNA test at one of our Okeechobee clinics is simple and fast, and we often have appointments available in the same week. It's always helpful to schedule in advance to make sure you get the time you want. Please call our customer service team to help you book your appointment over the phone, or set up your appointment easily online.
We have state of the art testing labs and friendly clinics that perform the DNA sample collection in Okeechobee, plus many more locations throughout Florida and across the United States. During registration, we'll show you the nearest locations for DNA testing so you can choose the site that's most convenient. You'll also pick the times and days that you prefer.
Why Health Street
Over a Decade of Experience
Health Street has been performing DNA testing nationally since 2010. The first DNA test in Okeechobee, FL performed by Health Street was in 2021.
Dedication to Excellence
Our dedication to excellence includes our commitment to provide compassionate services and to helping people obtain the accurate DNA testing in Okeechobee that they need.
Facts about DNA Testing in Okeechobee FL
Proving Paternity for Child Custody Purposes in Okeechobee
Okeechobee parents who want to establish paternity or parentage of a child can use the Florida Department of Revenue's Child Support Department eServices application. Florida's Department of Child Support is using virtual services and online applications only to avoid risk of transmission of COVID-19.
If both of a child's parents agree voluntarily that they are a child's biological parents, they can complete the Acknowledgement of Parentage Form. They can turn the form in to the Department of Children and Families or the County Health Department. The County Health Department is located at 1728 NW 9th Ave. in Okeechobee.
Florida's Child Support Department uses a DNA Sample for the Paternity Testing Form. Both parents and the child must submit DNA samples for genetic testing to determine paternity for child support services or for child custody determination
Information on Adoption and Birth Parents in Okeechobee
People seeking information about their biological or birth families can find marriage, divorce, and other vital records at the Okeechobee County Courthouse, located at 304 NW 2nd Street in Okeechobee. Birth records are available back to 1915.
Notable Historical Events Related to DNA Testing in Okeechobee
Isaiah Battle, profiled in 2017 in the Tampa Bay Times because he had been arrested eight times for car theft between ages 14 and 15, spent time in a juvenile justice/youth program in Okeechobee. Along with the parents of thirteen other youths involved in five or more car thefts in 2015 and 2016 in St. Petersburg and Clearwater on Florida's Gulf Coast, Isaiah's mother and father were both involved in contested child support and paternity cases.
Okeechobee houses the Youth Development Center and Youth Correctional Center for youths involved in Florida's Juvenile Justice system. For less high-risk children involved with children's services, Real Life Children's Ranch is the best-known foster child program in Okeechobee. Real Life Children's Ranch currently operates four family-style group homes which have staff parents who have their own biological children, who live along with up to six foster children per home.
Locations
Clinic Hours for DNA Testing in Okeechobee, Florida
1101 N Parrott Avenue
Suite 101
Okeechobee, FL 34972
Pre-registration required,
Walk-in with barcode:
---
Monday: 7:00 AM – 3:30 PM
Tuesday: 7:00 AM – 3:30 PM
Wednesday: 7:00 AM – 3:30 PM
Thursday: 7:00 AM – 3:30 PM
Friday: 7:00 AM – 3:30 PM
About this Location:
Our clinic is just a few blocks from Yearling Middle School.
Neighborhoods In and Around Okeechobee That We Serve
location_city
Dixie Ranch Acres
location_city
Palm Creek Estates
location_city
Four Seasons
location_city
Country Hills Estates
location_city
Treasure Island
location_city
Viking Estates
location_city
Oak Lake Estates
location_city
Whispering Pines
Additional Services
We also offer other services, such as:
Citations
menu_book
"Paternity." Florida Department of Revenue, https://floridarevenue.com/childsupport/Pages/paternity.aspx
menu_book
"Apply for Child Support Services." Florida Department of Revenue, https://floridarevenue.com/childsupport/apply/Pages/apply.aspx
menu_book
"Child Support Application." Florida Department of Revenue, https://childsupport.floridarevenue.com/Account/Registration/ApplicantQualification
menu_book
"Child Support Services." Florida Department of Revenue, https://childsupport.floridarevenue.com/Account/LandingPage
menu_book
"Genetic Testing." Florida Department of Revenue, https://floridarevenue.com/childsupport/Pages/genetic_testing.aspx
menu_book
Gartner, Lisa and Zachary T. Sampson. "Hot Wheels," Tampa Bay Times, 16 August 2017, https://projects.tampabay.com/projects/2017/investigations/florida-pinellas-auto-theft-kids-hot-wheels/wrong-way-isaiah-battle-dominique/
menu_book
"Residential Facilities." Florida Department of Juvenile Justice, http://www.djj.state.fl.us/programs-facilities/residential-facilities/okeechobee-youth-development-center
menu_book
"Real Life Children's Ranch." https://www.rlcr.org/
menu_book
"Okeechobee Geography." Okeechobee County Tourist Development Council, https://www.co.okeechobee.fl.us/departments/tourist-development/explore/okeechobee-geography