DNA Test – Milwaukee, WI
Health Street provides DNA tests and legal paternity testing in Milwaukee, Wisconsin at 8 conveniently located testing laboratories. Call (414) 240-3774 or schedule online. We offer legal paternity tests, sibling studies, grandparent DNA tests, avuncular (aunt or uncle) testing, and postmortem DNA testing to determine if people are biologically related.
Set up DNA testing appointments online. Test results can be used in court for child support or to change a birth certificate; it can also be used for simple peace of mind. Appointments can be scheduled together or separately. Legal DNA tests are done by cheek swab at our testing centers. We can also extract DNA samples from hair follicles, fingernails, and other specimens.
Workforce Screening, Digitally Delivered
1 of 8
4852 S 6th Street
Milwaukee
,
WI
53221
2 of 8
5007 S Howell Avenue
Milwaukee
,
WI
53207
3 of 8
5500 W Brown Deer Road
Milwaukee
,
WI
53223
4 of 8
215 N 35th Street
Milwaukee
,
WI
53208
5 of 8
8500 W Capitol Drive
Milwaukee
,
WI
53222
6 of 8
875 W Layton Avenue
Milwaukee
,
WI
53221
7 of 8
11414 W Park Pl
Milwaukee
,
WI
53224
8 of 8
613 N 36th Street
Milwaukee
,
WI
53208
DNA Test – Milwaukee, Wisconsin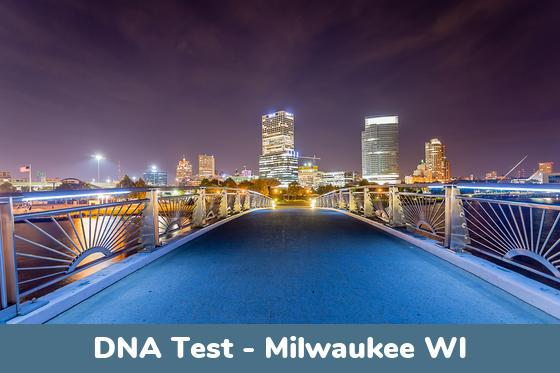 Types of DNA Tests at our Milwaukee, Wisconsin clinics:
Paternity Testing can conclusively establish whether or not a man is the biological father of a child.
Relationship Testing for other close family relationships can be performed at our testing centers. Our DNA testing services can confirm or deny biological relationships between grandparents, grandchildren, siblings, half-siblings, aunts, uncles, nieces and nephews:
Specimens we can test for DNA
The easiest and most reliable way to obtain a DNA sample for paternity testing is to swab the inner cheeks of the alleged father and child or children. These skin cells are known as buccal cells, and they rub off easily onto cotton swabs and remain in place for analysis by our laboratory.
Other specimen samples, such as hair follicles, fingernails, and garments that might contain someone's DNA, can also be tested. An Alternative Specimen DNA Test is done by ordering one of our testing kits online and shipping the specimens back to us.
Legal DNA Tests vs. "Peace of Mind" At-Home Tests
A Legal Paternity Test is a court admissible lab testing service performed at an AABB accredited laboratory. Accurate results for DNA paternity testing with 99.99% confidence or greater take about a week.
When deciding which type of DNA test is right for you, consider first what you might do with the results. A legal paternity DNA test will hold up in court for such matters as child support or to change the name on a birth certificate. This test must be performed using strict chain of custody procedures. Our Milwaukee DNA testing technicians are trained to follow these guidelines so that the results will be legally admissible.
How to schedule a DNA Test in Milwaukee WI
Scheduling a DNA test at one of our Milwaukee clinics is simple and fast, and we often have appointments available in the same week. It's always helpful to schedule in advance to make sure you get the time you want. Please call our customer service team to help you book your appointment over the phone, or set up your appointment easily online.
We have state of the art testing labs and friendly clinics that perform the DNA sample collection in Milwaukee, plus many more locations throughout Wisconsin and across the United States. During registration, we'll show you the nearest locations for DNA testing so you can choose the site that's most convenient. You'll also pick the times and days that you prefer.
Why Health Street
A Decade Plus of Experience
Health Street has provided DNA tests since 2010. We have provided DNA tests and paternity tests to thousands of people in Milwaukee as well as communities all across the nation.
Commitment to Community
At Health Street, we are fully committed to helping Milwaukee families through the sometimes emotional process of paternity testing and DNA Testing.
Milwaukee, Wisconsin – DNA testing
Establishing paternity in Milwaukee, Wisconsin
There are four ways of establishing paternity in Wisconsin. Parents can either sign a Voluntary Paternity Acknowledgement (VPA), get a court ruling, get a DNA test, or sign an Acknowledgement of Marital Child.
Signing a VPA is the easiest way to establish paternity if the parents are not married and are sure of the biological relationship. Signing a VPA should not happen if there are any doubts regarding the biological parents. Sometimes parents may disagree about who the biological father is, in which case they can go to court. Both alleged parents should attend the hearing, but the court can still name the father even if the man is missing. The court may also request DNA testing to be performed.
If the DNA test results show a statistical probability of paternity of 99 percent or higher, plus both parents are at least 18 years old, and there is no other paternity presumption, the paternity can be established.
If the parents get married after the child is born, they may sign an Acknowledgement of Marital Child to establish paternity. It should be signed before the notary and mailed to the state Office of Vital Records.
Woman finds her family after taking a DNA test
Many people decide to do a DNA test in the hope of finding their long-lost siblings or parents. Cheryl Pivar was one of these people, and she found her uncle Sammie.
She was terrified of rejection, so she sent him a Christmas card with a photo of herself inside. Sammie could not believe his eyes since Cheryl looked exactly like his sister who had passed away. He immediately got in touch with his brothers and sisters and told them about his niece.
Sammie talked to his aunt, and she revealed a big family secret. Not only did Sammie's sister give up a child for adoption, but his mother did as well. Now, he realized he also had a new brother!
They located the brother, and they all met for a family barbecue. Cheryl said she has no regrets except for not doing this sooner! Despite the fear of rejection, they now encourage other people to search for their family members.
Wisconsin Law Adds DNA Testing as Administrative Means of Determining Paternity
Milwaukee residents involved in a child support case who need to establish paternity have accurate genetic testing at their disposal. The Wisconsin state legislature passed Senate Bill 158 (SB158) and its partner State Assembly Bill 166 in January of 2020. These laws add DNA testing as an acceptable administrative means of determining legal paternity. Before this legislation, the paternity of children born to unmarried parents was determined by the voluntary signing of an acknowledgment of paternity form or by court adjudication.
Thanks to SB158, paternity testing can be used to conclusively determine legal paternity. The court will send written notice of the test results to both the mother and presumed father in the case.
Last updated 7/6/2022
Locations
Clinic Hours for DNA Testing in Milwaukee, Wisconsin
613 N 36th Street
Milwaukee, WI 53208
Pre-registration required,
Walk-in with barcode:
---
Monday: 10:00 AM – 3:00 PM
Tuesday: 10:00 AM – 3:00 PM
Wednesday: 10:00 AM – 3:00 PM
Thursday: 10:00 AM – 3:00 PM
Friday: 10:00 AM – 3:00 PM
About this Location:
This location is nearby to Merrill Park Neighborhood.
Some Milwaukee Neighborhoods That We Serve
location_city
Menomonee Valley
location_city
Downer Woods
location_city
Martin Drive
location_city
Hawthorne Glen
location_city
Miller Valley
location_city
Halyard Park
location_city
Milwaukee River Parkway
Additional Services
We also offer other services, such as:
Citations
menu_book
Establishing Legal Fatherhood (paternity). (n.d.). Retrieved July 6, 2022, from https://dcf.wisconsin.gov/cs/paternity/home
menu_book
'there's so much love here:' DNA test helps Unite Wisconsin family. CBS58. (n.d.). Retrieved July 6, 2022, from https://www.cbs58.com/news/theres-so-much-love-here-dna-test-helps-unite-wisconsin-family