DNA Test – Lubbock, TX
Health Street provides DNA tests and legal paternity testing in Lubbock, Texas at 11 testing laboratories. Call (806) 589-1368 or schedule online. We offer legal paternity tests, sibling studies, grandparent DNA tests, avuncular (aunt or uncle) testing, and postmortem DNA testing to determine if people are biologically related.
Set up DNA testing appointments online. Test results can be used in court for child support or to change a birth a certificate; it can also be used for simple peace of mind. Appointments can be scheduled together or separately. Legal DNA tests are done by cheek swab at our testing centers. We can also extract DNA samples from hair follicles, fingernails, and other specimens.
Workforce Screening, Digitally Delivered
1 of 11
3708 22nd Pl
Lubbock
,
TX
79410
2 of 11
3417 20th Street
Lubbock
,
TX
79410
3 of 11
7501 Quaker Avenue
Lubbock
,
TX
79424
4 of 11
3804 21st Street
Lubbock
,
TX
79410
5 of 11
7307 University Avenue
Lubbock
,
TX
79423
6 of 11
4105 Interstate 27
Lubbock
,
TX
79404
7 of 11
8214 Milwaukee Avenue
Lubbock
,
TX
79424
8 of 11
6048 Marsha Sharp Fwy
Lubbock
,
TX
79407
9 of 11
4516 Englewood Avenue
Lubbock
,
TX
79414
10 of 11
25 Briercroft Office Park
Lubbock
,
TX
79412
11 of 11
6014 45th St Unit A
Lubbock
,
TX
79407
DNA Test – Lubbock, Texas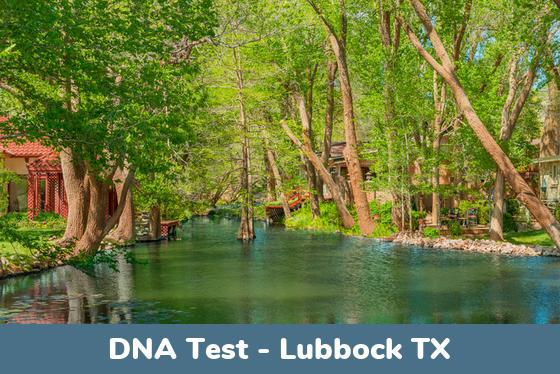 Types of DNA Tests at our Lubbock, Texas locations:
The most commonly ordered DNA test is a Paternity Test to conclusively establish whether or not a man is the biological father of a child.
Paternity Testing can be performed at our testing centers. DNA Testing can be done for other close family relationships, such as:
Specimens we can test for DNA
The easiest and most reliable way to obtain a DNA sample for paternity testing is to swab the inner cheeks of the people being tested. These skin cells are known as buccal cells, and they rub off easily onto cotton swabs and remain in place for analysis by our laboratory. Other specimen samples, such as hair follicles, fingernails, and garments that might contain someone's DNA, can also be tested. An Alternative Specimen DNA Test is done by registering online and shipping the specimens to us.
Legally Admissible DNA Tests vs. "Peace of Mind" At-Home Tests
A Legal Paternity Test is a court admissible DNA testing service. Accurate results for DNA paternity testing with 99.99% confidence or greater take about a week.
When deciding which type of DNA test is right for you, consider first what you might do with the results. In order for the results of a DNA test to hold up in court, for child support, or to change the name on a birth certificate, the test must be done at a clinic using strict chain of custody procedures. Our Lubbock DNA testing technicians are trained to follow guidelines that ensure that the results can be used for legal purposes.
How to schedule a DNA Test in Lubbock TX
Scheduling a DNA test at one of our Lubbock clinics is simple and fast, and we often have appointments available in the same week. It's always helpful to schedule in advance to make sure you get the time you want. Register online, or please call our customer service team, which can help you book your appointment over the phone.
We have state of the art testing labs and friendly clinics that perform the DNA sample collection in Lubbock, plus many more locations throughout Texas and all across the United States. Not every one of our clinics performs paternity testing in Lubbock. We'll show you the nearest locations to get a DNA test in Lubbock , TX so you can choose the testing center that is most convenient. When you register, you can also pick the appointment time and date that you prefer.
Why Health Street
A Decade Plus of Experience
Health Street has provided DNA tests since 2010. The first DNA test we performed in Lubbock, TX was in 2018.
Dedicated to Excellence
We are proud to help families and individuals get DNA testing in Lubbock.
Lubbock, Texas – DNA Testing
Establishing paternity in Lubbock, TX
In Texas, if the parents are not married, the father has no legal rights to his child. That is why it is essential to establish paternity. Parents can either sign Voluntary Acknowledgment of Paternity, or they can go to court and the judge will establish it based on a DNA test.
A DNA test is an easy and reliable way of proving paternity, and it is usually done by cheek swab from the alleged father and the child. Once the judge receives the results, he can decide whether the man is biologically related to the child or not.
DNA test reunites firefighter stolen at birth with his family
A Texas firefighter, Tyler, reunited with his mother, from whom he was stolen as a baby and then adopted by an American family who had no idea. His story began when he had his daughter and realized he knew nothing about his birth family. His curiosity triggered him to take a DNA test. Soon, a Chilean group called Hijos y Madres del Silencio contacted him unexpectedly. He learned that this group supports victims of child trafficking and illegal adoptions, and that he was stolen at birth and then adopted by his family without their knowledge.
His biological mother was told he died at birth and had no idea about this. Finally, they could reunite, and he met his three sisters as well. They hugged and cried and enjoyed every moment of this reunion. It was a shock to all of them and felt complicated at first, but they have all enjoyed getting to know each other after so many years apart.
Tyler said he does not want to hurt his adoptive parents' feelings, but he is also delighted to be reunited with his biological mother and his sisters.
Last updated 7/28/2022
Locations
Clinic Hours for DNA Testing in Lubbock, Texas
3708 22nd Pl
Suite 2
Lubbock, TX 79410
Pre-registration required,
Walk-in with barcode:
---
Monday: 8:15 AM – 4:30 PM
(M Lunch: 11:30-1 PM)
Tuesday: 8:15 AM – 4:30 PM
(T Lunch: 11:30-1 PM)
Wednesday: 8:15 AM – 4:30 PM
(W Lunch: 11:30-1 PM)
Thursday: 8:15 AM – 4:30 PM
(Th Lunch: 11:30-1 PM)
Friday: 8:15 AM – 4:30 PM
(F Lunch: 11:30-1 PM)
About this Location:
Our clinic is across from Maxey Park.
Neighborhoods in Lubbock Served by our Clinics
location_city
Depot District
location_city
North Overton
location_city
South Overton
location_city
Bayless Atkins
location_city
West Carlisle
location_city
Medical District
Additional Services
We also offer other services, such as:
Citations
menu_book
Paternity. Paternity | Office of the Attorney General. (n.d.). Retrieved July 28, 2022, from https://www.texasattorneygeneral.gov/child-support/paternity
menu_book
Yahoo! (n.d.). Texas firefighter learns he was stolen at birth and reunites with Biological Mom, who had 'grieved my death'. Yahoo! Finance. Retrieved July 28, 2022, from https://finance.yahoo.com/news/texas-firefighter-learns-stolen-birth-210133338.html?guccounter=1&guce_referrer=aHR0cHM6Ly93d3cuZ29vZ2xlLmNvbS8&guce_referrer_sig=AQAAAB368yQafCqG_Bxokma1M-xhEAmhEIbMe1NzbIKztz8bg6OnEZFcp3jvx7LCnZObfhYBe63qbWb0gWE2K99S8vcnWJpk99F_VMdvv34fdjanbNjOx1bHD0nvh_XZUPfz1axx6mNC82Wlp6agpgVWEaPc0rr7CZ3TICH1N6EvS4dS