DNA Test – Livonia, MI
Health Street offers DNA testing, legal paternity tests, and sibling DNA tests in Livonia, Michigan at 9 conveniently located testing centers. Register now, or call us at (248) 617-7438 with any questions. Our paternity testing (including grandparent DNA tests, avuncular (aunt or uncle) testing, and postmortem DNA testing) determines if two or more people are related.
Schedule your Livonia DNA test appointment online. Our legal DNA test results can be used in court for matters such as: child support, birth certificates, and custody cases. Appointments can be scheduled together or separately. Legal DNA tests are done by cheek swab at our testing centers. We also offer home DNA test kits for peace of mind. DNA can be tested from hair, fingernails, and other specimens.
Workforce Screening, Digitally Delivered
Experience was wonderful friendly staff very professional service and was great.
Paul W Babcock
6/14/2018
Delenia was very polite, professional, patient and great at her job. We had 2 children with us and she was very patient and accommodating and made all parties feel comfortable. I give her 5 stars.
Meghan Gardette
6/14/2018
Very professional, understanding, patient and helpful. This is a hard circumstance for my family, and she was very understanding and compassionate and answered all my questions honestly and professionally.
Meghan Gardette
6/12/2018
Shelley was friendly and great with answering my questions. The process to schedule an appointment was quick!I will be using this service for the first time in Livonia.
Brittany Czapla
5/21/2016
1 of 9
20290 Middlebelt
Livonia
,
MI
48152
2 of 9
37595 7 Mile Road
Livonia
,
MI
48152
3 of 9
11502 Middlebelt
Livonia
,
MI
48150
4 of 9
34095 Plymouth Road
Livonia
,
MI
48150
5 of 9
28196 Schoolcraft Road
Livonia
,
MI
48150
6 of 9
27544 Schoolcraft Road
Livonia
,
MI
48150
7 of 9
20290 Middlebelt
Livonia
,
MI
48152
8 of 9
11502 Middlebelt Road
Livonia
,
MI
48150
9 of 9
28677 Plymouth Road
Livonia
,
MI
48150
DNA Test – Livonia, Michigan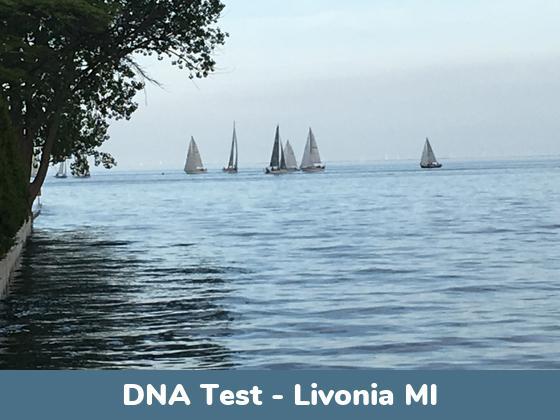 Types of DNA Tests at our Livonia, Michigan locations:
The most commonly ordered DNA test is a Paternity Test to conclusively establish whether or not a man is the biological father of a child.
Paternity Testing can be performed at our testing centers. DNA Testing can be done for other close family relationships, such as:
Specimens we can test for DNA
The easiest and most reliable way to obtain a DNA sample for paternity testing is to swab the inner cheeks of the people being tested. These skin cells are known as buccal cells, and they rub off easily onto cotton swabs and remain in place for analysis by our laboratory. Other specimen samples, such as hair follicles, fingernails, and garments that might contain someone's DNA, can also be tested. An Alternative Specimen DNA Test is done by registering online and shipping the specimens to us.
Legally Admissible DNA Tests vs. "Peace of Mind" At-Home Tests
A Legal Paternity Test is a court admissible DNA testing service. Accurate results for DNA paternity testing with 99.99% confidence or greater take about a week.
When deciding which type of DNA test is right for you, consider first what you might do with the results. In order for the results of a DNA test to hold up in court, for child support, or to change the name on a birth certificate, the test must be done at a clinic using strict chain of custody procedures. Our Livonia DNA testing technicians are trained to follow guidelines that ensure that the results can be used for legal purposes.
How to schedule a DNA Test in Livonia MI
Scheduling a DNA test at one of our Livonia clinics is simple and fast, and we often have appointments available in the same week. It's always helpful to schedule in advance to make sure you get the time you want. Register online, or please call our customer service team, which can help you book your appointment over the phone.
We have state of the art testing labs and friendly clinics that perform the DNA sample collection in Livonia, plus many more locations throughout Michigan and all across the United States. Not every one of our clinics performs paternity testing in Livonia. We'll show you the nearest locations to get a DNA test in Livonia , MI so you can choose the testing center that is most convenient. When you register, you can also pick the appointment time and date that you prefer.
Why Health Street
Over a Decade of Experience
Health Street has been performing DNA testing nationally since 2010. The first DNA test in Livonia, MI performed by Health Street was in 2017.In fact, we have successfully completed 40 DNA tests at Livonia testing centers since then.
Dedication to Excellence
Our dedication to excellence includes our commitment to provide compassionate services and to helping people obtain the accurate DNA testing in Livonia that they need.
Livonia, Michigan – DNA Testing
Importance of Establishing Paternity in Livonia, MI
When two Livonia parents are not married at the time of their child's birth, both will need to take the proper steps to formally establish paternity in the state of Michigan to provide the father with his parental rights. This is because Michigan law cannot legally identify a child's biological father without the presence of marriage, unless paternity has been established and filed.
A paternity establishment enhances the general well-being of a child, as he or she can receive benefits from both parents, including health insurance, social security, and monthly child support. It's important to note that the paternity establishment process is legally binding and must only be filed if there is complete certainty in the child's paternity or if DNA paternity testing has confirmed the father.
How to Establish Paternity in Livonia, MI
In the state of Michigan, Livonia parents have one of two ways of establishing legal paternity. If both parents agree to establish paternity and have complete certainty in a child's paternity, the two can complete an Affidavit of Parentage at the child's birth hospital or at a later date through a Wayne County Registrar's Office.
When either parent declines to establish paternity or denies a paternity claim, the parent must take legal action to file a paternity establishment petition through a Wayne County Family Court. Establishing paternity through family court allows a judge to mandate that both parents appear in court to complete DNA testing to confirm the paternity claim. If the biological father is identified, paternity can then be established.
Paternity Laws and Regulation in Livonia, MI
Under prior Michigan law, if a married woman had a child, the husband would be granted automatic parental rights even if he was not the child's biological father. This outdated law created many difficulties for the actual biological father to seek paternal rights over the child in court, further creating dysfunction among families in Michigan.
Fortunately, Governor Snyder passed the Revocation of Paternity Act to create new opportunities for biological fathers found in this situation. Under the new law, biological fathers have up to three years after a child's birth to file a petition in court to establish paternity regardless of the presence of marriage, and DNA testing can be used to legally identify him as the biological father.
Last updated 12/26/2022
Locations
Clinic Hours for DNA Testing in Livonia, Michigan
20290 Middlebelt
Livonia, MI 48152
Pre-registration required,
Walk-in with barcode:
---
Monday: 8:00 AM – 4:00 PM
(M Lunch: 11:30-1 PM)
Tuesday: 8:00 AM – 4:00 PM
(T Lunch: 11:30-1 PM)
Wednesday: 8:00 AM – 4:00 PM
(W Lunch: 11:30-1 PM)
Thursday: 8:00 AM – 4:00 PM
(Th Lunch: 11:30-1 PM)
Friday: 8:00 AM – 4:00 PM
(F Lunch: 11:30-1 PM)
About this Location:
For paternity testing in Livonia, Michigan, you can find us a short walk from Hearthstone Park.
Neighborhoods In and Around Livonia That We Serve
location_city
Botsford Park
location_city
Cherokee Trail
location_city
Coventry Gardens
location_city
Levan Heights
location_city
Noew Detroit
location_city
Pembroke Commons
location_city
Tiffany Park
location_city
Whispering Hills
location_city
Ziegler Wood
Additional Services
We also offer other services, such as:
Citations
menu_book
"Affidavit of Parentage." Michigan Department of Health and Human Services, https://www.michigan.gov/documents/Parentage_10872_7.pdf
menu_book
"Family Domestic." Third Judicial Circuit of Michigan, https://www.3rdcc.org/divisions/family-domestic#/list
menu_book
"Revocation of Paternity Act." Michigan Legislature, http://www.legislature.mi.gov/(S(ini50x2fyuavb5jeuaoy5f0e))/mileg.aspx?page=getobject&objectname=mcl-Act-159-of-2012&query=on
menu_book
"Livonia, MI." Remax of Michigan, https://www.remax-michigan.com/semi/realestatehomesforsale/subdivisions-livonia-mi