DNA Test – Knoxville, TN
Health Street offers DNA testing, legal paternity tests, and sibling DNA tests in Knoxville, Tennessee at 11 conveniently located testing centers. Register now, or call us at (865) 205-0877 or schedule online. with any questions. Our paternity testing (including grandparent DNA tests, avuncular (aunt or uncle) testing, and postmortem DNA testing) determines if two or more people are related.
Schedule your Knoxville DNA test appointment online. Our legal DNA test results can be used in court for matters such as: child support, birth certificates, and custody cases. Appointments can be scheduled together or separately. Legal DNA tests are done by cheek swab at our testing centers. We also offer home DNA test kits for peace of mind. DNA can be tested from hair, fingernails, and other specimens.
Workforce Screening, Digitally Delivered
He was helpful and knowledgeable and answered all my questions
Terry West
8/14/2020
1 of 11
1932 Alcoa Highway
Knoxville
,
TN
37920
2 of 11
4206 Sutherland Avenue
Knoxville
,
TN
37919
3 of 11
9135 Middlebrook Pike
Knoxville
,
TN
37923
4 of 11
1826 Ailor Avenue
Knoxville
,
TN
37921
5 of 11
1300 Old Weisgarber Road
Knoxville
,
TN
37909
6 of 11
4711 Centerline Drive
Knoxville
,
TN
37917
7 of 11
7200 Strawberry Plains Pike
Knoxville
,
TN
37914
8 of 11
11126 Kingston Pike
Knoxville
,
TN
37934
9 of 11
9536 S Northshore Drive
Knoxville
,
TN
37922
10 of 11
1645 Downtown West Blvd
Knoxville
,
TN
37919
11 of 11
7506 Oak Ridge Highway
Knoxville
,
TN
37931
DNA Test – Knoxville, Tennessee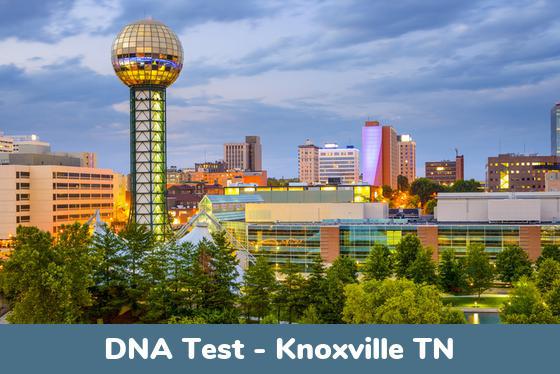 Types of DNA Tests at our Knoxville, Tennessee clinics:
Paternity Testing can conclusively establish whether or not a man is the biological father of a child.
Relationship Testing for other close family relationships can be performed at our testing centers. Our DNA testing services can confirm or deny biological relationships between grandparents, grandchildren, siblings, half-siblings, aunts, uncles, nieces and nephews:
Specimens we can test for DNA
The easiest and most reliable way to obtain a DNA sample for paternity testing is to swab the inner cheeks of the alleged father and child or children. These skin cells are known as buccal cells, and they rub off easily onto cotton swabs and remain in place for analysis by our laboratory.
Other specimen samples, such as hair follicles, fingernails, and garments that might contain someone's DNA, can also be tested. An Alternative Specimen DNA Test is done by ordering one of our testing kits online and shipping the specimens back to us.
Legal DNA Tests vs. "Peace of Mind" At-Home Tests
A Legal Paternity Test is a court admissible lab testing service performed at an AABB accredited laboratory. Accurate results for DNA paternity testing with 99.99% confidence or greater take about a week.
When deciding which type of DNA test is right for you, consider first what you might do with the results. A legal paternity DNA test will hold up in court for such matters as child support or to change the name on a birth certificate. This test must be performed using strict chain of custody procedures. Our Knoxville DNA testing technicians are trained to follow these guidelines so that the results will be legally admissible.
How to schedule a DNA Test in Knoxville TN
Scheduling a DNA test at one of our Knoxville clinics is simple and fast, and we often have appointments available in the same week. It's always helpful to schedule in advance to make sure you get the time you want. Please call our customer service team to help you book your appointment over the phone, or set up your appointment easily online.
We have state of the art testing labs and friendly clinics that perform the DNA sample collection in Knoxville, plus many more locations throughout Tennessee and across the United States. During registration, we'll show you the nearest locations for DNA testing so you can choose the site that's most convenient. You'll also pick the times and days that you prefer.
Why Health Street
A Decade Plus of Experience
Health Street has provided DNA tests since 2010. The first DNA test we performed in Knoxville, TN was in 2018.Since then, we have done 29 DNA tests at our Knoxville facilities.
Dedicated to Excellence
We are proud to help families and individuals get DNA testing in Knoxville.
Knoxville, Tennessee – DNA Testing
Experts Say…
Peterson White, Knoxville's fathers' rights attorneys, advocates for the rights of Knoxville fathers. "The child's relationship with their father can be an important part of their development," the law firm explains, "Studies have shown that children may do better in school, in social situations, and at work, if their father was engaged throughout their childhood." The law firm explains how establishing paternity benefits the whole family. When the father becomes the legal father, he can have custody and visitation rights and access to the child's medical and school records. The child benefits by being financially supported by both parents, and having medical insurance, life insurance, and other available benefits, such as social security, inheritance, and veterans' benefits.
Establishing Paternity in Knoxville, TN
If a mother and father are married at the time of conception or within 300 hundred days of the child's birth, the law recognizes the husband as the child's legal father, and paternity is automatically established. However, Knoxville parents that are not married must establish paternity to give the child a legal father. The easiest way to establish paternity in Knoxville is to sign a Voluntary Acknowledgment of Paternity. This is a legal document that must be signed by a notary. It's a voluntary form, so both parents must agree to sign. However, if there is any question about who the biological father is, this form should not be signed, and parents should obtain a DNA test.
Proving Paternity for Child Custody Purposes in Knoxville, TN
When a mother and alleged father question the child's biological father, DNA testing can determine paternity. DNA testing should be done by a certified laboratory so that it is recognized by a court. If the parents still cannot agree to voluntarily establish paternity, they can go to court, and a judge will have the final say. Paternity must be established for the father to have rights to the child.
Last updated 5/9/2022
Locations
Clinic Hours for DNA Testing in Knoxville, Tennessee
1932 Alcoa Highway
Building B Suite 119
Knoxville, TN 37920
Pre-registration required,
Walk-in with barcode:
---
Monday: 8:00 AM – 4:30 PM
Tuesday: 8:00 AM – 4:30 PM
Wednesday: 8:00 AM – 4:30 PM
Thursday: 8:00 AM – 4:30 PM
Friday: 8:00 AM – 4:30 PM
About this Location:
If you are looking for DNA testing in Knoxville, Tennessee, you can find us very close by to Tennessee River.
4206 Sutherland Avenue
Suite 200
Knoxville, TN 37919
Pre-registration required,
Walk-in with barcode:
---
Monday: 8:30 AM – 4:00 PM
(M Lunch: 11:30-1:30 PM)
Tuesday: 8:30 AM – 4:00 PM
(T Lunch: 11:30-1:30 PM)
Wednesday: 8:30 AM – 4:00 PM
(W Lunch: 11:30-1:30 PM)
Thursday: 8:30 AM – 4:00 PM
(Th Lunch: 11:30-1:30 PM)
Friday: 8:30 AM – 4:00 PM
(F Lunch: 11:30-1:30 PM)
About this Location:
Visit us at this location. We are just a few blocks from West High School.
Neighborhoods in Knoxville Served by our Clinics
location_city
Campbell Creek
location_city
Buttermilk Rd-Marrietta Rd
location_city
Southshire/Kincer Farms
location_city
Jenkins Road Subdivisions
location_city
Huntington Place / Emory Chase
location_city
Royal Springs & Crown
location_city
Ridgeview Rd-Tazwell Pike
location_city
Adrian Burnett Halls
location_city
Grigsby And Chapel Point
location_city
Graysburg And Sunny View
Additional Services
We also offer other services, such as:
Citations
menu_book
"Father's Rights & Paternity." Peterson White, https://www.petersonwhite.com/family-law/fathers-rights-paternity/
menu_book
"Tennessee Voluntary Acknowledgment of Paternity Program (TN VAoP)." Tennessee Department of Human Services, https://www.tn.gov/humanservices/for-families/child-support-services/tennessee-paternity-acknowledgment-program–tn-vaop-.html
menu_book
Tennison, Paul E. "Establishing Paternity Under Tennessee Law." Cole Law Group, 23 August 2019, https://www.colelawgrouppc.com/blog/establishing-paternity-under-tennessee-law/
menu_book
"Knoxville, TN." Nextdoor, https://nextdoor.com/city/knoxville–tn/