DNA Test – Garland, TX
Health Street offers DNA testing, legal paternity tests, and sibling DNA tests in Garland, Texas at 7 conveniently located testing centers. Register now, or call us at (972) 280-7020 or schedule online. with any questions. Our paternity testing (including grandparent DNA tests, avuncular (aunt or uncle) testing, and postmortem DNA testing) determines if two or more people are related.
Schedule your Garland DNA test appointment online. Our legal DNA test results can be used in court for matters such as: child support, birth certificates, and custody cases. Appointments can be scheduled together or separately. Legal DNA tests are done by cheek swab at our testing centers. We also offer home DNA test kits for peace of mind. DNA can be tested from hair, fingernails, and other specimens.
Workforce Screening, Digitally Delivered
You did a very thorough job
Zachary Bass
1/4/2017
1 of 7
2046 Forest Ln
Garland
,
TX
75042
2 of 7
555 W Interstate 30
Garland
,
TX
75043
3 of 7
1015 West Centerville
Garland
,
TX
75041
4 of 7
565 W Interstate 30
Garland
,
TX
75043
5 of 7
5106 N George Bush Highway
Garland
,
TX
75040
6 of 7
1621 S Jupiter Road
Garland
,
TX
75042
7 of 7
2301 Forest Ln
Garland
,
TX
75042
DNA Test – Garland, Texas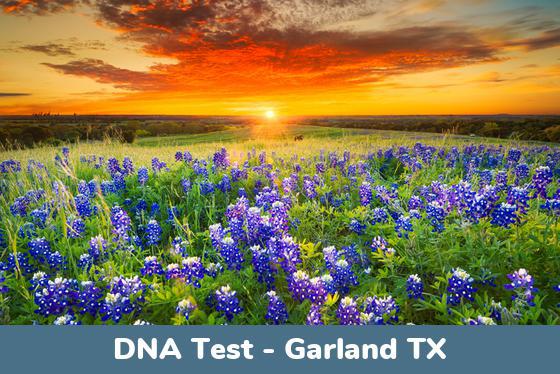 Types of DNA Tests at our Garland, Texas clinics:
Paternity Testing can conclusively establish whether or not a man is the biological father of a child.
Relationship Testing for other close family relationships can be performed at our testing centers. Our DNA testing services can confirm or deny biological relationships between grandparents, grandchildren, siblings, half-siblings, aunts, uncles, nieces and nephews:
Specimens we can test for DNA
The easiest and most reliable way to obtain a DNA sample for paternity testing is to swab the inner cheeks of the alleged father and child or children. These skin cells are known as buccal cells, and they rub off easily onto cotton swabs and remain in place for analysis by our laboratory.
Other specimen samples, such as hair follicles, fingernails, and garments that might contain someone's DNA, can also be tested. An Alternative Specimen DNA Test is done by ordering one of our testing kits online and shipping the specimens back to us.
Legal DNA Tests vs. "Peace of Mind" At-Home Tests
A Legal Paternity Test is a court admissible lab testing service performed at an AABB accredited laboratory. Accurate results for DNA paternity testing with 99.99% confidence or greater take about a week.
When deciding which type of DNA test is right for you, consider first what you might do with the results. A legal paternity DNA test will hold up in court for such matters as child support or to change the name on a birth certificate. This test must be performed using strict chain of custody procedures. Our Garland DNA testing technicians are trained to follow these guidelines so that the results will be legally admissible.
How to schedule a DNA Test in Garland TX
Scheduling a DNA test at one of our Garland clinics is simple and fast, and we often have appointments available in the same week. It's always helpful to schedule in advance to make sure you get the time you want. Please call our customer service team to help you book your appointment over the phone, or set up your appointment easily online.
We have state of the art testing labs and friendly clinics that perform the DNA sample collection in Garland, plus many more locations throughout Texas and across the United States. During registration, we'll show you the nearest locations for DNA testing so you can choose the site that's most convenient. You'll also pick the times and days that you prefer.
Why Health Street
Over a Decade of Experience
Health Street has been performing DNA testing nationally since 2010. The first DNA test in Garland, TX performed by Health Street was in 2016.
Dedication to Excellence
Our dedication to excellence includes our commitment to provide compassionate services and to helping people obtain the accurate DNA testing in Garland that they need.
Garland, Texas – DNA Testing
Establishing paternity in Garland, TX
Establishing paternity is one of the most significant steps in the child support process, and for unmarried couples, it is necessary to establish paternity for multiple reasons. For example, the biological father has no legal rights or responsibilities toward the child unless the parentage is established.
In Texas, there are two common ways of establishing paternity. If parents agree about paternity, they can sign a Voluntary Acknowledgment of Paternity. If parents doubt who the birth father is or if they do not cooperate, then the court can establish paternity. Establishing paternity through the court usually involves a DNA test to prove who the biological father is. Once the tests are back, the judge can finalize the order.
Texas siblings reunited after 70 years thanks to a DNA test
Dennis and Doug were twins who were adopted when they were three. The boys knew they had a biological sister, but it took them 70 years to find her. Eventually, Dennis took a DNA test, which suggested a match with his cousin.
From the cousin, Dennis got Connie's number and texted her. He said that he knows he has a sister and wanted to know if she happens to be her. When Connie received the text, she had to pull over. She has been searching for her brothers, too, so this was not a shock but a pleasant surprise! There was a surprise for Dennis, too. Connie told him he had another half-sister.
All this time, they lived just one hour away from each other. Unfortunately, Doug passed away, and their biological mother died, but Connie and Dennis reunited and shared their life journeys. They could not be happier that they found each other even after so many years and agreed it was a miracle.
Last updated 8/2/2022
Locations
Clinic Hours for DNA Testing in Garland, Texas
2046 Forest Ln
Suite 180
Garland, TX 75042
Pre-registration required,
Walk-in with barcode:
---
Monday: 7:30 AM – 6:30 PM
Tuesday: 7:30 AM – 6:30 PM
Wednesday: 7:30 AM – 6:30 PM
Thursday: 7:30 AM – 6:30 PM
Friday: 7:30 AM – 6:30 PM
Saturday: 8:00 AM – 4:30 AM
Sunday: 8:00 AM – 4:30 AM
555 W Interstate 30
Garland, TX 75043
Pre-registration required,
Walk-in with barcode:
---
Monday: 9:00 AM – 5:00 PM
(M Lunch: 1:30-2:30 PM)
Tuesday: 9:00 AM – 5:00 PM
(T Lunch: 1:30-2:30 PM)
Wednesday: 9:00 AM – 5:00 PM
(W Lunch: 1:30-2:30 PM)
Thursday: 9:00 AM – 5:00 PM
(Th Lunch: 1:30-2:30 PM)
Friday: 9:00 AM – 5:00 PM
(F Lunch: 1:30-2:30 PM)
1015 West Centerville
Suite 100
Garland, TX 75041
Pre-registration required,
Walk-in with barcode:
---
Monday: 9:00 AM – 9:00 PM
Tuesday: 9:00 AM – 9:00 PM
Wednesday: 9:00 AM – 9:00 PM
Thursday: 9:00 AM – 9:00 PM
Friday: 9:00 AM – 9:00 PM
565 W Interstate 30
Garland, TX 75043
Pre-registration required,
Walk-in with barcode:
---
Monday: 8:00 AM – 8:00 PM
Tuesday: 8:00 AM – 8:00 PM
Wednesday: 8:00 AM – 8:00 PM
Thursday: 8:00 AM – 8:00 PM
Friday: 8:00 AM – 8:00 PM
Saturday: 8:00 AM – 8:00 PM
Sunday: 8:00 AM – 5:00 PM
5106 N George Bush Highway
Garland, TX 75040
Pre-registration required,
Walk-in with barcode:
---
Monday: 8:00 AM – 8:00 PM
Tuesday: 8:00 AM – 8:00 PM
Wednesday: 8:00 AM – 8:00 PM
Thursday: 8:00 AM – 8:00 PM
Friday: 8:00 AM – 8:00 PM
Saturday: 8:00 AM – 8:00 PM
Sunday: 8:00 AM – 5:00 PM
1621 S Jupiter Road
Garland, TX 75042
Pre-registration required,
Walk-in with barcode:
---
Monday: 8:00 AM – 5:00 PM
Tuesday: 8:00 AM – 5:00 PM
Wednesday: 8:00 AM – 5:00 PM
Thursday: 8:00 AM – 5:00 PM
Friday: 8:00 AM – 5:00 PM
2301 Forest Ln
Garland, TX 75042
Pre-registration required,
Walk-in with barcode:
---
Monday: 8:00 AM – 6:00 PM
Tuesday: 8:00 AM – 6:00 PM
Wednesday: 8:00 AM – 6:00 PM
Thursday: 8:00 AM – 6:00 PM
Friday: 8:00 AM – 6:00 PM
Neighborhoods Served in Garland
location_city
La Prada Retail
location_city
Audubon Park
location_city
Gatewood Estates
location_city
First Centerville
location_city
Valley Creek
location_city
Crystal Lakes
location_city
Creekside Village
Additional Services
We also offer other services, such as:
Citations
menu_book
Court-ordered paternity. Court-Ordered Paternity | Office of the Attorney General. (n.d.). Retrieved August 2, 2022, from https://www.texasattorneygeneral.gov/child-support/paternity/court-ordered-paternity
menu_book
D'Angelo, B. (2019, February 18). 'A flat miracle': DNA tests help reunite Texas siblings after 70 Years. FOX13 News Memphis. Retrieved August 2, 2022, from https://www.fox13memphis.com/news/trending-now/a-flat-miracle-dna-tests-help-reunite-texas-siblings-after-70-years/922222504/