DNA Test – Dayton, OH
Health Street provides DNA testing in Dayton, Ohio at 11 conveniently located testing laboratories. Register now, or call us at (937) 203-8887 or schedule online. with any questions. Our paternity testing (including grandparent DNA tests, avuncular (aunt or uncle) testing, and postmortem DNA testing) determines if two or more people are related.
Schedule an appointment for a DNA test quickly and easily. The parties can come together or you can set up separate appointments. Grandparent DNA tests, avuncular (aunt or uncle) testing, and postmortem DNA testing are also available. Legal DNA tests are done at our testing centers. Peace of mind DNA tests can be done at home by cheek swab, hair, or fingernails.
Workforce Screening, Digitally Delivered
1 of 11
1 Elizabeth Place
Dayton
,
OH
45408
2 of 11
7381 Brandt Pike
Dayton
,
OH
45424
3 of 11
9000 N Main Street
Dayton
,
OH
45415
4 of 11
725 University Boulevard
Dayton
,
OH
45435
5 of 11
1 Wyoming Street
Dayton
,
OH
45409
6 of 11
1010 Woodman Drive
Dayton
,
OH
45432
7 of 11
1435 Cincinnati Street
Dayton
,
OH
45417
8 of 11
228 Troy Street
Dayton
,
OH
45404
9 of 11
1 Elizabeth Pl
Dayton
,
OH
45417
10 of 11
3019 Production Ct
Dayton
,
OH
45414
11 of 11
1520 S Main Street
Dayton
,
OH
45409
DNA Test – Dayton, Ohio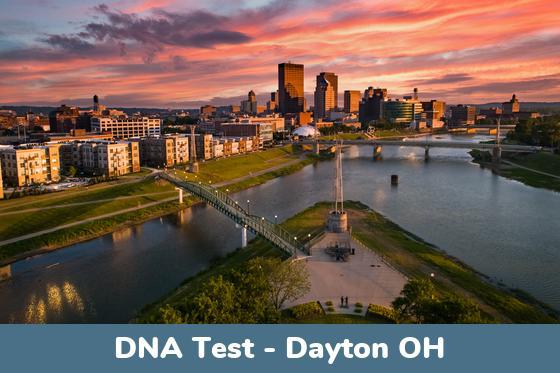 Types of DNA Tests at our Dayton, Ohio clinics:
Paternity Testing can conclusively establish whether or not a man is the biological father of a child.
Relationship Testing for other close family relationships can be performed at our testing centers. Our DNA testing services can confirm or deny biological relationships between grandparents, grandchildren, siblings, half-siblings, aunts, uncles, nieces and nephews:
Specimens we can test for DNA
The easiest and most reliable way to obtain a DNA sample for paternity testing is to swab the inner cheeks of the alleged father and child or children. These skin cells are known as buccal cells, and they rub off easily onto cotton swabs and remain in place for analysis by our laboratory.
Other specimen samples, such as hair follicles, fingernails, and garments that might contain someone's DNA, can also be tested. An Alternative Specimen DNA Test is done by ordering one of our testing kits online and shipping the specimens back to us.
Legal DNA Tests vs. "Peace of Mind" At-Home Tests
A Legal Paternity Test is a court admissible lab testing service performed at an AABB accredited laboratory. Accurate results for DNA paternity testing with 99.99% confidence or greater take about a week.
When deciding which type of DNA test is right for you, consider first what you might do with the results. A legal paternity DNA test will hold up in court for such matters as child support or to change the name on a birth certificate. This test must be performed using strict chain of custody procedures. Our Dayton DNA testing technicians are trained to follow these guidelines so that the results will be legally admissible.
How to schedule a DNA Test in Dayton OH
Scheduling a DNA test at one of our Dayton clinics is simple and fast, and we often have appointments available in the same week. It's always helpful to schedule in advance to make sure you get the time you want. Please call our customer service team to help you book your appointment over the phone, or set up your appointment easily online.
We have state of the art testing labs and friendly clinics that perform the DNA sample collection in Dayton, plus many more locations throughout Ohio and across the United States. During registration, we'll show you the nearest locations for DNA testing so you can choose the site that's most convenient. You'll also pick the times and days that you prefer.
Why Health Street
Over a Decade of Experience
Health Street has been performing DNA testing nationally since 2010. The first DNA test in Dayton, OH performed by Health Street was in 2020.
Dedication to Excellence
Our dedication to excellence includes our commitment to provide compassionate services and to helping people obtain the accurate DNA testing in Dayton that they need.
Dayton, Ohio – DNA Testing
Proving Paternity for Child Custody Purposes in Dayton, OH
Paternity is a legal relationship between a child and a father; when two parents are married, the husband is the legal father. However, unmarried parents in Dayton must establish paternity for the child to have a legal father. Paternity can be established by both parents signing an Acknowledgment of Paternity Affidavit, which is a voluntary form the parents can sign at the hospital when the child is born. Paternity can also be established using DNA testing. In Dayton, a DNA test that shows a 99 percent probability or higher that the man is the father allows the parents to establish paternity. Once the DNA test proves paternity, the Child Support Enforcement Agency (CSEA) will issue a paternity order.
Importance of Establishing Paternity
Giving the child a legal father benefits the child, mother, and father. When the parents establish paternity, the father obtains parental responsibilities and rights to the child, including financial support, custody, and visitation. With a legal father, the child has access to benefits that include inheritance rights, medical insurance, veteran's benefits, social security, other available benefits, and access to medical information from the mother and father's families.
Dayton residents can find the local CSEA at The Job Center, 1111 S. Edwin C. Moses Blvd in Dayton.
Experts Say…
Boucher & Kolber, Dayton paternity lawyers, described the process of going to court to establish paternity. "The first step in a paternity case is to file a Complaint for Parentage," the law firm explains. "In addition to the establishment of paternity, the Complaint will also make requests regarding the establishment of a parenting plan, the establishment of child support, and other related issues." According to the law firm, a hearing will be held in court, and DNA testing will likely be ordered. "If the test results are negative, the case will end," says the firm. Once paternity is determined, the judge can issue visitation, custody, and child support orders.
Last updated 9/23/2022
Locations
Clinic Hours for DNA Testing in Dayton, Ohio
1 Elizabeth Place
Suite 250
Dayton, OH 45408
Pre-registration required,
Walk-in with barcode:
---
Monday: 8:00 AM – 4:30 PM
(M Lunch: 1-2 PM)
Tuesday: 8:00 AM – 4:30 PM
(T Lunch: 1-2 PM)
Wednesday: 8:00 AM – 4:30 PM
(W Lunch: 1-2 PM)
Thursday: 8:00 AM – 4:30 PM
(Th Lunch: 1-2 PM)
Friday: 8:00 AM – 4:30 PM
(F Lunch: 1-2 PM)
About this Location:
Visit us at this location. We are just a few blocks from Edgemont Elms Park.
7381 Brandt Pike
Dayton, OH 45424
Pre-registration required,
Walk-in with barcode:
---
Monday: 7:00 AM – 4:30 PM
(M Lunch: 1-2 PM)
Tuesday: 7:00 AM – 4:30 PM
(T Lunch: 1-2 PM)
Wednesday: 7:00 AM – 4:30 PM
(W Lunch: 1-2 PM)
Thursday: 7:00 AM – 4:30 PM
(Th Lunch: 1-2 PM)
Friday: 7:00 AM – 4:30 PM
(F Lunch: 1-2 PM)
Saturday: 8:00 AM – 11:00 AM
About this Location:
This location is down the block from Rose Music Center at The Heights.
Neighborhoods In and Around Dayton That We Serve
location_city
Forest Ridge
location_city
Grafton Hill
location_city
Indian Trail
location_city
Mumma Estates
Additional Services
We also offer other services, such as:
Citations
menu_book
"Establishing Paternity." Montgomery County, https://www.mcohio.org/departments/child_support_enforcement_agency/services/establishing_paternity.php
menu_book
"Central Paternity Registry." Ohio Department of Job and Family Services, https://www.oh-paternity.com/
menu_book
"Dayton Paternity Lawyers." Boucher & Kolber, https://www.boucherandkolber.com/dayton-ohio-paternity/
menu_book
"Dayton, OH." Nextdoor, https://nextdoor.com/city/dayton–oh/