DNA Test – Casper, WY
Health Street provides DNA tests and legal paternity testing in Casper, Wyoming at 6 centrally located testing laboratories. Call (307) 215-3433 or schedule online. We offer legal paternity tests, sibling studies, grandparent DNA tests, avuncular (aunt or uncle) testing, and postmortem DNA testing to determine if people are biologically related.
Set up DNA testing appointments online. Test results can be used in court for child support or to change a birth certificate; it can also be used for simple peace of mind. Appointments can be scheduled together or separately. Legal DNA tests are done by cheek swab at our testing centers. We can also extract DNA samples from hair follicles, fingernails, and other specimens.
Workforce Screening, Digitally Delivered
Had a conversation with Ryan today and he did an outstanding job…Both knowledgeable and professional as well as able follow up with all he promised…I felt very fortunate to get him as your representative !
Gary Wyatt
12/3/2020
1 of 6
2115 E 12th Street
Casper
,
WY
82601
2 of 6
1988 E 1st Street
Casper
,
WY
82601
3 of 6
2301 Oxford Ln
Casper
,
WY
82604
4 of 6
951 N Poplar Street
Casper
,
WY
82601
5 of 6
120 South Forest
Casper
,
WY
82609
6 of 6
4658 W Yellowstone Highway
Casper
,
WY
82604
DNA Testing Casper WY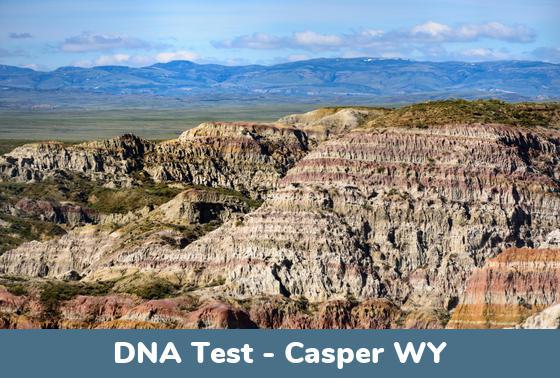 Types of DNA Tests at our Casper WY clinics:
Paternity Testing can conclusively establish whether or not a man is the biological father of a child.
Relationship Testing for other close family relationships can be performed at our testing centers. Our DNA testing services can confirm or deny biological relationships between grandparents, grandchildren, siblings, half-siblings, aunts, uncles, nieces and nephews:
Specimens we can test for DNA
The easiest and most reliable way to obtain a DNA sample for paternity testing is to swab the inner cheeks of the alleged father and child or children. These skin cells are known as buccal cells, and they rub off easily onto cotton swabs and remain in place for analysis by our laboratory.
Other specimen samples, such as hair follicles, fingernails, and garments that might contain someone's DNA, can also be tested. An Alternative Specimen DNA Test is done by ordering one of our testing kits online and shipping the specimens back to us.
Legal DNA Tests vs. "Peace of Mind" At-Home Tests
A Legal Paternity Test is a court admissible lab testing service performed at an AABB accredited laboratory. Accurate results for DNA paternity testing with 99.99% confidence or greater take about a week.
When deciding which type of DNA test is right for you, consider first what you might do with the results. A legal paternity DNA test will hold up in court for such matters as child support or to change the name on a birth certificate. This test must be performed using strict chain of custody procedures. Our Casper DNA testing technicians are trained to follow these guidelines so that the results will be legally admissible.
How to schedule a DNA Test in Casper WY
Scheduling a DNA test at one of our Casper clinics is simple and fast, and we often have appointments available in the same week. It's always helpful to schedule in advance to make sure you get the time you want. Please call our customer service team to help you book your appointment over the phone, or set up your appointment easily online.
We have state of the art testing labs and friendly clinics that perform the DNA sample collection in Casper, plus many more locations throughout Wyoming and across the United States. During registration, we'll show you the nearest locations for DNA testing so you can choose the site that's most convenient. You'll also pick the times and days that you prefer.
Why Health Street
A Decade Plus of Experience
Health Street has provided DNA tests since 2010. The first DNA test we performed in Casper, WY was in 2018.
Commitment to Community
Health Street is strongly committed to the people of Casper, Wyoming and the DNA testing needs of the community.
Facts about DNA Testing in Casper WY
Casper, WY Named Top Small City in the West to Raise a Family
With a population of just over 50,000 people, Casper is a small town in central Wyoming with a big reputation. Casper is the state's second biggest city by population and was recognized by Forbes as one of the top ten places to raise a family in the country and the best in the West in 2010. Median salaries are near the national average at just over $60,000, but families benefit from the lower-than-average housing costs found in this picturesque mountain town.
Historically, Casper began as a regional hub for cowboys and homesteaders on the Oregon Trail and other paths leading west. By the end of the 19th century, crude oil was discovered just north of the town and a refinery was quickly built. The economy of Casper has been dominated by the petroleum industry ever since. Today, Casper has a workforce that includes thousands of Mining, Quarrying, and Oil & Gas Extraction specialists. The largest group of Casper residents are employed in the Healthcare & Social Assistance sector.
Casper Man Reunites with Biological Family after Decades-long Search
Casper native Mark Sellers finally ended a decades-long search for his biological family after taking a DNA test that connected him to a cousin in 2019. Sellers was adopted as a baby into a loving family who raised him in Casper and never tried to hide his unique past. Although Sellers had been looking for his biological parents for years, he always ran into dead ends. On his birth certificate, for example, he discovered that his mother's name was written incorrectly. This made searching for her all but impossible.
With the growing popularity of consumer DNA ancestry testing kits, Sellers finally decided to give this new option a chance to help him in his search. He immediately matched DNA family profiles with a cousin, whom he contacted. The cousin turned out to be his nephew, who knew exactly who he was. In fact, his nephew told him that Sellers' half-sister (the nephew's mother) had been actively searching for him for almost thirty years.
Sellers' half-sister, Elizabeth Taylor, had learned about his existence from their father decades ago and had searched court records, hired investigators, and more to find him ever since. After learning about each other, Sellers and Taylor along with each of their families quickly became close.
Casper Family Law Attorneys Use DNA Testing to Help Establish Paternity Rights
Casper residents can turn to many board-certified family law attorneys to help settle a paternity dispute. Experienced family lawyers help clients settle complicated cases and order DNA testing that provides results which are permissible in court.
For example, family law attorney Hampton M. Young Jr., P.C. in Casper says, "Whether you are trying to establish rights to visit your child or seeking income from child support to helping your family, [we] will help establish the basic rights you have as a parent."
Where We Are Located
Clinic Hours for DNA Testing in Casper, Wyoming
2115 E 12th Street
Suite A
Casper, WY 82601
Pre-registration required,
Walk-in with barcode:
---
Monday: 9:00 AM – 4:00 PM
Tuesday: 9:00 AM – 4:00 PM
Wednesday: 9:00 AM – 4:00 PM
Thursday: 9:00 AM – 4:00 PM
Friday: 9:00 AM – 4:00 PM
About this Location:
If you are looking for DNA tests in Casper, Wyoming, you can find us just a few blocks from Fairdale Park.
Additional Services
We also offer other services, such as:
Citations
menu_book
Levy, Francesca. "The Best Small Cities to Raise a Family." Forbes, 25 October 2010, https://www.forbes.com/2010/10/25/small-cities-family-lifestyle-real-estate-quality-of-life.html#70b226144d4a
menu_book
"Casper, WY." DataUSA, https://datausa.io/profile/geo/casper-wy/
menu_book
Hughes, Morgan. "Casper's economy continues to improve, but stagnation could be on the horizon." Casper Star-Tribune, 23 August 2019, https://trib.com/news/local/casper/casper-s-economy-continues-to-improve-but-stagnation-could-be/article_fd9f329e-942b-599f-98a9-2e3d5acc8268.html
menu_book
LaChance, Brendan. "Siblings Unite After Nearly 30 Years of Searching." Oil City News, 19 July 2019, https://oilcity.news/general/2019/07/19/sibling-unite-after-nearly-30-years-of-searching/
menu_book
"Family Law Attorney serving all of Wyoming." Law Office of Hampton M. Young Jr., P.C., https://www.hamptonyounglaw.com/family-law