DNA Test – Baton Rouge, LA
Health Street offers DNA testing, legal paternity tests, and sibling DNA tests in Baton Rouge, Louisiana at 21 conveniently located testing centers. Register now, or call us at (225) 230-0420 or schedule online. with any questions. Our paternity testing (including grandparent DNA tests, avuncular (aunt or uncle) testing, and postmortem DNA testing) determines if two or more people are related.
Schedule your Baton Rouge DNA test appointment online. Our legal DNA test results can be used in court for matters such as: child support, birth certificates, and custody cases. Appointments can be scheduled together or separately. Legal DNA tests are done by cheek swab at our testing centers. We also offer home DNA test kits for peace of mind. DNA can be tested from hair, fingernails, and other specimens.
Workforce Screening, Digitally Delivered
Clean facility, professional staff, reasonable wait time,
Sterling Williams
7/2/2020
Fast and easy
Lequita Sterling Ross
5/28/2020
The costumer service demonstrated by the entire staff at Health Street was very helpful, gracious and accommodating. I will definitely utilize Health Street's services in the future; and, recommended them to my colleagues. I used the Health Street facility located at 11441 Industriplex Boulevard, Suite 140, Baton Rouge, Louisiana 70809. I arranged for a legal DNA test in connection with a paternity case.
Earl Marcelle III
5/11/2018
1 of 21
11441 Industriplex Blvd
Baton Rouge
,
LA
70809
2 of 21
7922 Summa Avenue
Baton Rouge
,
LA
70809
3 of 21
7731 Perkins Road
Baton Rouge
,
LA
70810
4 of 21
15389 Airline Highway
Baton Rouge
,
LA
70817
5 of 21
8742 Goodwood Blvd
Baton Rouge
,
LA
70806
6 of 21
10099 N Reiger Road
Baton Rouge
,
LA
70809
7 of 21
15475 Airline Highway
Baton Rouge
,
LA
70817
8 of 21
3235 Perkins Road
Baton Rouge
,
LA
70808
9 of 21
3333 Drusilla Ln
Baton Rouge
,
LA
70809
10 of 21
123 Lee Drive
Baton Rouge
,
LA
70808
11 of 21
2380 Oneal Lane
Baton Rouge
,
LA
70816
12 of 21
13686 Coursey Blvd
Baton Rouge
,
LA
70817
13 of 21
8751 Sullivan Road
Baton Rouge
,
LA
70818
14 of 21
12525 Perkins Road
Baton Rouge
,
LA
70810
15 of 21
3333 Drusilla Lane
Baton Rouge
,
LA
70809
16 of 21
12025 Justice Avenue
Baton Rouge
,
LA
70816
17 of 21
604 Chevelle Ct
Baton Rouge
,
LA
70806
18 of 21
3024 West Fork Drive
Baton Rouge
,
LA
70816
19 of 21
11441 Industriplex Blvd
Baton Rouge
,
LA
70809
20 of 21
20152 Highland Road
Baton Rouge
,
LA
70817
21 of 21
14635 S Harrells Ferry Road
Baton Rouge
,
LA
70816
DNA Test – Baton Rouge, Louisiana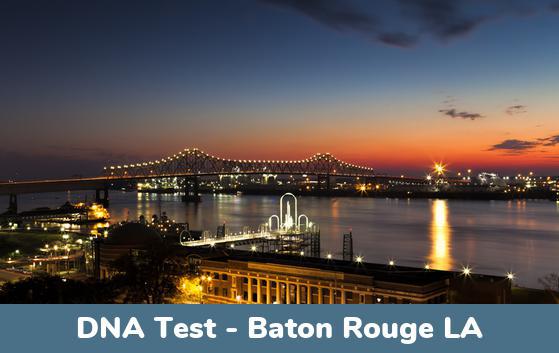 Types of DNA Tests at our Baton Rouge, Louisiana clinics:
Paternity Testing can conclusively establish whether or not a man is the biological father of a child.
Relationship Testing for other close family relationships can be performed at our testing centers. Our DNA testing services can confirm or deny biological relationships between grandparents, grandchildren, siblings, half-siblings, aunts, uncles, nieces and nephews:
Specimens we can test for DNA
The easiest and most reliable way to obtain a DNA sample for paternity testing is to swab the inner cheeks of the alleged father and child or children. These skin cells are known as buccal cells, and they rub off easily onto cotton swabs and remain in place for analysis by our laboratory.
Other specimen samples, such as hair follicles, fingernails, and garments that might contain someone's DNA, can also be tested. An Alternative Specimen DNA Test is done by ordering one of our testing kits online and shipping the specimens back to us.
Legal DNA Tests vs. "Peace of Mind" At-Home Tests
A Legal Paternity Test is a court admissible lab testing service performed at an AABB accredited laboratory. Accurate results for DNA paternity testing with 99.99% confidence or greater take about a week.
When deciding which type of DNA test is right for you, consider first what you might do with the results. A legal paternity DNA test will hold up in court for such matters as child support or to change the name on a birth certificate. This test must be performed using strict chain of custody procedures. Our Baton Rouge DNA testing technicians are trained to follow these guidelines so that the results will be legally admissible.
How to schedule a DNA Test in Baton Rouge LA
Scheduling a DNA test at one of our Baton Rouge clinics is simple and fast, and we often have appointments available in the same week. It's always helpful to schedule in advance to make sure you get the time you want. Please call our customer service team to help you book your appointment over the phone, or set up your appointment easily online.
We have state of the art testing labs and friendly clinics that perform the DNA sample collection in Baton Rouge, plus many more locations throughout Louisiana and across the United States. During registration, we'll show you the nearest locations for DNA testing so you can choose the site that's most convenient. You'll also pick the times and days that you prefer.
Why Health Street
A Decade Plus of Experience
Health Street has provided DNA tests since 2010. The first DNA test we performed in Baton Rouge, LA was in 2018.Since then, we have done 31 DNA tests at our Baton Rouge facilities.
Dedicated to Excellence
We are proud to help families and individuals get DNA testing in Baton Rouge.
Baton Rouge, Louisiana – DNA Testing
Establishing paternity in Baton Rouge, Louisiana
Unmarried couples must establish paternity for the child to have a legal father. Paternity can be established by signing an Acknowledgement of Paternity Affidavit at the hospital when the baby is born, and the hospital staff will help. After it is filed, the child will have the father's name on their birth certificate. This process is straightforward for both parents.
If there is any uncertainty about who the father is, parents usually turn to the court to establish paternity legally. This process will include completing a DNA test to determine the biological father.
Benefits of establishing paternity in Baton Rouge, LA
There are multiple benefits and reasons parents may choose to establish paternity, some of which can include:
search
Government benefits – establishing paternity can help your child with collecting Social Security benefits
search
Possible inheritance – the child may be entitled to inheritance from the father if paternity was established
search
Child support – both parents often have the same rights and responsibilities once paternity is established
search
Medical history – the child will have the right to access the medical history of their father, which can help detect hereditary diseases earlier
Baton Rouge, LA: Challenging paternity
Sometimes, the mother or the alleged father is unsure about paternity. If they are cooperative, they can take a DNA test without going to court and then sign an AOP to establish paternity. In other cases, the judge can establish the legal father.
The genetic testing is quick, accurate, and usually done as a swab from the father's and child's cheek to prove their relationship. Once the DNA test is completed and the court has received the DNA test results from the lab, the judge can determine the legal father. These tests are 99 percent accurate and can provide the needed assurance.
Last updated 8/8/2022
Locations
Clinic Hours for DNA Testing in Baton Rouge, Louisiana
11441 Industriplex Blvd
Suite 14
Baton Rouge, LA 70809
Pre-registration required,
Walk-in with barcode:
---
Monday: 8:00 AM – 4:00 PM
Tuesday: 8:00 AM – 4:00 PM
Wednesday: 8:00 AM – 4:00 PM
Thursday: 8:00 AM – 4:00 PM
Friday: 8:00 AM – 4:00 PM
Saturday: 8:00 AM – 11:00 AM
About this Location:
We are located close to Parkview Baptist School.
Neighborhoods In and Around Baton Rouge That We Serve
location_city
Garden District
location_city
Windsor Place
location_city
Southern Heights
Additional Services
We also offer other services, such as:
Citations
menu_book
Paternity information: LA Dept. of health. Paternity Information | La Dept. of Health. (n.d.). Retrieved August 8, 2022, from https://ldh.la.gov/page/681
menu_book
Find legal help here. LouisianaLawHelp.org. (n.d.). Retrieved August 8, 2022, from https://louisianalawhelp.org/resource/frequently-asked-questions-about-paternity
menu_book
Genetic testing. Louisiana Paternity. (n.d.). Retrieved August 8, 2022, from https://www.la-paternity.com/genetic-testing