DNA Test – Akron, OH
Health Street offers DNA testing, legal paternity tests, and sibling DNA tests in Akron, Ohio at 5 conveniently located testing centers. Register now, or call us at (234) 206-2035 or schedule online. with any questions. Our paternity testing (including grandparent DNA tests, avuncular (aunt or uncle) testing, and postmortem DNA testing) determines if two or more people are related.
Schedule your Akron DNA test appointment online. Our legal DNA test results can be used in court for matters such as: child support, birth certificates, and custody cases. Appointments can be scheduled together or separately. Legal DNA tests are done by cheek swab at our testing centers. We also offer home DNA test kits for peace of mind. DNA can be tested from hair, fingernails, and other specimens.
Workforce Screening, Digitally Delivered
The customer service agent was friendly, professional and answered all the questions accurately. Thanks so much
Shahiyena
6/6/2019
1 of 5
605 North Cleveland Massillon
Akron
,
OH
44333
2 of 5
2717 S Arlington Road
Akron
,
OH
44312
3 of 5
1450 Firestone Parkway
Akron
,
OH
44301
4 of 5
1677 Diagonal Road
Akron
,
OH
44320
5 of 5
1925 West Market Street
Akron
,
OH
44313
DNA Test – Akron, Ohio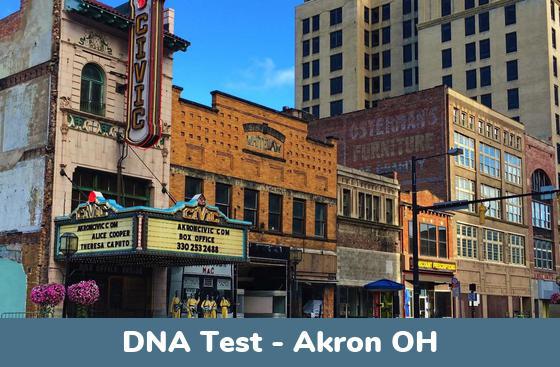 Types of DNA Tests at our Akron, Ohio clinics:
Paternity Testing can conclusively establish whether or not a man is the biological father of a child.
Relationship Testing for other close family relationships can be performed at our testing centers. Our DNA testing services can confirm or deny biological relationships between grandparents, grandchildren, siblings, half-siblings, aunts, uncles, nieces and nephews:
Specimens we can test for DNA
The easiest and most reliable way to obtain a DNA sample for paternity testing is to swab the inner cheeks of the alleged father and child or children. These skin cells are known as buccal cells, and they rub off easily onto cotton swabs and remain in place for analysis by our laboratory.
Other specimen samples, such as hair follicles, fingernails, and garments that might contain someone's DNA, can also be tested. An Alternative Specimen DNA Test is done by ordering one of our testing kits online and shipping the specimens back to us.
Legal DNA Tests vs. "Peace of Mind" At-Home Tests
A Legal Paternity Test is a court admissible lab testing service performed at an AABB accredited laboratory. Accurate results for DNA paternity testing with 99.99% confidence or greater take about a week.
When deciding which type of DNA test is right for you, consider first what you might do with the results. A legal paternity DNA test will hold up in court for such matters as child support or to change the name on a birth certificate. This test must be performed using strict chain of custody procedures. Our Akron DNA testing technicians are trained to follow these guidelines so that the results will be legally admissible.
How to schedule a DNA Test in Akron OH
Scheduling a DNA test at one of our Akron clinics is simple and fast, and we often have appointments available in the same week. It's always helpful to schedule in advance to make sure you get the time you want. Please call our customer service team to help you book your appointment over the phone, or set up your appointment easily online.
We have state of the art testing labs and friendly clinics that perform the DNA sample collection in Akron, plus many more locations throughout Ohio and across the United States. During registration, we'll show you the nearest locations for DNA testing so you can choose the site that's most convenient. You'll also pick the times and days that you prefer.
Why Health Street
More than a Decade of Experience
Since 2010, Health Street has offered DNA tests in Akron, the state of Akron, Ohio, and throughout the nation. The first DNA test that Health Street provided in Akron, OH was in 2018.
Commitment to Excellence
Our mission is to understand the DNA testing needs of our clients. We strive to provide the most accurate, fast, and conclusive paternity tests in Akron.
Akron, Ohio – DNA Testing
Family Learns Daughter was Fathered by a Stranger After Mix-Up at Akron Hospital
In 1991, Jeanine and Mike Harvey visited Summa Akron City Hospital's IVF Center, hoping to get pregnant with a child that was genetically related to both of them. Jeanine underwent intrauterine insemination, using what she assumed was her husband's sperm. The couple's child, Jessica, was born in 1992.
Over 30 years later, when Jessica took a DNA test hoping to discover distant relatives overseas, the family was shocked to learn that Mike Harvey was not her biological father. Instead, it was a man who was also undergoing fertility treatments with his wife at the same time and in the same hospital as the Harveys. The man submitted to a DNA test, which confirmed that he was Jessica's biological father. The Harvey family has now filed a lawsuit against Summa Health and the doctor who they allege was responsible for the mix-up.
Baby Sold at Birth Reunited With Family After 50 Years
When Akron native John Stapleton was a child, his parents told him he was adopted. But it wasn't until much later that he learned there was a much darker side to the story. Both John and his adopted sister Cyndy were "black market babies," who had been sold along with approximately 200 other infants in the 1950s and 1960s by Dr. Thomas Hicks.
After taking a DNA test, Stapleton began to discover key family members, including a half-sister named Atress Davis, who had the same biological father as Stapleton. She was not a "Hicks baby" and was raised by her mother's family. The two formed an easy bond and even have similar DNA tree tattoos on their backs. In addition to bonding with his new sister, Stapleton has also found solace in connecting with many of the other Hicks babies he has since discovered.
Child Adopted in Akron Meets Mother for First Time in 33 Years
Melanie Pressley was only 18 when she gave her son up for adoption at an Akron agency. The child, Greg Vossler, was adopted by a family in Stow and later moved to West Virginia. While Pressley eventually married and had more children, she always wondered about her son.
Vossler was also curious about his biological parents. He took a DNA test in 2019 and she took one in 2021. The results matched them together, and once they made contact, they arranged to meet each other for the first time in 33 years. When asked about the reunion, Vossler said, "It's an amazing feeling. And it just goes to show that there's always room for families to grow and always room for more love within each other."
Last updated 8/25/2022
Locations
Clinic Hours for DNA Testing in Akron, Ohio
1925 West Market Street
Akron, OH 44313
Pre-registration required,
Walk-in with barcode:
---
Monday: 7:00 AM – 3:00 PM
(M Lunch: 12-1 PM)
Tuesday: 7:00 AM – 3:00 PM
(T Lunch: 12-1 PM)
Wednesday: 7:00 AM – 3:00 PM
(W Lunch: 12-1 PM)
Thursday: 7:00 AM – 3:00 PM
(Th Lunch: 12-1 PM)
Friday: 7:00 AM – 3:00 PM
(F Lunch: 12-1 PM)
About this Location:
Paternity Testing in Akron, Ohio is available at this clinic down the block from Northwest Akron Branch Library.
Neighborhoods in Akron Served by our Clinics
location_city
Fairlawn Heights
location_city
Goodyear Heights
location_city
Merriman Valley
location_city
Sherbondy Hill
Additional Services
We also offer other services, such as:
Citations
menu_book
Cross, Ian and LePard, Clay. "Family claims daughter's biological father is a stranger because Summa doctor botched fertility procedure in 1991." News 5 Cleveland, 2 February 2022, https://www.news5cleveland.com/news/local-news/family-claims-daughters-biological-father-is-a-stranger-because-summa-doctor-botched-fertility-procedure-in-1991
menu_book
"Wadsworth woman reunited with son she put up for adoption after 33 years." Akron Beacon Journal, 13 August 2021, https://www.beaconjournal.com/story/news/2021/08/13/wadsworth-woman-reunited-son-she-put-up-adoption-after-33-years/8119960002/
menu_book
Fleming, Kirsten. "'Black-market babies' reunited after more than 50 years." New York Post, 22 August 2022, https://nypost.com/2019/10/08/black-market-babies-reunited-after-more-than-50-years/
menu_book
"Akron Neighborhood Profiles." City of Akron, Ohio, https://www.akronohio.gov/cms/site/c95aa0fb68bb58c8/index.html