DNA Testing in Green Bay, Wisconsin
Health Street provides DNA tests and legal paternity testing in Green Bay, Wisconsin at 2 conveniently located testing laboratories. Call (920) 214-9220 or schedule online. We offer legal paternity tests, sibling studies, grandparent DNA tests, avuncular (aunt or uncle) testing, and postmortem DNA testing to determine if people are biologically related.
Set up DNA testing appointments online. Test results can be used in court for child support or to change a birth certificate; it can also be used for simple peace of mind. Appointments can be scheduled together or separately. Legal DNA tests are done by cheek swab at our testing centers. We can also extract DNA samples from hair follicles, fingernails, and other specimens.
Workforce Screening, Digitally Delivered
1 of 2
1805 Allouez Avenue
Green Bay
,
WI
54311
2 of 2
721 Cardinal Ln
Green Bay
,
WI
54313
DNA Testing Green Bay WI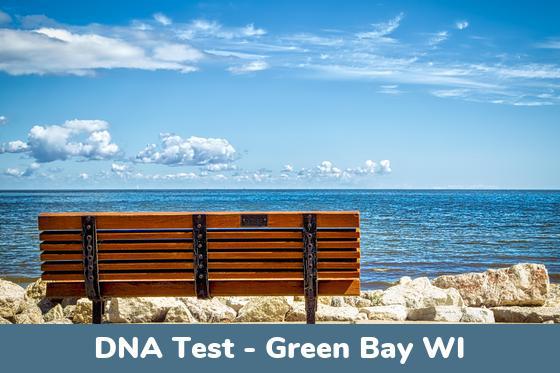 Types of DNA Tests at our Green Bay WI clinics:
Paternity Testing can conclusively establish whether or not a man is the biological father of a child.
Relationship Testing for other close family relationships can be performed at our testing centers. Our DNA testing services can confirm or deny biological relationships between grandparents, grandchildren, siblings, half-siblings, aunts, uncles, nieces and nephews:
Specimens we can test for DNA
The easiest and most reliable way to obtain a DNA sample for paternity testing is to swab the inner cheeks of the alleged father and child or children. These skin cells are known as buccal cells, and they rub off easily onto cotton swabs and remain in place for analysis by our laboratory.
Other specimen samples, such as hair follicles, fingernails, and garments that might contain someone's DNA, can also be tested. An Alternative Specimen DNA Test is done by ordering one of our testing kits online and shipping the specimens back to us.
Legal DNA Tests vs. "Peace of Mind" At-Home Tests
A Legal Paternity Test is a court admissible lab testing service performed at an AABB accredited laboratory. Accurate results for DNA paternity testing with 99.99% confidence or greater take about a week.
When deciding which type of DNA test is right for you, consider first what you might do with the results. A legal paternity DNA test will hold up in court for such matters as child support or to change the name on a birth certificate. This test must be performed using strict chain of custody procedures. Our Green Bay DNA testing technicians are trained to follow these guidelines so that the results will be legally admissible.
How to schedule a DNA Test in Green Bay WI
Scheduling a DNA test at one of our Green Bay clinics is simple and fast, and we often have appointments available in the same week. It's always helpful to schedule in advance to make sure you get the time you want. Please call our customer service team to help you book your appointment over the phone, or set up your appointment easily online.
We have state of the art testing labs and friendly clinics that perform the DNA sample collection in Green Bay, plus many more locations throughout Wisconsin and across the United States. During registration, we'll show you the nearest locations for DNA testing so you can choose the site that's most convenient. You'll also pick the times and days that you prefer.
Why Health Street
A Decade Plus of Experience
Health Street has provided DNA tests since 2010. We have provided DNA tests and paternity tests to thousands of people in Green Bay as well as communities all across the nation.
Commitment to Community
Health Street has been dedicated the people of Wisconsin for more than a decade. In particular, we take the needs of the Green Bay community seriously, particularly as it relates to DNA testing and paternity testing.
Facts about DNA Testing in Green Bay WI
Green Bay Woman Reveals the Secrets of Her Past Through DNA Testing
Green Bay resident Elisabeth Hinshaw-Osgood always knew she was adopted, but had very little information about either of her birth parents. The loving family she grew up with had adopted her in Paris, France over thirty years ago. Her father was working for the U.S. government at the time, as was her biological mother. The only things they knew about Hinshaw-Osgood's 'bio mom', as she called her, was that she was an American employed at the U.S. embassy in Paris with the family name of Dawson.
Hinshaw-Osgood recently decided to take a DNA test to see if she could learn anything about her mysterious heritage. To her surprise, her results linked her to over 1,200 familial connections of varying degrees. Hinshaw-Osgood quickly reached out to one connection who turned out to be her aunt and another man who was her first cousin, getting answers in rapid-fire style about many of the mysteries of her background. Hinshaw-Osgood also learned that her father was actually from French Canada and not Paris. Since the revelations, she has happily met face-to-face with several of her new family members.
Wisconsin Man Discovers New Family He Never Knew Existed
De Pere local Jim Bliss had a difficult childhood, growing up with his sister in the custody of their paternal grandparents after both their mother and father abandoned them. After Bliss received a cryptic note from a woman he later learned was his mother on his 30th birthday, he found out that the man he believed to be his father was not actually related to him at all. In fact, Bliss was not related to his grandparents that raised him and only a half-sibling of his sister. Bliss' father was actually a Navy man by the name of William Sampson.
With little else to go on after his birth mother passed, Bliss took a DNA test to see if he could track down any more information about his background and family. He immediately linked with a first cousin, Bruce Sampson, who helped him fill in many of the remaining gaps in his story. Sampson embraced Bliss as a part of the clan, and Bliss has gone on to meet several other members of his new family.
Three Ways to Be Legally Named as a Father in Wisconsin
In Wisconsin, state legislation stipulates that paternity can be established in three ways. When both parents are sure who the adult father of a child is, they can file a Voluntary Paternity Acknowledgment form with the state Vital Records Office. This process will legally add a father's name to a child's birth certificate. If a child is born before a couple is married, the newlyweds can file an Acknowledgment of Marital Child form to establish paternity and be named on the child's birth certificate.
When the mother and possible father are in disagreement about the paternity of a child, the case can be brought to Wisconsin Family Court. The court will most likely require DNA testing of the father and child to confirm paternity in these situations.
Locations
Clinic Hours for DNA Testing in Green Bay, Wisconsin
1805 Allouez Avenue
Suite 3
Green Bay, WI 54311
Pre-registration required,
Walk-in with barcode:
---
Monday: 8:00 AM – 5:00 PM
Tuesday: 8:00 AM – 5:00 PM
Wednesday: 8:00 AM – 5:00 PM
Thursday: 8:00 AM – 5:00 PM
Friday: 8:00 AM – 5:00 PM
About this Location:
To obtain DNA tests in Green Bay, Wisconsin, visit us at this location, which is in walking distance from Bellevue KinderCare.
721 Cardinal Ln
Suite 100
Green Bay, WI 54313
Pre-registration required,
Walk-in with barcode:
---
Monday: 8:00 AM – 5:00 PM
Tuesday: 8:00 AM – 5:00 PM
Wednesday: 8:00 AM – 5:00 PM
Thursday: 8:00 AM – 5:00 PM
Friday: 8:00 AM – 5:00 PM
About this Location:
It is simple to locate our lab. We are nearby to Meadowbrook Elementary School.
Additional Services
We also offer other services, such as:
Citations
menu_book
"Your Guide to Legal Fatherhood." Wisconsin Department of Children and Families, https://dcf.wisconsin.gov/files/publications/pdf/15445.pdf
menu_book
Srubas, Paul. "DNA test helps Green Bay woman, born in Paris, find out who her biological parents were." Green Bay Press-Gazette, 18 March 2019, https://www.greenbaypressgazette.com/story/news/2019/03/18/greenbay-23-andme-paris-woman-born-dna-kit-family-relationship-mother-father-adoption-hinshaw-osgood/3156375002/
menu_book
Srubas, Paul. "De Pere man's DNA test solves 68-year mystery, connects him to his family." Green Bay Press-Gazette, 6 April 2020, https://www.greenbaypressgazette.com/story/news/2020/04/06/dna-test-helps-68-year-old-de-pere-man-reconnect-his-fathers-family/5115366002/