Private Security Background Checks
Private security employers want to hire qualified, honest applicants who can offer protection. If a security guard commits a crime, the employer is held liable. Whether to protect customers, employees, the business, or money, employers rely on private security background checks to ensure they're hiring the right applicants for the job.
Although security guards are hired to offer protection, hiring a dishonest applicant or one with a criminal record can pose a security threat. Relying on the applicant alone to provide previous criminal records is often not enough, and employers rely on background checks to protect their businesses.
The level of security guard employment background checks depends on job responsibilities. For example, security guards at financial institutions and hazardous waste plants undergo more in-depth security background checks than security guards applying for jobs at bars or clubs. Private security background checks include driving records, criminal records, credit checks, physical exams, and character references.
All private security firms must be familiar with federal, state, and local regulatory requirements regarding security background checks.
Make sure you are hiring the right person for the job with Health Street's drug screening and background check services. Order online today or call (888) 378-2499.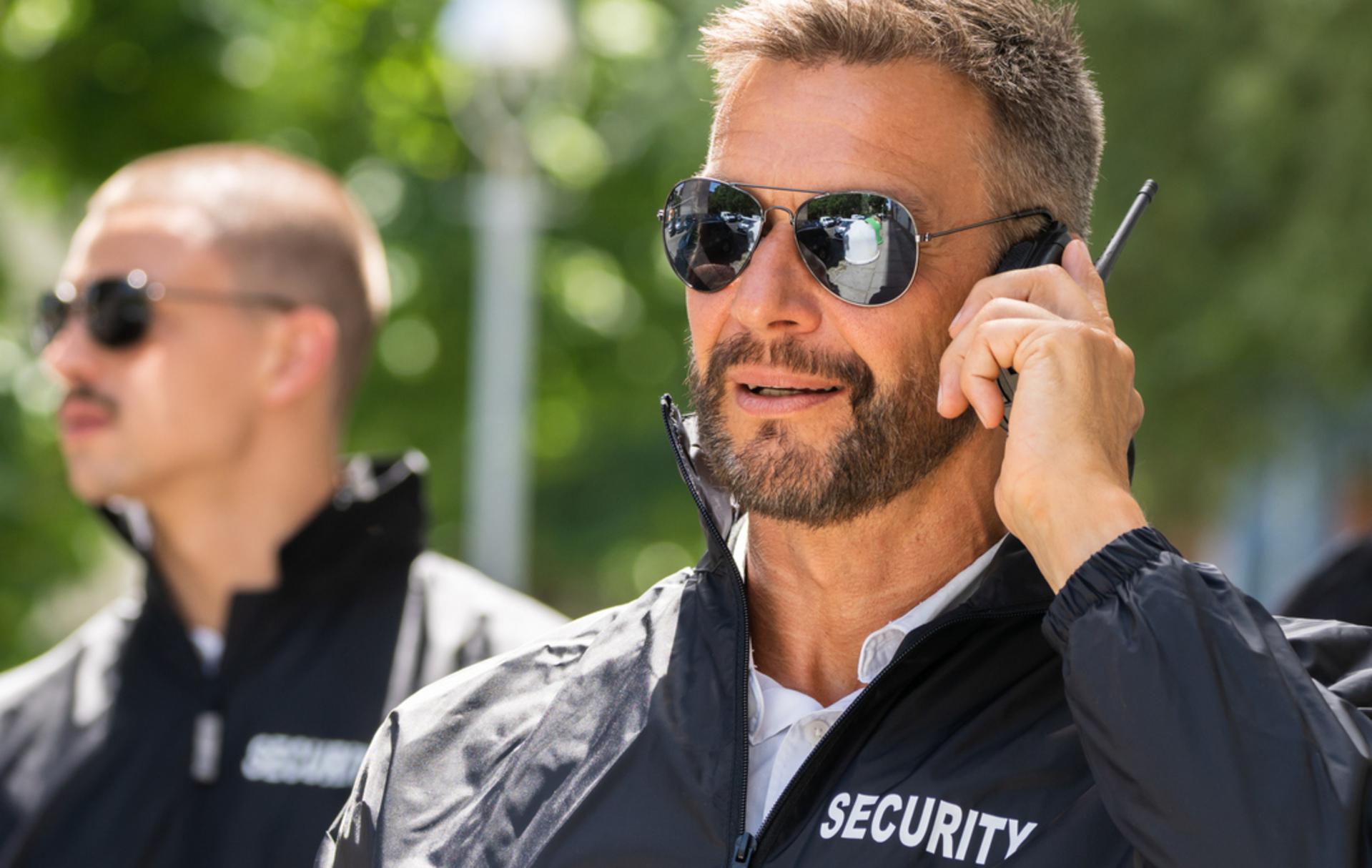 What Background Checks Does Health Street Offer in the Private Security Industry?
Criminal Background Check Packages
Every criminal background check ordered through Health Street always begins with a Social Security Number Trace. From there, you can add specific background checks, choose from one of our most popular packages, or build your own.
Private Security Facts and Statistics
arrow_right
According to the Department of Homeland Security, private sector firms own 85 percent of the United States critical infrastructure, and most of them use private security firms. These critical infrastructures include power plants, chemical plants, communication networks, oil and gas refineries, hospitals, and schools.
arrow_right
As of May 2017, about 1.1 million individuals worked as security guards.
arrow_right
One of the largest private security firms employs more than 800,000 people worldwide. With this large number of employees, many of them were hired with questionable criminal records and without holding a security license, and some of them later committed rape, assault, or murder.
arrow_right
In 2012, one security firm failed to perform a thorough background check, and a security guard murdered a 29-year-old and father of two outside of a nightclub.
arrow_right
About 10 percent of job applicants have criminal records that might prevent them from getting the job or affect their job somehow. Background checks deter applicants from providing false information or failing to disclose information about their criminal backgrounds.
arrow_right
From January 1 to August 11, 2021, thirty-three security officers were charged with fatal shootings.
arrow_right
Over a four-year period, 33 percent of fatal shootings by security officers were not justified.
Private Security Background Check Laws and Regulations
Prospective employees applying to safety-sensitive positions may require FBI background checks. Other industries may also require FBI background checks, depending on state laws, so employers must familiarize themselves with background check laws in their state. FBI background checks include fingerprinting, criminal records, credit checks, and security clearance.
Forty-one states, the District of Columbia, and Puerto Rico have Public Law 92-544 state statutes related to the employment and licensing of private security guards, some of which cover only armed security guards. Many of these statutes allow security guard employment background checks but do not mandate them.
The Private Security Officer Employment Authorization Act of 2007, an amendment to the Private Security Officer Employment Authorization Act of 2004, allows employees and applicants the right to challenge inaccurate and incomplete criminal history background check results. The law prohibits private security firms from hiring an applicant without obtaining state criminal records and specifies the crimes each state must provide information on to employers. Employers are also protected from liability for "good faith employment determinations" based on criminal record findings.
The Fair Credit Reporting Act (FCRA) protects the rights of employees and applicants. Employers must provide, in writing, information to the applicant or employee that a background check will be required and obtain written consent. Under the FCRA, the information obtained must be relevant to the job. If an employer decides to take adverse employment action or not hire an applicant based on background check findings, the applicant must be informed. The applicant has the right to dispute any inaccurate or incomplete information on the report.
The Equal Employment Opportunity Commission (EEOC) protects applicants from being discriminated against by race, sex, color, religion, origin, disability, age, or pregnancy. The EEOC also protects prospective employees from not getting jobs simply because of criminal histories. However, if the applicant's past conviction is job-related or poses a threat to the company, the employer may take adverse employment action or refuse to hire. Private security employers should establish written guidelines and apply them equally to every applicant and employee, without discrimination.
Frequently Asked Questions
Why are background checks important for private security?

Background checks deter applicants from excluding or providing false information regarding criminal histories. Employers are liable for crimes committed by employees. Private security background checks ensure the safety of the company, employees, and revenue.
What does a private security background check entail?

Private security background checks depend on the job's level of security. Security background checks include fingerprinting, criminal records, driving records, credit checks, and often reference checks.
Citations
menu_book
"What Kinds of Background Checks Can You Expect When Applying for a Security Guard Job?" Security Guard Training HQ, https://www.securityguardtraininghq.com/what-kinds-of-background-checks-can-you-expect-when-applying-for-a-security-guard-job/
menu_book
"H.R. 2703, The Private Security Officer Employment Act of 2007." GovInfo – U.S. Government Publishing Office, https://www.govinfo.gov/content/pkg/CHRG-110hhrg40881/html/CHRG-110hhrg40881.htm
menu_book
Dowd, Mary. "Importance of Security Officers & the Role They Play Today." Chron, 25 July 2018, https://work.chron.com/importance-security-officers-role-play-today-15199.html
menu_book
"Our Employees." G4S, https://www.g4s.com/who-we-are/our-people/our-employees
menu_book
Murphy, Brett; Penzenstadler, Nick; and Barton, Gina. "A security empire deployed guards with violent pasts across the U.S. Some went on to rape, assault or kill." USA Today, 30 October 2019, https://www.usatoday.com/in-depth/news/investigations/2019/10/30/dangerous-guards-low-cost-security-g-4-s/3994676002/
menu_book
Walter, Shoshana. "Results may be deadly when armed guards don't get mental health checks." Reveal, 4 May 2015, https://revealnews.org/article/results-may-be-deadly-when-armed-guards-dont-get-mental-health-checks/
menu_book
"Background Checks: Security for the Security Industry." Consolidated Insurance, https://www.consolidatedinsurance.com/news/2022/02/background-checks-security-for-the-security-industry/
menu_book
McCann, Rick. "23 Security Officers Charged in Force Incidents-53 S/O Murders." LinkedIn, 11 August 2021, https://www.linkedin.com/pulse/23-security-officers-charged-force-incidents-53-so-murders-mccann/
menu_book
"H.R. 2703 – Private Security Officer Employment Authorization Act of 2007." Congress.gov, https://www.congress.gov/bill/110th-congress/house-bill/2703
menu_book
"What is Included in an FBI Background Check?" Berger Montague, https://backgroundcheckrights.org/employment-background-checks-questions-and-terms/included-fbi-background-check/
menu_book
"Fair Credit Reporting Act." Federal Trade Commission, https://www.ftc.gov/legal-library/browse/statutes/fair-credit-reporting-act
menu_book
"A Summary of Your Rights Under the Fair Credit Reporting Act." Federal Trade Commission Consumer Advice, https://www.consumer.ftc.gov/sites/www.consumer.ftc.gov/files/articles/pdf/pdf-0096-fair-credit-reporting-act.pdf
menu_book
"Fair Credit Reporting Act – 15 U.S.C § 1681." Federal Trade Commission, August 2022, https://www.ftc.gov/system/files/ftc_gov/pdf/545A-FCRA-08-2022-508.pdf
menu_book
"About the EEOC." U.S. Equal Employment Opportunity Commission (EEOC), https://www.eeoc.gov/youth/about-eeoc-2#:~
menu_book
"Security Background Checks." Silva Consultants, https://www.silvaconsultants.com/new-security-tips/security-background-checks
menu_book
"Applying Performance and Conduct Standards to Employees with Disabilities." U.S. Equal Employment Opportunity Commission (EEOC), https://www.eeoc.gov/laws/guidance/applying-performance-and-conduct-standards-employees-disabilities