Hospitality Services Background Checks
Hospitality employers are responsible for protecting their customers, employees, and business. Hospitality employee background checks and pre-employment background screenings ensure employers hire reliable and qualified applicants.
Hospitality employees, like those working in hotels, casinos, amusement parks, and tourism-related services, are trusted with customers, money, and serving alcohol. Employee theft is a common crime in the hospitality industry since employees can easily access food, drinks, money, and tangible items. Therefore, employers must choose trustworthy applicants for these jobs.
Background checks for hospitality may include a criminal history, sex offender registry check, employment history, educational qualifications, and reference checks. Although employers can use background checks for hospitality workers and applicants, they must ensure that they comply with local, state, and federal laws.
Make sure you are hiring the right person for the job with Health Street's drug screening and background check services. Order online today or call (888) 378-2499.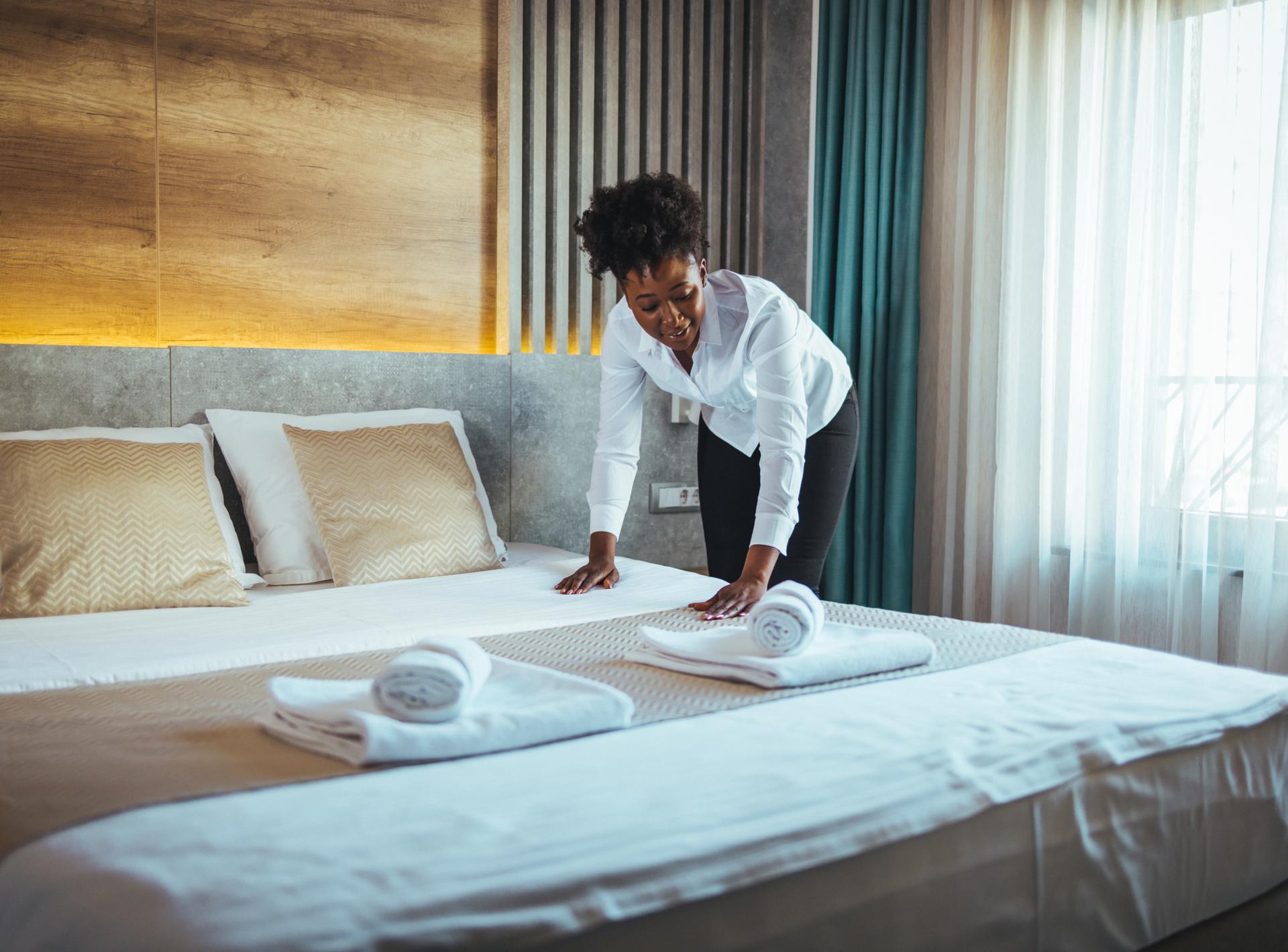 What Background Checks Does Health Street Offer in the Hospitality Services Industry?
Criminal Background Check Packages
Every criminal background check ordered through Health Street always begins with a Social Security Number Trace. From there, you can add specific background checks, choose from one of our most popular packages, or build your own.
Hospitality Industry Crime Facts and Statistics
arrow_forward
Crime is one of the most significant security threats to the travel and hospitality industries.
arrow_forward
Employee theft is the most prominently observed crime in the hospitality industry.
arrow_forward
Background checks in the hospitality industry are crucial to hiring honest employees and help to prevent theft, saving the employer from financial burdens.
arrow_forward
The five most common crimes in the hotel industry are burglary and theft, physical assault, vehicle break-ins, prostitution, and murder.
arrow_forward
Nevada casinos lose millions of dollars every year and see 500 arrests annually; 25 percent of those arrested are employees, often due to drug addiction and money problems.
Hospitality Employee Background Check Laws
Hospitality employers must comply with the following background check laws, keeping in mind that there may also be local or state hospitality employee background check laws.
The Equal Employment Opportunity Commission (EEOC) ensures that employers practice fair employment decisions, like hiring, promoting, and reassigning. The EEOC enforces federal laws and prohibits taking adverse employment action based on national origin, race, sex, color, or religion.
Running hospitality employee background checks also requires compliance with the Fair Credit Reporting Act (FCRA), enforced by the Federal Trade Commission (FTC). The FCRA requires employers to inform applicants before obtaining background checks. The notice cannot be on a job application and must be provided to the applicant in writing. If the employer runs an investigative report, the applicant or employee must be given written notice with a description of their rights. Hospitality employers must also obtain written permission from the applicant or worker before running background checks.
Information obtained in a background check must not be used to discriminate, and employers must hold the same standards for all applicants and employees. If an employer takes adverse employment action, like not hiring someone or firing an employee based on background check results, the applicant or employee must be given written notice beforehand with a copy of the consumer report and a summary of their rights under the Fair Credit Reporting Act.
The employer must also provide a waiting period before taking adverse action, allowing time for the applicant or employee to explain background check results. They have the right to review the report and explain or discuss information found in the report before the employer takes adverse action. Then, after the waiting period, the employer will provide an adverse action notice stating why the decision was made. They are entitled to a free copy of their background check report.
Hospitality Industry Crime Stories
In Indian Rocks Beach, FL, in 2022, a former hotel employee stole more than $3,500 from hotel guests after making a key card and accessing the rooms herself. In June of that year, she stole a wallet from a Louisiana resident and used a credit card at a local 7-11 and Family Dollar. She was caught on surveillance footage at both locations wearing hotel clothing. The next day she stole from three rooms, altogether a total of about $4,200.00.
In 2019, a Bay City, Michigan bar manager was arrested for embezzling about $30,000 from the bar he managed. The 36-year-old man stole the money from Keno funds, a Michigan lottery draw game. After each shift, the man was responsible for printing off slips stating how much money was owed to the state. However, he was printing the slips four hours before the bar closed and used the extra money to purchase his own Keno tickets. He was also seen on the surveillance camera unplugging the Keno machine and trying to break it.
Frequently Asked Questions
What do hotels look for in a background check?

Background checks for hospitality, especially for hotel employees, should include criminal history, sex offender registry and reference checks, in addition to employment history. Hotel employers need to know if the employee can be trusted around guests and their belongings.
What shows up on a hotel & hospitality background check?

The type of information that shows up on a hospitality background screening usually includes prior arrests and criminal history, employment verification, educational qualifications, and if the individual is listed on the sex offender registry.
Why are hospitality employee background checks important?

Hospitality employees work with customers and have access to tangible items, money, alcohol, and guest belongings. Hospitality employee background checks and pre-employment screenings help prevent theft and other crimes in the workplace, ensuring the safety of other employees, customers, and the business.
Citations
menu_book
Rush, Morgan. "What Type of Background Check Do Hospitality Employers Do?" Career Trend, 31 December 2018, https://careertrend.com/type-background-check-hospitality-employers-do-26654.html
menu_book
"Background Checks: What Employers Need to Know." U.S. Equal Employment Opportunity Commission (EEOC), https://www.eeoc.gov/laws/guidance/background-checks-what-employers-need-know
menu_book
"Fair Credit Reporting Act." Federal Trade Commission (FTC), https://www.ftc.gov/legal-library/browse/statutes/fair-credit-reporting-act
menu_book
"Common Hotel Crimes You Should Know For Your Safety and Security." National Crime Scene Cleanup, 29 July 2021, https://www.crimescenecleanup.com/hotel-motel-crimes/
menu_book
"Cheating in casinos: 'Employees make up 25% of arrests.'" Gambling Insider, 11 April 2022, https://www.gamblinginsider.com/news/16015/cheating-in-casinos-employees-make-up-25-of-arrests
menu_book
Dolamore, Peter. "Crime & Tourism." S-RM Intelligence and Risk Consulting, 15 January 2020, https://insights.s-rminform.com/crime-trends-in-the-tourism-sector
menu_book
Lee, Seung Hyun (Jenna) and Lee, Jaeyong. "Cases of Employee Theft in the Hospitality Industry." Council on Hotel, Restaurant, and Institutional Education (CHRIE), https://www.chrie.org/assets/docs/JHTC-case-notes/JHTC-vol-9/JHTC_9_2_Lee_Case.pdf
menu_book
McGoey, Chris. "Employee Theft Prevention in Restaurants, Hotels, and Bars." Crime Doctor, 1 July 2015, https://crimedoctor.com/employee-theft-prevention-in-restaurants-hotels-and-bars/
menu_book
Goh, Edmund and Kong, Sandra. "Theft in the hotel workplace." Tourism and Hospitality Research, JSTOR, October 2018, https://www.jstor.org/stable/26510751
menu_book
Tucker, Rachel. "Pinellas County hotel employee steals over $4,000 from guests." WFLA, 7 July 2022, https://www.wfla.com/news/pinellas-county-hotel-employee-steals-over-4000-from-guests/
menu_book
Acosta, Roberto. "Bay City man charged with embezzling nearly $30,000 from downtown bar." MLive, 26 November 2019, https://www.mlive.com/news/saginaw-bay-city/2019/11/bay-city-man-charged-with-embezzling-nearly-30000-from-downtown-bar.html
menu_book
Holland, Ron and Batten, Jonathan. "FCRA 101: How to Avoid Risky Background Checks." Society for Human Resource Management (SHRM), 20 October 2017, https://www.shrm.org/resourcesandtools/hr-topics/talent-acquisition/pages/fcra-avoid-risky-background-checks.aspx