DNA Test – Thousand Oaks, CA
Health Street provides DNA tests and legal paternity testing in Thousand Oaks, California at our centrally located testing laboratory. Call (805) 202-4142 or schedule online. We offer legal paternity tests, sibling studies, grandparent DNA tests, avuncular (aunt or uncle) testing, and postmortem DNA testing to determine if people are biologically related.
Set up DNA testing appointments online. Test results can be used in court for child support or to change a birth certificate; it can also be used for simple peace of mind. Appointments can be scheduled together or separately. Legal DNA tests are done by cheek swab at our testing centers. We can also extract DNA samples from hair follicles, fingernails, and other specimens.
Workforce Screening, Digitally Delivered
Wonderful service, helped me through a complex situation.
Roberta
9/8/2021
Thank you for helping me solve a long term mystery in my family.
Ronald
8/27/2021
1 of 1
3967 Thousand Oaks Blvd
Thousand Oaks
,
CA
91362
DNA Test – Thousand Oaks, California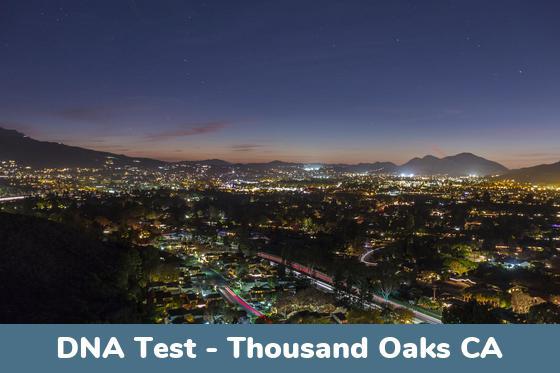 Types of DNA Tests at our Thousand Oaks, California clinics:
Paternity Testing can conclusively establish whether or not a man is the biological father of a child.
Relationship Testing for other close family relationships can be performed at our testing centers. Our DNA testing services can confirm or deny biological relationships between grandparents, grandchildren, siblings, half-siblings, aunts, uncles, nieces and nephews:
Specimens we can test for DNA
The easiest and most reliable way to obtain a DNA sample for paternity testing is to swab the inner cheeks of the alleged father and child or children. These skin cells are known as buccal cells, and they rub off easily onto cotton swabs and remain in place for analysis by our laboratory.
Other specimen samples, such as hair follicles, fingernails, and garments that might contain someone's DNA, can also be tested. An Alternative Specimen DNA Test is done by ordering one of our testing kits online and shipping the specimens back to us.
Legal DNA Tests vs. "Peace of Mind" At-Home Tests
A Legal Paternity Test is a court admissible lab testing service performed at an AABB accredited laboratory. Accurate results for DNA paternity testing with 99.99% confidence or greater take about a week.
When deciding which type of DNA test is right for you, consider first what you might do with the results. A legal paternity DNA test will hold up in court for such matters as child support or to change the name on a birth certificate. This test must be performed using strict chain of custody procedures. Our Thousand Oaks DNA testing technicians are trained to follow these guidelines so that the results will be legally admissible.
How to schedule a DNA Test in Thousand Oaks CA
Scheduling a DNA test at one of our Thousand Oaks clinics is simple and fast, and we often have appointments available in the same week. It's always helpful to schedule in advance to make sure you get the time you want. Please call our customer service team to help you book your appointment over the phone, or set up your appointment easily online.
We have state of the art testing labs and friendly clinics that perform the DNA sample collection in Thousand Oaks, plus many more locations throughout California and across the United States. During registration, we'll show you the nearest locations for DNA testing so you can choose the site that's most convenient. You'll also pick the times and days that you prefer.
Why Health Street
More than a Decade of Experience
Since 2010, Health Street has offered DNA tests in Thousand Oaks, the state of Thousand Oaks, California, and throughout the nation. Since our founding, we have focused on helping people obtain the DNA and paternity tests that they need, from Thousand Oaks to neighborhoods everywhere.
Commitment to Excellence
Our mission is to understand the DNA testing needs of our clients. We strive to provide the most accurate, fast, and conclusive paternity tests in Thousand Oaks.
Local DNA Testing Info
Paternity Programs in Thousand Oaks, CA
Although California law automatically establishes paternity for married couples, when two unmarried Thousand Oaks parents have a child, steps will need to be taken to legally establish paternity themselves. Fortunately, the state of California created the Parentage Opportunity Program (POP), a voluntary program for parents to help legally establish paternity free of charge without lengthy or expensive court processes.
Under this program, two unmarried parents will be presented the opportunity to sign a Voluntary Declaration of Parentage at the hospital following the birth of a child to legally establish paternity. If both parents are unable to sign the acknowledgment at the hospital, one can be completed at a later date through a Ventura County Child Support Agency Office, Office of Vital Records, Health and Human Services Welfare Department, or the local court family law facilitator.
Determining Paternity in Thousand Oaks, CA
A Voluntary Acknowledgment of Paternity is a legally binding document that declares a Thousand Oaks father's paternal rights and responsibilities over a child. If there is any doubt on precisely who the child's father is, it's highly recommended you avoid signing this form and file a paternity action through the Ventura County Department of Child Support Services instead.
By filing a paternity action, a Ventura County Court judge can request court-ordered DNA testing of the presumed father and child. If results conclude the presumed father is indeed the biological father of the child, then legal paternity can be established. From this point, further steps can be taken through the Department of Child Support Services to request monthly support payments.
Experts in Thousand Oaks, CA Say…
Once paternity is established, two unmarried parents may need to create a parenting plan in Ventura County court. According to Family Law Attorney Stephanie Mahdavi, many parenting plans start off with a standardized schedule that allows the noncustodial parent every other weekend and certain weeknights. From here, Ventura County Court will assess the current schedule to make sure it works best for the wellbeing of the child. Negotiations can then be made to better suit each of the parent's desires, as long as it works positively for the child.
Locations
Clinic Hours for DNA Testing in Thousand Oaks, California
3967 Thousand Oaks Blvd
Thousand Oaks, CA 91362
Pre-registration required,
Walk-in with barcode:
---
Monday: 8:00 AM – 10:00 PM
Tuesday: 8:00 AM – 10:00 PM
Wednesday: 8:00 AM – 10:00 PM
Thursday: 8:00 AM – 10:00 PM
Friday: 8:00 AM – 10:00 PM
Saturday: 8:00 AM – 8:00 PM
Sunday: 8:00 AM – 5:00 PM
About this Location:
To get paternity tests in Thousand Oaks, come to this location, which is very close by to Oaks Christian School.
Additional Services
We also offer other services, such as:
Citations
menu_book
"Establishing Legal Parentage." California Child Support Services, https://childsupport.ca.gov/establishing-legal-parentage/
menu_book
"Open a Case." Ventura County Department of Child Support Services, https://www.ventura.org/child-support-services/open-a-case/
menu_book
"Advocacy In Seeking Visitation Rights." Law Offices of Stephanie L. Mahdavi, https://www.slmfamilylaw.com/familylaw/visitation/
menu_book
"Welcome to Thousand Oaks, CA." Michael Rice Real Estate, https://www.conejovalleyguy.com/thousandoaksneighborhoods/