DNA & Paternity Testing – South Charleston, WV
Health Street offers DNA testing, legal paternity tests, and sibling DNA tests in South Charleston, West Virginia at 3 conveniently located testing centers. Register now, or call us at (304) 553-7702 with any questions. Our paternity testing (including grandparent DNA tests, avuncular (aunt or uncle) testing, and postmortem DNA testing) determines if two or more people are related.
Schedule your South Charleston DNA test appointment online. Our legal DNA test results can be used in court for matters such as: child support, birth certificates, and custody cases. Appointments can be scheduled together or separately. Legal DNA tests are done by cheek swab at our testing centers. We also offer home DNA test kits for peace of mind. DNA can be tested from hair, fingernails, and other specimens.
Workforce Screening, Digitally Delivered
Got the paternity test done on a Friday and got the results on Thursday. Fast friendly highly recommend. Thanks so much
Darlene
1/23/2020
Lovely place! Clean, maintained, wonderful, nice, helpful staff. In and out in 20 minutes. Explained everything in detail and answered all my questions. I used the lab in South Charleston West Virginia. My daughter and her dad got the legal paternity test done. (Not using my real name for privacy reasons)
Nicole
1/18/2020
Person on the phone was very helpful. I was told it would take 5 to 7 days. When I went to get test I was told 6 weeks.
Misti beach
4/25/2016
1 of 3
428 Division Street
South Charleston
,
WV
25309
2 of 3
4610 Kanawha Southwest
South Charleston
,
WV
25309
3 of 3
4825 Maccorckle Avenue Sw
South Charleston
,
WV
25309
DNA Test – South Charleston, West Virginia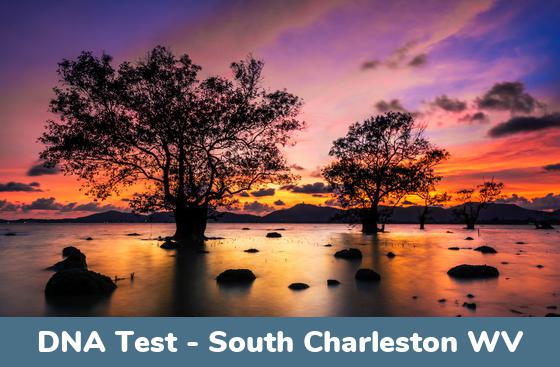 Types of DNA Tests at our South Charleston, West Virginia locations:
The most commonly ordered DNA test is a Paternity Test to conclusively establish whether or not a man is the biological father of a child.
Paternity Testing can be performed at our testing centers. DNA Testing can be done for other close family relationships, such as:
Specimens we can test for DNA
The easiest and most reliable way to obtain a DNA sample for paternity testing is to swab the inner cheeks of the people being tested. These skin cells are known as buccal cells, and they rub off easily onto cotton swabs and remain in place for analysis by our laboratory. Other specimen samples, such as hair follicles, fingernails, and garments that might contain someone's DNA, can also be tested. An Alternative Specimen DNA Test is done by registering online and shipping the specimens to us.
Legally Admissible DNA Tests vs. "Peace of Mind" At-Home Tests
A Legal Paternity Test is a court admissible DNA testing service. Accurate results for DNA paternity testing with 99.99% confidence or greater take about a week.
When deciding which type of DNA test is right for you, consider first what you might do with the results. In order for the results of a DNA test to hold up in court, for child support, or to change the name on a birth certificate, the test must be done at a clinic using strict chain of custody procedures. Our South Charleston DNA testing technicians are trained to follow guidelines that ensure that the results can be used for legal purposes.
How to schedule a DNA Test in South Charleston WV
Scheduling a DNA test at one of our South Charleston clinics is simple and fast, and we often have appointments available in the same week. It's always helpful to schedule in advance to make sure you get the time you want. Register online, or please call our customer service team, which can help you book your appointment over the phone.
We have state of the art testing labs and friendly clinics that perform the DNA sample collection in South Charleston, plus many more locations throughout West Virginia and all across the United States. Not every one of our clinics performs paternity testing in South Charleston. We'll show you the nearest locations to get a DNA test in South Charleston , WV so you can choose the testing center that is most convenient. When you register, you can also pick the appointment time and date that you prefer.
Why Health Street
Over a Decade of Experience
Health Street has been performing DNA testing nationally since 2010. The first DNA test in South Charleston, WV performed by Health Street was in 2018.
Dedication to Excellence
Our dedication to excellence includes our commitment to provide compassionate services and to helping people obtain the accurate DNA testing in South Charleston that they need.
DNA Testing in South Charleston
Establishing Paternity in South Charleston, WV
From the legal establishment of parental rights to medical insurance coverage requirements, establishing paternity is crucially important for the well-being of a South Charleston, WV child. While married couples are automatically granted legal paternity as West Virginia law assumes the husband is the biological father, unmarried couples will need to legally establish paternity themselves.
This can be done by signing a Voluntary Paternity Affidavit at the hospital following a child's birth. If the father is not present at the time of birth but agrees to the assumed paternity of the child, both may also file the affidavit through a Kanawha County Bureau for Child Support office. If the presumed father or mother does not agree to sign the affidavit due to uncertainty, either parent may request court-ordered DNA testing. If paternity is effectively established, further steps can then be taken to request child support payments.
Dealing With Unique Paternity Cases in South Charleston, WV
In some instances, a married South Charleston woman may have a child with a man who is not her husband. Due to typical West Virginia paternity law, legal paternity will automatically be granted to the husband despite him having no biological relation to the child. If the biological father is seeking paternal rights, he and the mother will first need to sign a Voluntary Paternity Affidavit. If necessary, either the husband, biological father, or mother may also request DNA testing to confirm paternity.
If DNA testing proves the husband is not the biological father, the husband and mother will then need to sign an Affidavit of Nonpaternity within one year of the child's birth in an attempt to provide the biological father his paternal rights. Note that while this effort could provide the biological father with parental rights, it's solely up to Kanawha Family Court to determine the best interests of the child.
Experts in South Charleston, WV Say…
Even with established paternity, two South Charleston parents may find themselves back in family court to deal with concerns over a child's custody. According to South Charleston family law attorney Chris Pritt, West Virginia is a shared parenting state that aims to not give a sole parent full custody over a child. While this doesn't mean Kanawha Family Court will establish a 50/50 parenting schedule, the state will instead take multiple aspects into consideration, such as income and living situations, to develop a custody plan best fit for a child's well-being.
Locations
Clinic Hours for DNA Testing in South Charleston, West Virginia
428 Division Street
Suite 1a
South Charleston, WV 25309
Pre-registration required,
Walk-in with barcode:
---
Monday: 7:00 AM – 4:00 PM
Tuesday: 7:00 AM – 4:00 PM
Wednesday: 7:00 AM – 4:00 PM
Thursday: 7:00 AM – 4:00 PM
Friday: 7:00 AM – 4:00 PM
Saturday: 8:00 AM – 11:00 AM
About this Location:
You can locate our clinic very close by to Kanawha River.
Some South Charleston Neighborhoods That We Serve
location_city
Coventry Woods
location_city
Country Club Acres
location_city
Oak Tree Acres
location_city
Rock Lake Village
location_city
Southern Woods
location_city
Thousand Oaks
Additional Services
We also offer other services, such as:
Citations
menu_book
"Kanawha." Bureau for Child Support Enforcement, https://dhhr.wv.gov/bcse/Pages/county-details.aspx?County=kanawha
menu_book
"Voluntary Denial of Paternity / Affidavit of Nonpaternity." West Virginia Department of Health and Human Resources, http://www.wvdhhr.org/bph/hsc/vital/forms/Voluntary_Denial_rev11242009_download.pdf
menu_book
"Types of Child Custody." Pritt & Pritt Attorneys at Law, https://www.prittlaw.com/child-custody
menu_book
"South Charleston West Virginia Real Estate Subdivisions." Old Colony Realtors, https://www.oldcolony.com/south-charleston-west-virginia-subdivisions.html