DNA Testing in Rocklin, CA
Health Street offers DNA testing, legal paternity tests, and sibling DNA tests in Rocklin, California at 3 conveniently located testing laboratories. Register now, or call us at (916) 581-4989 with any questions. Our paternity testing (including grandparent DNA tests, avuncular (aunt or uncle) testing, and postmortem DNA testing) determines if two or more people are related.
Schedule your DNA test appointment online. Our legal DNA test results can be used in court for matters such as: child support, birth certificates, and custody cases. Appointments can be scheduled together or separately. Legal DNA tests are done by cheek swab at our testing centers. We also offer home DNA test kits for peace of mind. DNA can be tested from hair, fingernails, and other specimens.
Workforce Screening, Digitally Delivered
1 of 3
6815 Five Star Blvd Suite 105
Rocklin
,
CA
95677
2 of 3
2305 Sunset Blvd
Rocklin
,
CA
95765
3 of 3
6681 Blue Oaks Blvd
Rocklin
,
CA
95765
DNA Test – Rocklin, California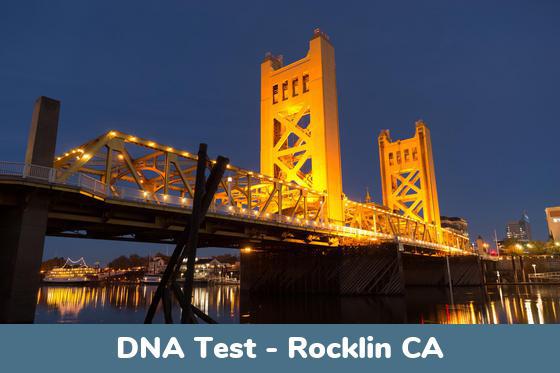 Paternity Testing in Rocklin, California
There are several types of DNA testing services that are offered at our Rocklin testing centers to validate close family relationships. The most commonly ordered DNA test is a legal paternity test to conclusively establish whether or not a man is the biological father of a child. Health Street's 21 marker DNA paternity testing is the state of the art. Our paternity test results are statistically conclusive at the rate of 99.9% or greater.
Other DNA Tests
Relationship Tests to validate grandparent to grandchild, siblings, half-siblings, aunts, and uncles:
DNA tests such as sibling or avuncular studies, can sometimes come back with a result of less than 95% certainty. This is normal, especially if only two parties participate in the test. Adding an additional close relative to the test helps us learn more about the family's DNA composition and typically leads to a more conclusive result.
Specimens we can test for DNA
The easiest and most reliable way to perform a genetic sample collection for a paternity test is by a swab of the inner cheeks. These skin cells, known as buccal cells, rub off easily onto cotton swabs and remain in place, to be extracted by our testing laboratories for analysis.
Other specimens, such as hair follicles, fingernails, and garments that might contain someone's DNA, can also undergo lab testing to see if there is a match. These non-standard DNA tests are done by registering online for an Alternative Specimen DNA Test (Nails, Teeth, Fabric). Once registered, you ship the DNA sample to our lab. We'll attempt to extract the DNA and compare it to a cheek swab of the other party.
Legal DNA Tests vs. "Peace of Mind" At-Home Tests
When deciding which type of DNA test is right for you, consider first what you might do with the results. In order for the results to hold up in court, the DNA specimen must be collected at a clinic using strict chain of custody procedures. The DNA testing technicians at our Rocklin test centers are trained to follow guidelines that ensure that the results can be used for legal purposes.
The results of our legal DNA tests can be used for any legal purpose:
library_add_check
to change the name on a birth certificate
library_add_check
to petition for child support
library_add_check
to petition for survivor benefits
library_add_check
for child custody arrangements
library_add_check
to alter inheritance procedures or wills
Home tests offer more flexibility:
Home DNA tests are specimens containing DNA (or possible DNA) that are shipped to us for analysis. The results of these home tests cannot be used in court (since there is no way to prove whose specimens were actually sent). However, the tests are just as accurate and can provide peace of mind. At-home DNA tests also offer a lot more flexibility.
In addition to commonly mailed in DNA specimens like hair follicles, we can also extract DNA from other bodily fluids. We can even try and lift the DNA left on items like clothing, a toothbrush, or a straw. If we can get the DNA from the alternative item, we can then compare it to another person to see if they are related. Some examples include:
blur_on
Mucus and other bodily fluids
How to schedule a DNA Test in Rocklin CA
Scheduling a DNA test at one of our Rocklin clinics is simple and fast, and we often have appointments available in the same week, though it's always helpful to schedule in advance to make sure you get the time you want. We have clinics in Rocklin, plus many more throughout California and across the United States. During registration, we'll show you the nearest locations so you can choose the one that's most convenient. You'll pick the times and days that you prefer.
You can set up separate appointments for each of the people being tested, either at the same location or at different locations. You'll get an email and text message with your appointment information. There is no fee if you need to change the time or location of a DNA test appointment at any time.
How long it takes to get results of a DNA test
Paternity tests conducted at one of our Rocklin facilities typically take about a week to come back. Other relationship tests, such as sibling studies, can take a few days longer to come back. When the results are ready, you are notified immediately via email. Then, the hard copies of the paperwork are sent afterward via regular mail.
The DNA test appointment – what to expect and what to bring
The appointment itself only takes about 15 minutes. The specimen collection process is a simple and painless cheek swab. No needles are used. When you're being tested at our Rocklin clinic, you'll be asked to provide fingerprints and to show photo identification. We'll also take pictures of the people being tested so that the final report will include legal assurances of who was actually tested.
For infants, hospital discharge papers qualify as identification. Otherwise, a birth certificate or social security card can be used as ID for a child. No other preparations are required for this appointment.
Does the mother need to be present at a paternity test?
If a man is considered the legal father of a child, then the mother does not have to be present or give consent for paternity testing. However, if he is not currently considered the legal father, then he cannot sign for the child. Therefore, the mother does need to be there. If neither parent is available, other legal guardians can bring the child so long as they have the right to make medical decisions on the child's behalf.
DNA testing if one party is not in Rocklin
The two parties testing (for example: father and child) do not have to be tested at the same time or even at the same location. We have many clinics across California as well as nationwide, so we can test one party in Rocklin and the other party anywhere else in the USA. The specimens are then matched up in the lab for analysis.
Laboratory certifications
Health Street works strictly with AABB Certified labs for DNA testing. All specimens that are collected in Rocklin or elsewhere are shipped securely from our testing locations to a nationally certified laboratory.
Why Health Street
A Decade Plus of Experience
Health Street has provided DNA tests since 2010. The first DNA test we performed in Rocklin, CA was in 2019.
Dedicated to Excellence
We are proud to help families and individuals get DNA testing in Rocklin.
Facts about DNA Testing in Rocklin CA
California Lawmaker Introduces Genetic Privacy Bill
Democratic Senator Thomas Umberg recently sponsored Senate Bill 980. If passed, this bill, which would affect Rocklin residents, would prohibit companies that sell "direct-to-consumer" DNA kits from releasing a user's DNA information to outside parties without their consent. This move comes shortly after concerns were raised by the Pentagon, which issued guidelines asking military members not to use at-home DNA testing kits due to possible security issues.
Consumers' DNA information is already partially protected under the California Consumer Privacy Act. This requires companies to disclose the information they're collecting and how they'll use it. Consumers also have the right to opt-out of any sale of their information to third parties. The new bill would expand protections and create both criminal and civil penalties for violating the provisions of the law. It should be noted that this law would not prevent law enforcement from obtaining DNA information as necessary.
Establishing Paternity in Rocklin, California
According to the Law Offices of Frank F. Ali, a family law attorney serving Rocklin and the surrounding areas, legally establishing paternity allows the courts to settle important issues like custody, visitation and child support.
When a child is born to a married couple, the spouse is automatically assumed to be the child's father. However, when the mother is unwed, it's necessary to prove the child's parentage. The easiest way to do this is for both parents to sign a "Voluntary Declaration of Paternity" and file it with the California Department of Child Support Services Paternity Opportunity Program.
When this isn't an option, either parent can request a DNA paternity test. The courts can also order a test if they find a reason to do so. It's important to note that proving biological paternity doesn't automatically give a father any legal rights. A court order is needed before an unwed father has the rights and responsibilities of a legal parent.
Rocklin, CA Paternity Court Procedures
When a paternity case goes to court, all parties involved must follow a very specific procedure. According to the professionals at Williams Family Law, a local attorney's office serving the Rocklin area, either parent can initiate a case by filing the appropriate forms. This starts with a Petition to Establish Parental Relationship and a Summons.
Mothers who want support for their child must file a Financial Declaration and fathers who want to establish visitation and/or custody must file additional forms. It's a good idea to have an attorney review these forms before filing to avoid common mistakes that could hurt your case.
Once the paperwork has been filed, the initiating party must arrange to have the Petition and Summons served to the other party. The other party then has 30 days to file a response. In some cases, the father will admit paternity after being served. If not, the mother will need to present enough evidence for the courts to order a DNA test. If the results find that the man is the child's biological father, the courts can establish legal paternity and issue custody, visitation and child support orders.
Locations
Clinic Hours for DNA Testing in Rocklin, California
6815 Five Star Blvd Suite 105
Rocklin, CA 95677
Pre-registration required,
Walk-in with barcode:
---
Monday: 10:00 AM – 4:00 PM
Tuesday: 10:00 AM – 4:00 PM
Wednesday: 10:00 AM – 4:00 PM
Thursday: 10:00 AM – 4:00 PM
Friday: 10:00 AM – 4:00 PM
About this Location:
Get DNA testing in Rocklin at our clinic in Stanford Crossing near Sunset East Park.
Some Rocklin Neighborhoods That We Serve
location_city
Highland Reserve North Village
location_city
Rustic Hills
location_city
Clover Valley Woods
location_city
Whitney Oaks
location_city
Sierra Meadows
location_city
Stanford Foothills
location_city
Whitney Glen
location_city
Reflections at Sierra College
Additional Services
We also offer other services, such as:
Citations
menu_book
Sheeler, Andrew. "Who's looking at your DNA data? California lawmaker introduces genetic privacy bill." The Sacramento Bee, 12 February 2020, https://www.sacbee.com/news/politics-government/capitol-alert/article240227106.html
menu_book
"SB-980 Privacy: genetic testing companies." California Legislative Information, 3 September 2020, https://leginfo.legislature.ca.gov/faces/billTextClient.xhtml?bill_id=201920200SB980
menu_book
"Paternity Cases in Roseville, CA." Law Offices of Frank F. Ali, https://www.falilaw.com/Family-Law/Paternity.aspx
menu_book
"Sacramento Child Support Establishment Lawyer Offers Strong Advocacy." Williams Family Law, https://www.divorceoptions.net/practice-areas/child-support/establishment/
menu_book
"Neighborhoods in Rocklin." Movoto, https://www.movoto.com/sitemap/rocklin-ca/neighborhood/