DNA Test – Memphis, TN
Health Street provides DNA tests and legal paternity testing in Memphis, Tennessee at 13 testing laboratories. Call (901) 563-4340 or schedule online. We offer legal paternity tests, sibling studies, grandparent DNA tests, avuncular (aunt or uncle) testing, and postmortem DNA testing to determine if people are biologically related.
Set up DNA testing appointments online. Test results can be used in court for child support or to change a birth a certificate; it can also be used for simple peace of mind. Appointments can be scheduled together or separately. Legal DNA tests are done by cheek swab at our testing centers. We can also extract DNA samples from hair follicles, fingernails, and other specimens.
Workforce Screening, Digitally Delivered
Very professional, quick and helpful.
Gary
2/26/2016
1 of 13
3965 S Mendenhall Road
Memphis
,
TN
38115
2 of 13
8071 Winchester Road
Memphis
,
TN
38125
3 of 13
6073 Mt Moriah Road
Memphis
,
TN
38115
4 of 13
1803 Union Avenue
Memphis
,
TN
38104
5 of 13
2781 Airways Blvd
Memphis
,
TN
38132
6 of 13
5475 Poplar Avenue
Memphis
,
TN
38119
7 of 13
6094 Apple Tree Drive
Memphis
,
TN
38115
8 of 13
5308 Cottonwood Road
Memphis
,
TN
38118
9 of 13
5180 Park Avenue
Memphis
,
TN
38119
10 of 13
2715 Kirby Road
Memphis
,
TN
38119
11 of 13
5075 Park Avenue
Memphis
,
TN
38117
12 of 13
3540 Summer Avenue
Memphis
,
TN
38122
13 of 13
3845 Viscount Avenue
Memphis
,
TN
38118
DNA Test – Memphis, Tennessee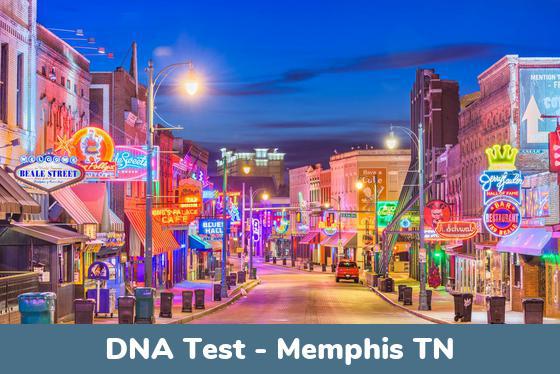 Types of DNA Tests at our Memphis, Tennessee clinics:
Paternity Testing can conclusively establish whether or not a man is the biological father of a child.
Relationship Testing for other close family relationships can be performed at our testing centers. Our DNA testing services can confirm or deny biological relationships between grandparents, grandchildren, siblings, half-siblings, aunts, uncles, nieces and nephews:
Specimens we can test for DNA
The easiest and most reliable way to obtain a DNA sample for paternity testing is to swab the inner cheeks of the alleged father and child or children. These skin cells are known as buccal cells, and they rub off easily onto cotton swabs and remain in place for analysis by our laboratory.
Other specimen samples, such as hair follicles, fingernails, and garments that might contain someone's DNA, can also be tested. An Alternative Specimen DNA Test is done by ordering one of our testing kits online and shipping the specimens back to us.
Legal DNA Tests vs. "Peace of Mind" At-Home Tests
A Legal Paternity Test is a court admissible lab testing service performed at an AABB accredited laboratory. Accurate results for DNA paternity testing with 99.99% confidence or greater take about a week.
When deciding which type of DNA test is right for you, consider first what you might do with the results. A legal paternity DNA test will hold up in court for such matters as child support or to change the name on a birth certificate. This test must be performed using strict chain of custody procedures. Our Memphis DNA testing technicians are trained to follow these guidelines so that the results will be legally admissible.
How to schedule a DNA Test in Memphis TN
Scheduling a DNA test at one of our Memphis clinics is simple and fast, and we often have appointments available in the same week. It's always helpful to schedule in advance to make sure you get the time you want. Please call our customer service team to help you book your appointment over the phone, or set up your appointment easily online.
We have state of the art testing labs and friendly clinics that perform the DNA sample collection in Memphis, plus many more locations throughout Tennessee and across the United States. During registration, we'll show you the nearest locations for DNA testing so you can choose the site that's most convenient. You'll also pick the times and days that you prefer.
Why Health Street
Over a Decade of Experience
Health Street has been performing DNA testing nationally since 2010. We have helped thousands of people from Memphis to communities all across the USA get DNA tests and paternity tests.
Dedication to Excellence
Our dedication to excellence includes our commitment to provide compassionate services and to helping people obtain the accurate DNA testing in Memphis that they need.
Memphis, Tennessee – DNA testing
Establishing paternity in Memphis, Tennessee
When a child is born to a married couple, they are automatically presumed to be the legal parents, and there is no need for establishing paternity. However, if a child is born to an unmarried couple, it may be necessary to establish paternity. There are two ways unmarried couples can establish paternity in Tennessee—voluntarily or involuntarily. If both parents voluntarily establish paternity, they will sign the Voluntary Acknowledgment of Paternity (VAoP). Parents usually do this immediately after the child is born due to the benefits it can provide for the family, but it can be done any time before the child is 19. Signing the VAoP can quickly be done in the hospital where the child is born.
In the case that paternity is disputed, the court usually gets involved, which is called involuntary establishment. Typically, a Petition to Establish Parentage is filed and then the court starts the process. Most of the time, this will require DNA tests performed by a certified lab for the father and child. Once the court receives the DNA test results, it can establish paternity so that the biological father becomes the legal father. Depending on the case, the court usually also issues orders of parenting plans, child support, and visitations.
Memphis, Tennessee: Benefits of establishing paternity
Establishing paternity can have benefits for both the child and the parents. For a child, benefits may include having a meaningful relationship with both parents and knowing both sides of the family. The child will better understand the family's medical history and potential medical issues. Children can often also access medical insurance, life insurance, Social Security and benefits for veterans, or inheritance.
Some benefits are also relevant for parents, such as sharing the financial responsibilities for a child or visitation and custody rights. A paternity test can ensure that a father is able to participate in the child's life and build a bond and relationship with the child.
Last updated 6/24/2022
Locations
Clinic Hours for DNA Testing in Memphis, Tennessee
2715 Kirby Road
Suite 7
Memphis, TN 38119
Pre-registration required,
Walk-in with barcode:
---
Monday: 8:00 AM – 4:30 PM
Tuesday: 8:00 AM – 4:30 PM
Wednesday: 8:00 AM – 4:30 PM
Thursday: 8:00 AM – 4:30 PM
Friday: 8:00 AM – 4:30 PM
About this Location:
We are across from Ridgeway Middle School. You can't miss us.
Neighborhoods In and Around Memphis That We Serve
location_city
Normal Station
location_city
Pinch District
location_city
Green Lodge Townhomes
location_city
Stage Park Meadows
Additional Services
We also offer other services, such as:
Citations
menu_book
Establishing paternity. Tennessee State Government – TN.gov. (n.d.). Retrieved June 24, 2022, from https://www.tn.gov/humanservices/for-families/child-support-services/child-support-establishing-paternity.html
menu_book
Tennessee voluntary acknowledgment of paternity program (TN VAOP). Tennessee State Government – TN.gov. (n.d.). Retrieved June 24, 2022, from https://www.tn.gov/humanservices/for-families/child-support-services/tennessee-paternity-acknowledgment-program–tn-vaop-.html
menu_book
The benefits of establishing paternity in Tennessee. Law Offices of Adrian H. Altshuler & Associates. (2017, September 7). Retrieved June 24, 2022, from https://www.altshulerlaw.com/blog/benefits-establishing-paternity-tennessee/