DNA Test – Las Cruces, NM
Health Street provides DNA testing in Las Cruces, New Mexico at 4 conveniently located testing laboratories. Register now, or call us at (575) 215-1221 or schedule online. with any questions. Our paternity testing (including grandparent DNA tests, avuncular (aunt or uncle) testing, and postmortem DNA testing) determines if two or more people are related.
Schedule an appointment for a DNA test quickly and easily. The parties can come together or you can set up separate appointments. Grandparent DNA tests, avuncular (aunt or uncle) testing, and postmortem DNA testing are also available. Legal DNA tests are done at our testing centers. Peace of mind DNA tests can be done at home by cheek swab, hair, or fingernails.
Workforce Screening, Digitally Delivered
1 of 4
2427 S Telshor Blvd
Las Cruces
,
NM
88011
2 of 4
3851 E Lohman Avenue
Las Cruces
,
NM
88011
3 of 4
2525 S Telshor 104
Las Cruces
,
NM
88011
4 of 4
141 Roadrunner Parkway
Las Cruces
,
NM
88011
DNA Test – Las Cruces, New Mexico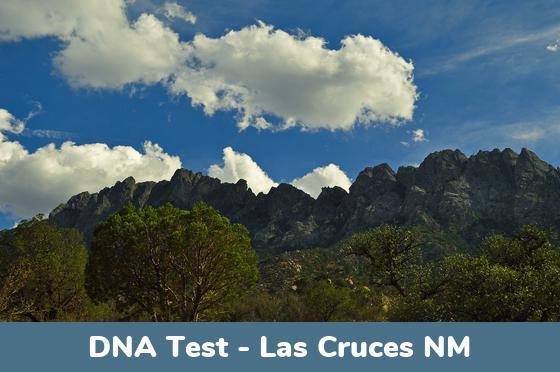 Types of DNA Tests at our Las Cruces, New Mexico locations:
The most commonly ordered DNA test is a Paternity Test to conclusively establish whether or not a man is the biological father of a child.
Paternity Testing can be performed at our testing centers. DNA Testing can be done for other close family relationships, such as:
Specimens we can test for DNA
The easiest and most reliable way to obtain a DNA sample for paternity testing is to swab the inner cheeks of the people being tested. These skin cells are known as buccal cells, and they rub off easily onto cotton swabs and remain in place for analysis by our laboratory. Other specimen samples, such as hair follicles, fingernails, and garments that might contain someone's DNA, can also be tested. An Alternative Specimen DNA Test is done by registering online and shipping the specimens to us.
Legally Admissible DNA Tests vs. "Peace of Mind" At-Home Tests
A Legal Paternity Test is a court admissible DNA testing service. Accurate results for DNA paternity testing with 99.99% confidence or greater take about a week.
When deciding which type of DNA test is right for you, consider first what you might do with the results. In order for the results of a DNA test to hold up in court, for child support, or to change the name on a birth certificate, the test must be done at a clinic using strict chain of custody procedures. Our Las Cruces DNA testing technicians are trained to follow guidelines that ensure that the results can be used for legal purposes.
How to schedule a DNA Test in Las Cruces NM
Scheduling a DNA test at one of our Las Cruces clinics is simple and fast, and we often have appointments available in the same week. It's always helpful to schedule in advance to make sure you get the time you want. Register online, or please call our customer service team, which can help you book your appointment over the phone.
We have state of the art testing labs and friendly clinics that perform the DNA sample collection in Las Cruces, plus many more locations throughout New Mexico and all across the United States. Not every one of our clinics performs paternity testing in Las Cruces. We'll show you the nearest locations to get a DNA test in Las Cruces , NM so you can choose the testing center that is most convenient. When you register, you can also pick the appointment time and date that you prefer.
Why Health Street
A Decade Plus of Experience
Health Street has provided DNA tests since 2010. The first DNA test we performed in Las Cruces, NM was in 2018.
Dedicated to Excellence
We are proud to help families and individuals get DNA testing in Las Cruces.
DNA Testing Info in Las Cruces
Establishing Paternity in Las Cruces, NM
If a Las Cruces mother is unmarried at the time of her child's birth, she and her child's biological father will be required to legally establish paternity themselves. Legally establishing paternity is crucial, as it allows for the father to be listed on the child's birth certificate and gain parental rights and responsibilities, as well as allows the proceedings of child support services and agreements.
To avoid any complications when dealing with these situations, both parents can simply sign an Acknowledgment of Paternity form. This form is a legal binding document declaring that the presumed father is the biological father. Once signed, it provides him with his legal parental rights and responsibilities. Likewise, the filing of this form will be essential in the child support processes if either parent decides to seek such services.
Navigating Difficult Paternity Situations in Las Cruces, NM
For a Las Cruces mother or father who encounters difficulties establishing paternity with the opposite parent, New Mexico can offer legal help with properly completing this process. To have a parent properly establish paternity, it's recommended that the parent files a paternity action with the Third Judicial District Court in Las Cruces.
Once a paternity action is filed, an appointed judge will most likely request court-ordered DNA testing to confirm that the presumed father is the biological father. If testing results conclude this presumption, the courts will then order the parent to complete the paternity establishment process. Furthermore, additional steps may also be taken to establish any co-parenting agreements or child support payments following the establishment of paternity.
Experts in Las Cruces, NM Say…
After establishing paternity, both parents may need to establish a parenting plan. According to Las Cruces Family Law Lawyer William Sutherland, each family has the right to construct their own parenting plan. It's recommended that if both parents agree on a parenting plan, they present it at Las Cruces family court to have it legally approved and established. If both parents cannot agree on a set plan, a judge will take multiple factors into consideration, such as the expected time with each parent and current living situations, to construct a plan that works in the best interest of the child.
Locations
Clinic Hours for DNA Testing in Las Cruces, New Mexico
2427 S Telshor Blvd
Suite 101q
Las Cruces, NM 88011
Pre-registration required,
Walk-in with barcode:
---
Monday: 7:00 AM – 4:00 PM
Tuesday: 7:00 AM – 4:00 PM
Wednesday: 7:00 AM – 4:00 PM
Thursday: 7:00 AM – 4:00 PM
Friday: 7:00 AM – 4:00 PM
About this Location:
You can find us close to New Mexico State University. There is plenty of parking available.
Some Las Cruces Neighborhoods That We Serve
location_city
Alameda Highland
location_city
Loma Heights
location_city
Organ Mesa Ranch
Additional Services
We also offer other services, such as:
Citations
menu_book
"Acknowledgment of Paternity." New Mexico Department of Health, https://www.nmhealth.org/publication/view/form/612/
menu_book
"Third Judicial District Court." New Mexico Courts, https://thirddistrictcourt.nmcourts.gov/
menu_book
"Child Custody Lawyer in Albuquerque and Las Cruces." Sutherland Law Firm, https://sutherlandfamilylaw.com/divorce-family-law/custody-time-sharing/
menu_book
"Neighborhoods of Las Cruces." LasCruces.com, https://lascruces.com/neighborhoods-of-las-cruces/
menu_book
"Las Cruces, NM." Nextdoor, https://nextdoor.com/city/las-cruces–nm/