DNA Test – Cape Coral, FL
Health Street provides DNA testing in Cape Coral, Florida at 4 conveniently located testing laboratories. Register now, or call us at (239) 230-1353 or schedule online. with any questions. Our paternity testing (including grandparent DNA tests, avuncular (aunt or uncle) testing, and postmortem DNA testing) determines if two or more people are related.
Schedule an appointment for a DNA test quickly and easily. The parties can come together or you can set up separate appointments. Grandparent DNA tests, avuncular (aunt or uncle) testing, and postmortem DNA testing are also available. Legal DNA tests are done at our testing centers. Peace of mind DNA tests can be done at home by cheek swab, hair, or fingernails.
Workforce Screening, Digitally Delivered
1 of 4
428 Del Prado Blvd N
Cape Coral
,
FL
33909
2 of 4
4817-1 Milton Street
Cape Coral
,
FL
33904
3 of 4
313 SW Pine Island Road
Cape Coral
,
FL
33991
4 of 4
1682 NE Pine Island Road
Cape Coral
,
FL
33909
DNA Test – Cape Coral, Florida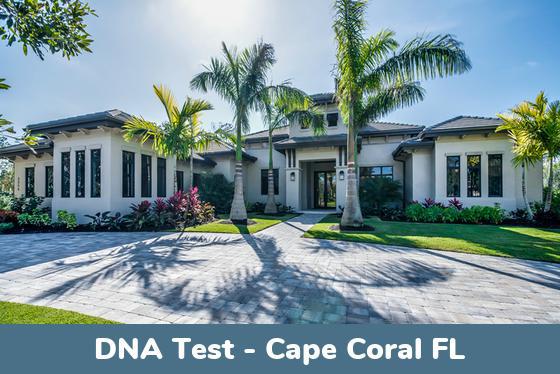 Types of DNA Tests at our Cape Coral, Florida clinics:
Paternity Testing can conclusively establish whether or not a man is the biological father of a child.
Relationship Testing for other close family relationships can be performed at our testing centers. Our DNA testing services can confirm or deny biological relationships between grandparents, grandchildren, siblings, half-siblings, aunts, uncles, nieces and nephews:
Specimens we can test for DNA
The easiest and most reliable way to obtain a DNA sample for paternity testing is to swab the inner cheeks of the alleged father and child or children. These skin cells are known as buccal cells, and they rub off easily onto cotton swabs and remain in place for analysis by our laboratory.
Other specimen samples, such as hair follicles, fingernails, and garments that might contain someone's DNA, can also be tested. An Alternative Specimen DNA Test is done by ordering one of our testing kits online and shipping the specimens back to us.
Legal DNA Tests vs. "Peace of Mind" At-Home Tests
A Legal Paternity Test is a court admissible lab testing service performed at an AABB accredited laboratory. Accurate results for DNA paternity testing with 99.99% confidence or greater take about a week.
When deciding which type of DNA test is right for you, consider first what you might do with the results. A legal paternity DNA test will hold up in court for such matters as child support or to change the name on a birth certificate. This test must be performed using strict chain of custody procedures. Our Cape Coral DNA testing technicians are trained to follow these guidelines so that the results will be legally admissible.
How to schedule a DNA Test in Cape Coral FL
Scheduling a DNA test at one of our Cape Coral clinics is simple and fast, and we often have appointments available in the same week. It's always helpful to schedule in advance to make sure you get the time you want. Please call our customer service team to help you book your appointment over the phone, or set up your appointment easily online.
We have state of the art testing labs and friendly clinics that perform the DNA sample collection in Cape Coral, plus many more locations throughout Florida and across the United States. During registration, we'll show you the nearest locations for DNA testing so you can choose the site that's most convenient. You'll also pick the times and days that you prefer.
Why Health Street
A Decade Plus of Experience
Health Street has provided DNA tests since 2010. We have provided DNA tests and paternity tests to thousands of people in Cape Coral as well as communities all across the nation.
Dedicated to Excellence
We are proud to help families and individuals get DNA testing in Cape Coral.
Cape Coral, Florida – DNA Testing
Establishing paternity in Cape Coral, FL
Establishing paternity can be beneficial for the parents and the child. Once paternity is established, the legal father has been identified and can have the same rights and responsibilities as a mother. Some benefits for the child may include:
arrow_forward
Knowing the identity of their father
arrow_forward
Accessing their paternal medical history
arrow_forward
Having their father's name on the birth certificate
arrow_forward
Receiving support from both parents.
arrow_forward
Acquiring health insurance or Social Security and veteran's benefits
arrow_forward
Inheritance
In Cape Coral, FL, you can establish paternity voluntarily by signing a Paternity Acknowledgement form in the hospital. Both parents must sign it, and there must be a notary public presence.
The court can also establish paternity. Usually, an alleged father and the child will have to undergo a DNA test to prove paternity. DNA specimens are most often collected with a simple cheek swab. Based on the DNA test results, the judge can decide whether the man is a biological father.
DNA test reunites father and a son in Florida
Andrew had a Vietnamese mother and an American father who met in Saigon, where his father was placed as a soldier. After his tour ended, his father returned to the United States while Andrew's mother remained in Saigon. Soon, baby Andrew would be born with a heart defect.
In the early years, everybody stared at Andrew because he did not look like his classmates. His peers labeled him as a "leftover" and judged him for his mixed race. Andrew and his mother eventually decided to try to move to America. Fortunately, when he was sixteen, he got a sponsorship from a school in Virginia, so they moved. Virginia's harsh winters were not the best fit for them, so they continued to Florida to live near family.
Here, Andrew met his current wife and had two kids. He became a cop and closely monitored his heart health. Years later, his doctor decided his worsened condition warranted surgery. Around the same time, his kids gifted him a DNA kit because they knew he always wanted to find his dad. Wary of the upcoming surgery, he submitted his DNA specimen and waited for a match.
Meanwhile, Andrew's dad had also taken a DNA test. The DNA test matched the father and son, and they soon started to talk on the phone. Finally, they met, and his father even stayed with Andrew for longer to support him through his heart surgery.
Last updated 8/23/2022
Locations
Clinic Hours for DNA Testing in Cape Coral, Florida
428 Del Prado Blvd N
Suite 103
Cape Coral, FL 33909
Pre-registration required,
Walk-in with barcode:
---
Monday: 9:30 AM – 3:00 PM
Tuesday: 9:30 AM – 3:00 PM
Wednesday: 9:30 AM – 3:00 PM
Thursday: 9:30 AM – 3:00 PM
Friday: 9:30 AM – 3:00 PM
About this Location:
Our DNA clinic is local to the beautiful Burton Memorial Park.
Neighborhoods In and Around Cape Coral That We Serve
location_city
Sunset Pointe
location_city
Mantacha Shores
location_city
Bimini Basin
location_city
Tarpon Point
location_city
Heatherwood Lakes
location_city
Market Square District
Additional Services
We also offer other services, such as:
Citations
menu_book
Community partnerships. Lee County | Florida Department of Health. (n.d.). Retrieved August 23, 2022, from https://www.floridahealth.gov/provider-and-partner-resources/community-partnerships/floridamapp/state-and-community-reports/lee-county/index.html
menu_book
Drug overdose death statistics [2022]: Opioids, fentanyl & more. NCDAS. (2022, April 6). Retrieved August 23, 2022, from https://drugabusestatistics.org/drug-overdose-deaths/#florida
menu_book
Home. Lee County Coalition for a Drug-Free SWFL. (n.d.). Retrieved August 23, 2022, from https://www.drugfreeswfl.org/
menu_book
Prevention. Substance Abuse | Florida Department of Health. (n.d.). Retrieved August 23, 2022, from https://www.floridahealth.gov/programs-and-services/prevention/substance-abuse/index.html